HR PROFESSION

Dinusha Jayamanne
THE MOTHER OF INNOVATION
Why necessity is the mother of innovation in a fiercely competitive market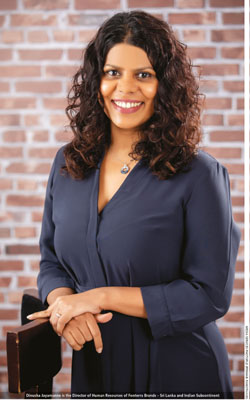 Human resources (HR) today in a sentence
At the forefront of building purpose and resilience, re-crafting strategy and creating 'people first' organisations to thrive in the post-COVID reality.
Barriers to the profession's growth in Sri Lanka
An 'island mindset' – hesitancy to bring in the outside, passivity in transforming to adapt to changing times and low tech investment – inhibiting the profession's ability to create value.
Three impacts of COVID-19 on the local HR profession
Forced to visualise and create future ready organisations, situational agility of HR leaders being tested and the safety of people being firmly brought to the forefront.
Strategies to counter negative impacts
Build future focussed people processes to stay ahead of the recovery curve, know your work and keep pace with the dynamic evolution of people practices.
Three challenges to implementing adequate workplace physical distancing
Potential violation of proximity rules as humans make mistakes, lack of space in common utility areas, and higher costs for transport and other amenities.
Pros of work from home (WFH)
Flexibility in managing your day across work, family and self – and the ability to customise the environment to suit your mood.
Examples of customised environments
Practise hotdesking, play your favourite music and wear cosy clothing!
Other benefits of WFH
Renewed focus on healthy eating and exercise – such as home cooked food and home workouts.
Three cons of WFH
Losing human interaction; continuous back-to-back virtual meetings can lead to fatigue; the impact on health and wellbeing if there aren't breaks between work; and ergonomic challenges.
Strengths of the local HR profession
Genuine care for people – Sri Lanka represents a caring society; talented professionals entering the domain; and strong practices around HR administration and adherence to the law.
Weaknesses of the HR profession
Passivity in breaking through the silos of traditional organisations and a lack of readiness to embrace transformational practices.
As well as…
Inadequate use of technology, analytics and data driven forecasting.
Main threat to the HR profession
Passive behaviour that can lead to the erosion of value creation by the profession.
Local vs regional comparison of the HR profession
Locally, general HR practitioners predominantly comprise the profession whereas regionally, there are specialists in talent, organisational development and science-based rewards.
Productivity is affecting industrial and economic growth
Yes – we need to stay 'fit for purpose' across both the private and public sectors to ensure resources are optimised.
Corruption is affecting industrial and economic growth
Yes – corruption in any form curtails the effectiveness and authenticity of outcomes and therefore, needs to be eliminated.
Competition drives innovation
Yes! Necessity is the mother of innovation and in a fiercely competitive market, businesses are compelled to stand out and carve a competitive edge by venturing into the new.
Sri Lanka's competitiveness in a nutshell
Exciting times ahead with changes to ways of working, a renewed focus on digital channels and the emergence of the gig economy.
Impact of the digital age on Sri Lanka
This will be the primary disruptor. The nation as a whole will need to improve on digital dexterity to remain competitive.
The profession's readiness for tech adoption during curfew
We have some way to go to build digital business expertise and related talent architecture while driving agility in HR to enable meaningful technology adoption.
Virtual team management in one sentence
Driving high performing teams in a collaborative, flexible and 'wirearchical' environment using digital platforms.
Impact of social media and influencer marketing on the HR profession
Powerful if the right people are chosen to drive mindset change and inspire career development.
Immediate outlook for HR in the post-COVID era
We must rethink collective deliverables across organisational purpose, employee engagement and futuristic skills, based on industry specific trends and teams' future readiness.
The future of the local HR profession
As a voice making bold decisions in the face of uncertainty, it will define the profession's impact on business recovery and its role in the workplace.
The global HR profession in five years' time
Placed at the heart of business decision making and strategy, and equipped with highly competent enterprise leaders.
Your mantra for success
Know your people. Love them.
– Compiled by Lashani Ramanayake
Dinusha Jayamanne is the Director of Human Resources of Fonterra Brands – Sri Lanka and Indian Subcontinent