HOW TO DECORATE YOUR HOME FOR CHRISTMAS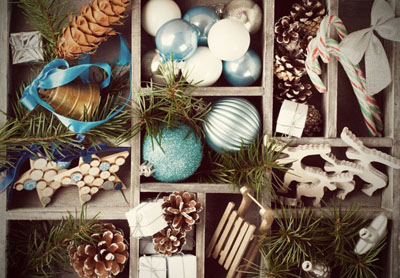 The festive season will soon be upon us – find out some great tips for decorating your home.
With the holiday season fast approaching, it will soon be time to make your home more beautiful than ever! Make your home sparkle and shine and give your family and house guests a feeling of magic. What color scheme should you choose to make your decorations stand out? What should you do well in advance and what can be left until later? Lamudi is here to lend a hand!
Decorate with subtle lights in the foliage outside your home
Many people choose to decorate the outside of their home before decorating the inside of their home. This is a great way to get your kids excited for the indoor decorations! One of the best tips we know for a tasteful yet clever Christmas look is to push some outdoor fairy lights into any small shrubs or trees that surround your entranceway. When it's dark, turn them on and stand back to enjoy the sparkly effect! Spend some time carefully arranging them either in a spiral or randomly (depending on the shrub or small tree) and purchase an outdoor power pack so that you can light up the first thing people will see when they pull up outside your home. A real natural Christmas wreath with its own small fairy lights is a fantastic addition.
Your Christmas tree
Arguably the most important part of decorating at this time of year; the key to decorating a Christmas tree to perfection is balance. Purchase decorations that fit a theme, for example red and gold or blue and silver. Make sure that the color of your lights complements the color scheme you have chosen for your decorations e.g. a warm light for red and gold and a cooler light for blue and silver. Once you have collected all of the decorations together, lay them out on a flat surface. Now it's time to plan how the ornaments will adorn your tree. Make sure you have decorations of varying sizes and designs. You might choose some larger baubles, some decorations that will hang lower than the others and give the impression of candles or icicles, and some which evoke family tradition. Collect some special delicate ornaments that you love and position them in pride of place. Spread them all out evenly all around your tree – working in a spiral around the tree is a great idea!
Create a warm and welcoming atmosphere
The most important thing about Christmas is welcoming friends and family, being hospitable, and making the most of time together. Make your home feel cozy by creating soft lighting. Purchase some large glass jars, place large candles within them and fill the space around the outside with festive decoration, such as pine cones which you have sprayed with silver and sparkles. Children can help make little sparkly objects such as these, so get them involved as much as you can with dipping pine cones in glitter! Placing Christmas throw pillows around your home is always a wonderful way of creating a comfortable and cozy space for you and your guests. Red and white patterned throws and blankets are always welcome for snuggling up in the evening, when it can get a little chilly. Consider placing baubles and fairy lights in jars and placing them on balconies or around your living room to give an even cozier light, which you can leave on even when you are not in the room. While useful for creating a cozy vibe, candles can't be left unattended, but fairy lights can!
Last minute tips
Consider decorating your table with sprigs of festive foliage, beautifully decorated candles in red, green, and white, and delicate handmade Christmas crackers. Make your own place cards with a candy cane and a ribbon – don't forget the gold dust! You might even want to give each dinner guest a little bell and pretend that it came from Santa's sleigh! Prepare as much as you can in advance so that you can relax with your loved ones once the big day comes. Whatever you do, make sure that you enjoy any family gathering you have in the run up to Christmas.