HOSPITALITY TRENDS
Natalie De Silva
THE FLAVOUR OF NICHE HOTELS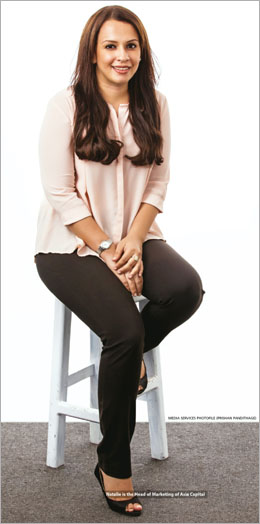 How have boutique hotels impacted the local hospitality sector?
Over the last few years, there has been a major shift in the market in favour of boutique hotels. And I expect this trend to continue for the next several years.
While some travellers prefer simple cookie-cutter branded accommodation experiences, a growing number of travellers are opting to stay at lifestyle, design or unique concept hotels that offer a greater sense of exploration and local interaction.
Large and long-established branded hotel operators have noted this trend; and many have created new boutique brands or unique hotel fit outs to rival smaller competitors.
People seek customisation and personalised services that boutique hotels can offer because their room capacities are low, and training staff is manageable to a large extent.
What are the prevailing trends in niche hotel offerings?
There are many trends. Mobile technology has enabled smartphones and tablets to fundamentally change how consumers process information
and conduct transactions. This has changed how businesses operate.
Hotels will build more refined branded apps that offer mobile check-in and checkout services, special customer request facilitation and even third party offers such as daily deals. App users also generate data that can be valuable for hotels when tailoring offers to certain groups.
And speciality hotels will see continued growth. Destination hotels that offer focussed programmes for yoga and spa services will also enjoy rapid growth.
Travellers want to combine core activities and interests with their vacations, and speciality hotels can carve out a profitable niche by offering unique experiences at premium price points. These hotels are entering the mainstream and mirror the younger generation's desire to be more active while on vacation.
Another trend is that of social media driving traffic. Many hotels are establishing direct reservations through Facebook, and driving efforts to attract more 'likes' and 'followers.' And travellers often use Facebook to search for information bypassing search engines. So hotels need to make it easy for them to move from their Facebook page to a direct reservation. Hotel operators also use Facebook to feature one-day sales and other promotions to build loyalty, and increase reservations during slack periods.
How have hotel guests evolved in the last five years, in your assessment?
The role of travel in our lives is changing. Increasing pressure on our available leisure time drives the desire for unique and personalised experiences. We're also not completely logical and consistent in our behaviours – we seek constant connectivity, yet look for stories to tell our friends about remote and new 'unspoilt' destinations that we've discovered!
Concerns over the environmental impact of tourism and greenhouse gas emissions from transport in particular are encouraging travellers to think more about their ecological footprint.
Customers are becoming used to increasing choices and personalisation. Guests will have their own preferences, demands and characteristics; the challenge for hotels is to understand and act upon these evolving requirements.
And how have digital and social communications influenced hospitality?
The use of social media platforms such as Twitter and Instagram has evolved from a strictly peer-to-peer communication channel to enable businesses to engage with clients effectively.
Although methods of communication have changed somewhat, businesses must still apply the fundamental principles of marketing and promotions to communicate their messages to target audiences. The difference is the speed and reach of new digital tools. Market analysis can also reveal consumer tastes, styles, purchasing habits and preferred communication channels.
The use of social media goes beyond simple internet marketing campaigns because companies use it to build ongoing relationships with consumers. The speed of the internet undoubtedly brings about many opportunities for the hospitality trade. A company with a great product or service doesn't need to wait long to reap the fruits of its marketing efforts as customers become members of a built-in marketing team.
And more travellers are choosing hotels by using customer review websites such as TripAdvisor. This is because customers trust reviews by other travellers more than official business communications as they assume such reviews are independent.
What is your mantra for success?
You reap what you sow; so sow what you want to reap.
 Describe yourself in one word…
Learner
– Compiled by Ruwandi Perera
Natalie is the Head of Marketing of Asia Capital