HOSPITALITY SECTOR
GALLE FACE HOTEL
Q: What are the key trends in the meetings, incentives, conferences and exhibitions (MICE) segment?
A: What most people are looking for today is flexibility – everyone wants tailor-made solutions. Price is always a deciding factor but flexibility is a game changer. And that's where Galle Face Hotel has an advantage!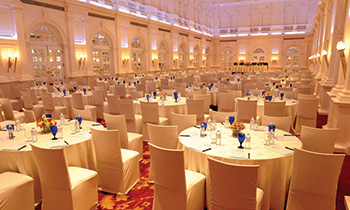 Q: Could you share some insights on the hotel's MICE offering?
A: Along with weddings, MICE is an important sector when it comes to demand. Galle Face Hotel operates two separate segments in our catering team for MICE and weddings so that we can deliver tailor-made solutions for all events that we host.
The philosophy behind our MICE segment is to offer clients a one stop solution. We provide an array of packages for MICE clients including amenities such as energy boosters on arrival, WiFi, stationery packs (including a notepad, pencil, pen and eraser) and floral decor.
We also provide audiovisual equipment – and facilities such as mics, multimedia projectors and screens from Swedish Trading – to relieve clients of such burdens.
Tea breaks are a special occasion for us, and we take pride in offering a variety of options for clients to choose from for their meetings and events. Understanding that clients need assistance during events, the hotel also deploys a personalised meeting concierge throughout an event – therefore, clients have one point of contact to address all their needs.
Q: How many event venues does the hotel offer?
A: Galle Face Hotel has six meeting rooms for small meetings that can accommodate up to 80 guests. Our recently restored ballrooms are used for larger conferences, dinners and events – the Jubilee Ballroom can accommodate up to 200 guests and the Grand Ballroom has a capacity to host 320 people.
Q: To what extent is the hotel geared to meet different client requirements?
A: We have several packages to suit the unique requirements of our clients – viz. a Full Day Delegate package, 24 Hour Delegate package, Half Day Delegate package and Three Hour Delegate package. Each package offers clients different options depending on their needs.
At Galle Face Hotel, we always focus on personalising our packages to suit the different requirements of guests so that their events flow exactly as planned.
Q: How has the arrival of multiple international hotel chains impacted your MICE operation?
A: The demand for MICE is always on the rise in the market and this applies to us too. No matter how many hotels offer MICE services, it boils down to how we provide our services and what we offer clients.
There are many options in the market but we believe in capitalising on what we do best – i.e. personalised service and giving clients what they want the way they want it.
Q: How does the legacy of Galle Face Hotel add value to its MICE offering?
A: Galle Face Hotel is probably the most historically rich property in Sri Lanka and this adds tremendous value. We attract a large number of international customers because of our heritage and the hotel's legacy. The colonial inspired experience and old-world charm together with the undisturbed view of the Indian Ocean combine to make the hotel a highly sought after property.
At Galle Face Hotel, we believe in holding on to our history while adopting modernity. Our tag line is 'curated modernity and timeless grandeur,' which we remain true to.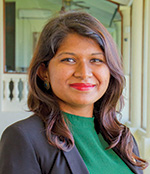 Samadi Athukorala
Associate Director of Catering Sales
Telephone 2541010
Email information@gallefacehotel.net
Website www.gallefacehotel.com