HONG KONG PROTESTS
THE FIGHT AGAINST EXTRADITION
Saro Thiruppathy reports on the protests by Hong Kongers against China's rising tyranny
Extradition to face trial in China for crimes committed in Hong Kong… it's as scary as it sounds, which is why Hong Kongers launched street protests in June against a government bill to extradite certain categories of prisoners to the mainland.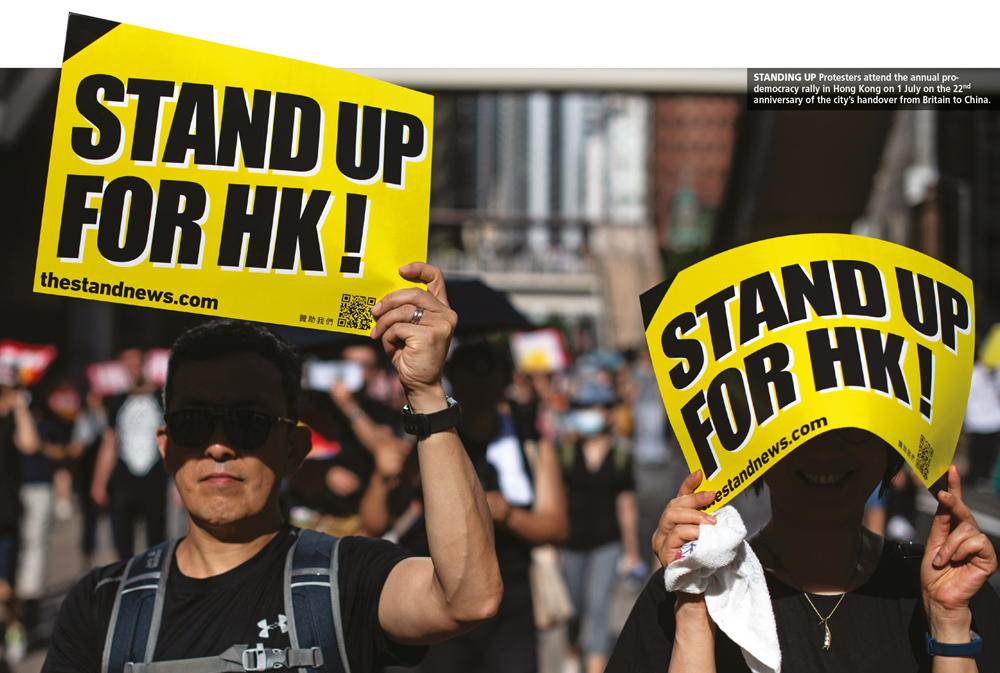 No one knows what happens in Chinese prisons since as many believe, the oriental Lady Justice is not only blind but also gagged and bound for good measure!
Apparently, the controversial Fugitive Offenders and Mutual Legal Assistance in Criminal Matters Legislation (Amendment) Bill will apply not only to China but Macau, Taiwan and other countries too. And it will cover about 37 offences including white-collar crimes.
Sophie Richardson of Human Rights Watch says: "The proposed changes to the extradition laws will put anyone in Hong Kong doing work related to the mainland at risk. No one will be safe – including activists, human rights lawyers, journalists and social workers."
COLONIAL HISTORY Hong Kong Island was initially occupied by the British during the First Opium War in 1841 and ceded to them a year later. They occupied the Kowloon Peninsula in 1860 following the Second Opium War; and in 1898, the New Territories also came under British occupation through a 99 year lease.
Since the British colony enjoyed freedoms denied to the Chinese, it became a popular refuge for migrants and dissidents, who were fleeing oppression and poverty on the mainland. By the mid-20th century, Hong Kong was flourishing as an active trading port and manufacturing hub.
As the lease neared its end, Britain and China agreed on a 'one country, two systems' principle, which would ensure a high degree of autonomy for Hong Kongers and prevail for 50 years – except for foreign relations and defence.
In 1997, Hong Kong reverted to Chinese ownership but with a special status, which included its own legal system, borders and fundamental rights – such as the freedoms of association, expression and speech enshrined in the constitution that's known as the Basic Law.
BELLIGERENT CHINA Even before reaching the 50 year mark, the Chinese government has been putting the screws on Hong Kongers and hacking into their freedoms. Beijing's intolerance of democracy is at the core of this modus operandi and China is seemingly impatient to bring Hong Kongers to heel… fast.
Rights activists claim that Beijing regularly meddles in the internal affairs of Hong Kong as in the case of legal rulings that have disqualified pro-democracy lawmakers. Disappearances are increasing in frequency with five booksellers and a tycoon vanishing from Hong Kong, only to reappear in custody in China. Journalists are being pressured to exercise self-censorship and pro-democracy artistes are frowned upon.

MERGING SYSTEM The 'two systems' principle is slowly but surely merging into 'one system' and its safe passage is being ensured by Hong Kong's chief executive. The occupant of this top post is decided by an election committee that comprises 1,194 members of whom only about 320 are pro-democracy members. The rest are pro-Beijing.
Most seats in the Legislative Council, which haven't been occupied by elected lawmakers, are filled by pro-Beijing legislators. Some elected members were disbarred for refusing to pledge allegiance to Hong Kong as a Special Administrative Region of the Republic of China. They also annoyed Beijing by holding up flags that read 'Hong Kong is not China.'
Hong Kongers don't consider themselves to be Chinese even though Beijing is waiting with its arms extended to fold the territory into its ample bosom. And therein lies the problem: Hong Kongers aren't in favour of absorption through osmosis.
PEOPLE POWER Although they have little choice when selecting lawmakers, the people still have the power to protest.
Street protests are how they draw attention to their demands. In 2003, about half a million people took to the streets to protest against a security bill that was subsequently withdrawn. Their protests and memorials to the victims of
the 1989 Tiananmen Square carnage are annual events.
And 2014 saw what the world knows as the Umbrella Movement when Hong Kongers demanded free, fair and transparent elections. This was in response to a decision by the Standing Committee of the National People's Congress to allow the screening of candidates by the Chinese Communist Party for the 2017 election of Hong Kong's chief executive.
But Beijing wasn't amused and eventually, the demonstrations died down with the promise that the protesters would return someday.
The most recent issue of the extradition bill has brought all sections of society – from professionals and housewives to students across the board – onto the streets. There is no central leadership; instead, protesters use apps and follow an unstructured process much like the yellow vests movement in France. If as organisers claim, one million Hong Kongers have participated in the protests, this will be the largest demonstration that the former British colony has seen since 1997.
Hong Kongers chanting 'Free Hong Kong!' also urged G20 members to take up the extradition issue with Chinese President Xi Jinping. Meanwhile, Chief Executive Carrie Lam has suspended the controversial bill but the people are demanding its complete withdrawal before they call an end to their protests.