HNB
HNB recognised as Sri Lanka's Strongest Bank by Asian Banker
October 1, 2019: Sri Lanka's leading private sector bank, HNB was recognized as Sri Lanka's Strongest Bank by balance sheet evaluation by the prestigious Asian Banker Magazine.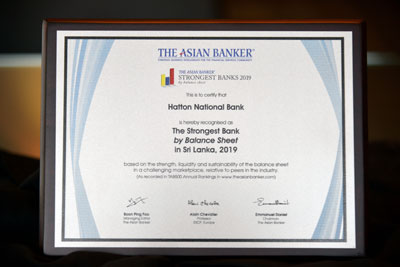 Speaking of the achievement, HNB MD/CEO Jonathan Alles stated: "There are a multiplicity of metrics which professionals utilize to gauge the success of a bank, because business is about numbers, but it is also about trust. We are therefore extremely proud and grateful to have been ranked as the Strongest Bank in Sri Lanka by the Asian Banker Magazine as it helps to further reinforce our position as being the strongest, safest, and most secure bank in Sri Lanka. This award is also emblematic of the dedicated efforts committed by the entire HNB team, as well as the immeasurably valuable trust and confidence reposed in our brand by our esteemed customers across Sri Lanka."
Considered to be the first credible global annual ranking of banks based on balance sheet strength in the Asia- Pacific, Middle-East and African region, the Asian Banker Magazine's ranking of the Strongest Banks was initiated in 2007 and has grown to be widely followed by investors, analysts and media when assessing the financial strength of commercial banks across the globe.
The prestigious annual independent study of commercial banks is based on a rigorously detailed and transparent scorecard focusing on six areas of banking sector balance sheets and financial performance at a national level including: the ability to scale, balance sheet growth, risk profile, profitability, asset quality and liquidity.
Over the past year, the bank has received continuous praise for its pioneering initiatives across the entire spectrum of its operations. Notably, over the recent past, HNB was also adjudged 'Best Managed Bank in Sri Lanka' by the prestigious Asian Banker Magazine while the Bank's Managing Director/CEO, Jonathan Alles was also conferred with Asian Banker' CEO Leadership Achievement' award – both of which are only given out every three years.
Similarly, HNB was also declared 'Sri Lanka's Best Bank' for 2019 by Euromoney Magazine for the third time, in addition to being ranked among the World Top 1000 Banks list compiled by the prestigious UK-based, Banker magazine, further strengthening its status as Sri Lanka's pre-eminent private sector bank. Recently, HNB was also recognised among the 'Top 10 Most Admired Companies in Sri Lanka' by the International Chamber of Commerce, Sri Lanka and Chartered Institute of Management Accountants (CIMA). HNB's remarkable track record of excellence secured it the first place ranking ahead of all Sri Lankan banks included in the LMD Top 100 Club – a position which was evaluated based on its performance over the past 25 years.