HIGHLAND ADVENTURES
So Sri Lanka
The Emerald Hills of Hatton
Ruwandi Perera is enchanted by the scenic vistas in Hatton
Founded during British colonial times and named after a Scottish village in Aberdeenshire, Hatton is where you go when you want to be surrounded by lush greenery on all sides. It's a major centre for the local tea industry since the area is a hub for famous tea growing regions such as Maskeliya, Talawakelle, Bogawantalawa and Dickoya.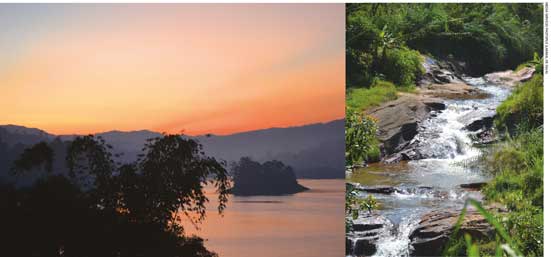 Hatton is endowed with forests, waterfalls, mountains, lakes and reservoirs – and of course, tea. Be sure to visit some of the tea estates and factories here to indulge in savouring Ceylon's best cuppas.
This sleepy and peaceful town can easily be mistaken for a European highlands destination in summer. Its beauty is only magnified by the colonial monuments and buildings that stand strong from times past.
Since getting from one place to another might require a bit of driving, make sure you have a rough itinerary as well as some wiggle room to stop to smell the roses.
Getting to Hatton by train is half the fun – but ensure that you have a vehicle at your disposal when you get there.
Though it takes less than five hours to get to Hatton from Colombo (a little over five hours if you take the early morning express), you may wish to ride the rail for longer, given the unparalleled vistas of the hill country one enjoys on the way up to Hatton.
This destination also boasts some of Sri Lanka's amazing upcountry hotels and bungalows so make reservations ahead since they're often full.
Hatton and its environs are best explored by train, road, bicycle and on foot. Since there are many attractions to see and much more to do, be prepared to be tired… but amazed
Fact File
BESIDE THE LAKE Better known as a reservoir but redis­covered as a kayaker's dream, the picturesque body of still water that is Castlereagh Reservoir is an image right out of a fairytale. You will be mesmerised by the glassy surface of this lake-like body of water, the tall green mountains around it, as well as the calm and cooling sensation that seems to hover about the place. Indulge in a spot of kayaking or canoeing, or find a quiet place to try your hand at fishing. And pack a picnic lunch to enjoy on the banks of the reservoir.
BUCKET LIST PEAK Adam's Peak is within your reach from here; and while climbing it may not be everyone's cup of tea, it is a bucket list item for most Sri Lankans – be it nature, culture or adventure oriented. With the pilgrimage season behind us, this time of year is when Adam's Peak will have fewer crowds, making the climb easier and faster. If you have what it takes to ascend the 5,000 plus steps, do it! Pack water, light snacks and wear a hat or sweater if you're planning a night climb to catch the sunrise, which is when this mystical mountain is at its most glorious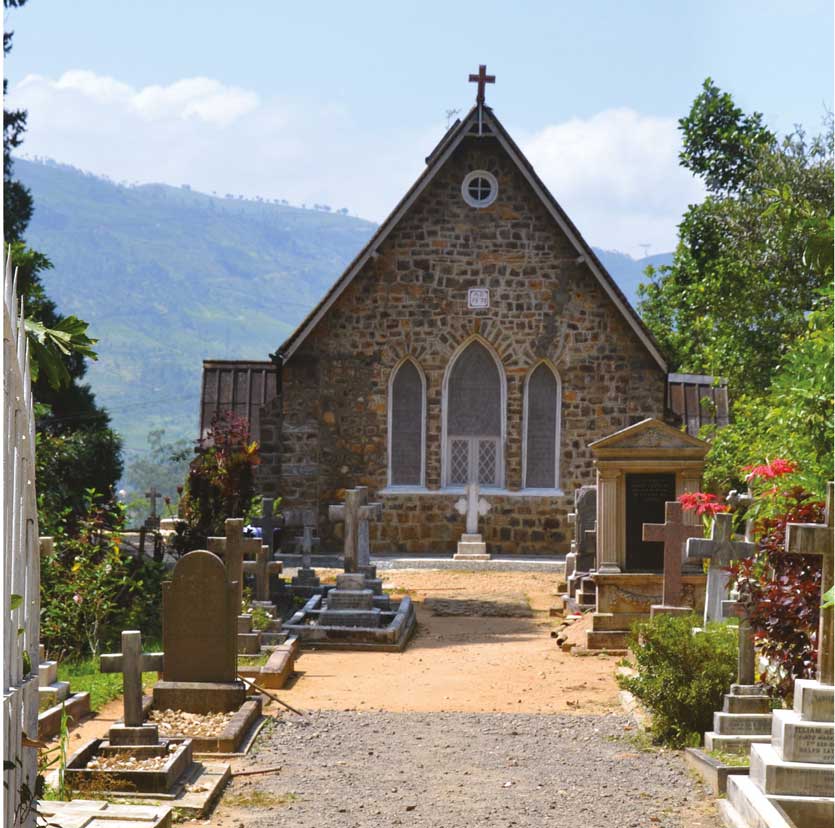 BRITISH RELICTS Christ Church Warleigh – Dickoya is hauntingly beautiful and breathtakingly appealing; it is a place where time seems to stand still. Built in 1878 on the edge of a small cliff, this typical British-style architectural building makes it easy to imagine how life was in the colonial days of Ceylon. The Bible in this church is said to be over 140 years old and probably one of the first in Sri Lanka. Don't forget to walk around the manicured cemetery and read the inscriptions on the tombstones for a glimpse into a bygone era.
WHITEWATER RIDE It might take you about an hour or more to get there but enjoying a spot of whitewater rafting is almost compulsory on any Hatton itinerary. Enjoy the adrenaline rush as you manoeuvre the many rapids on the Kotmale River as it makes its way down to the ocean. There are several rafting spots here so pick one at which you feel most comfortable and where the trainers are professional. Safety helmets
and jackets are a must but that won't save you from falling into the water, which is the most fun part!
OFF THE BEATEN PATH Hatton isn't as popular as Nuwara Eliya but the landscape is much more picturesque and there are fewer vehicles on the road, as well as less travellers. If you're a walking junkie, this is the perfect track – there's enough elevation here and there for a good workout, and vistas that will make you forget how tired you are! Cycling around Hatton is also an option if you want to cover more ground. Keep your phone or camera at the ready and make sure your battery is charged – there's going to be a lot of clicking!
With the pilgrimage season behind us, this time of year is when Adam's Peak will have fewer crowds, making the climb easier and fast.