HEINEKEN LANKA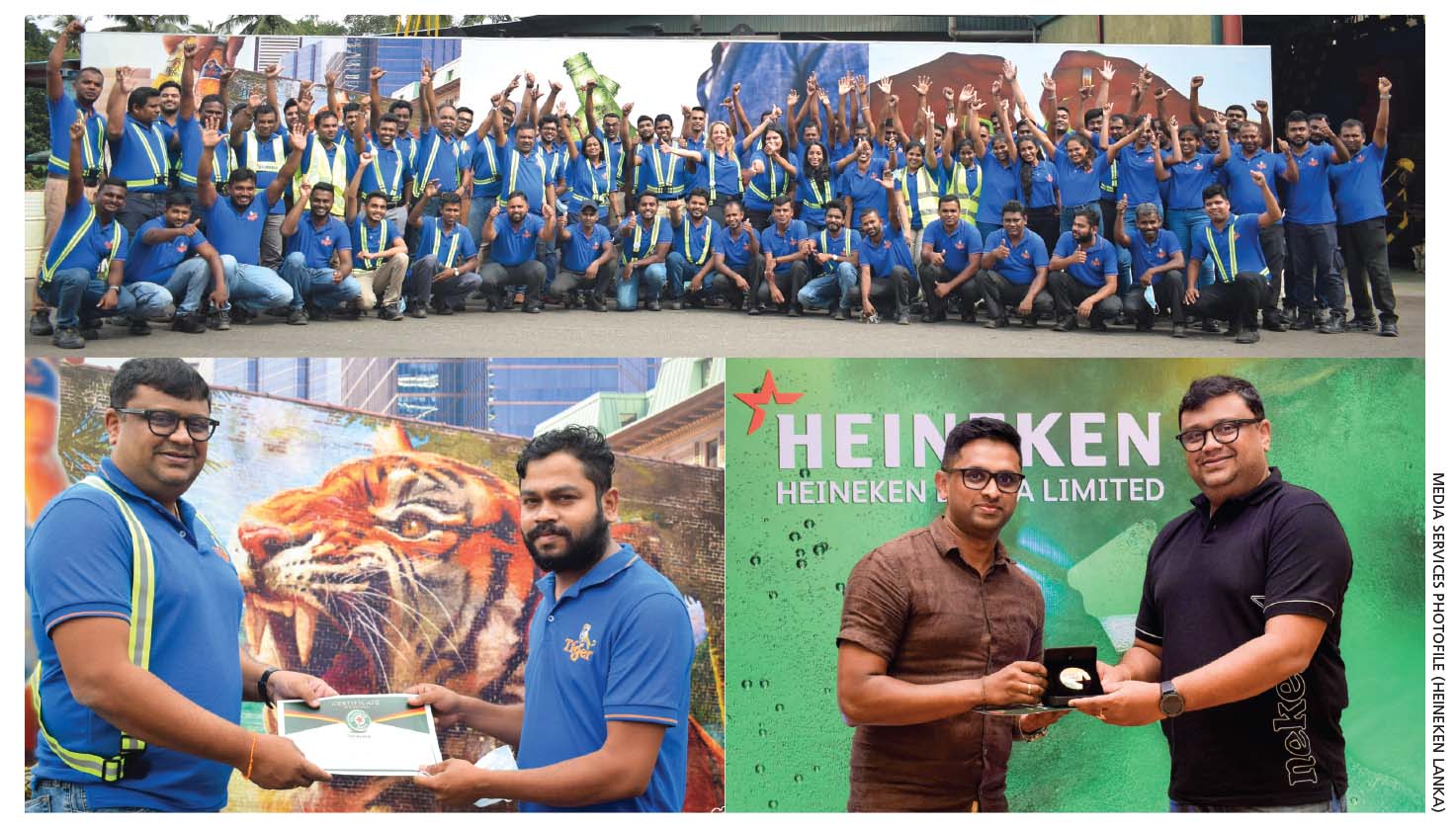 Q: How would you assess HEINEKEN's global footprint?
A: Headquartered in the Nether­lands, HEINEKEN has a history spanning 150 years and is present in over 190 countries, bringing great moments to consumers in the Americas, Asia-Pacific, Middle East and Europe.
We're Europe's No. 1 brewer and employ more than 82,000 people around the world. HEINEKEN Lanka is a wholly owned subsidiary of The HEINEKEN Company in the Netherlands and has been in operation in Sri Lanka since 1994. We are currently one of the 70 countries world­wide to have a brewing license and approval to manufacture Heineken® beer locally.
To be a part of HEINEKEN Lanka is to be a part of a global organisation and be exposed to a repository of international best practices.
Q: What are the organisa­tion's key strategic pillars?
A: HEINEKEN focusses on two pillars: 'Brand' and 'People' with both being treated equally.
Our purpose at HEINEKEN is to 'Brew the Joy of True Togetherness' and inspire a better world. And our core values of 'Passion' for con­sumers and customers, 'Cou­rage' to dream and pioneer, 'Care' for people and the planet, and the 'Enjoyment' of life harmonise perfectly with this purpose, and trickle down to how we work.
The key organisational priorities are woven around our values to unlock the full potential of the company and its people. At HEINEKEN, we look at superior, balanced growth – growth that doesn't come at a cost to the planet.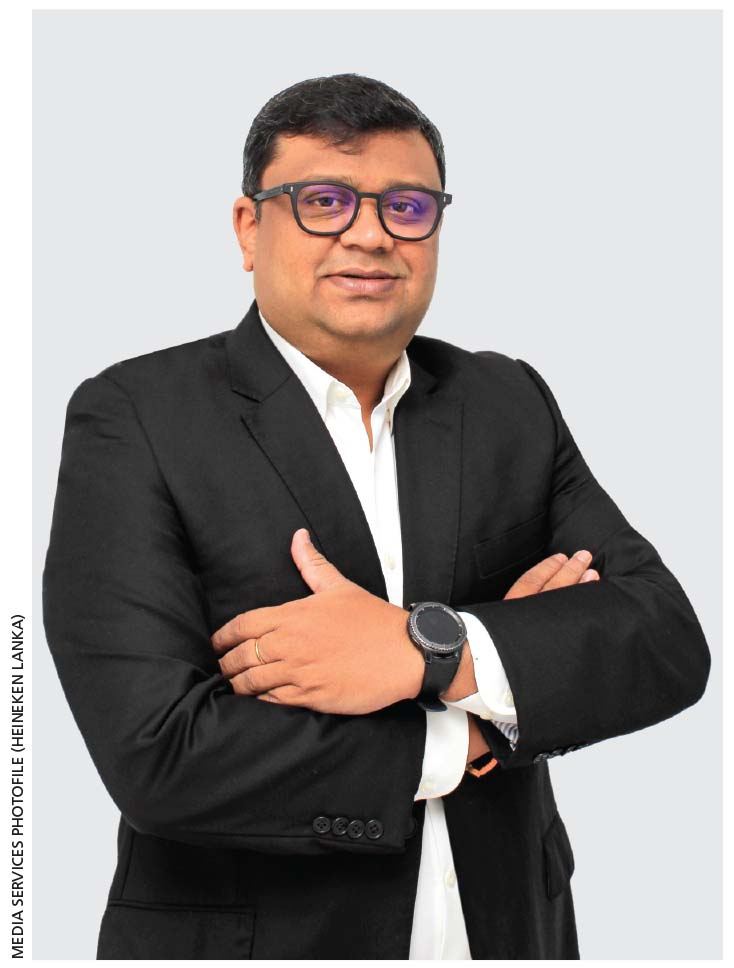 Q: How does HEINEKEN Lan­ka ensure that equity and human rights are upheld?
A: Equity is a key pillar for HEINEKEN and we drive human rights through group-wide initiatives. As an example, we take multiple measures to ensure equal pay for all genders, and conduct comprehensive audits on local, regional and global payment structures.
In addition to maintaining a healthy gender balance across our roles, we ensure equitable outcomes across diverse situations. For instance, when we provide insurance benefits, we go beyond traditional family setups and include all types of family structures.
Maintaining transparency has helped us uphold fairness. We conduct excellent transparent communication with our employees, unions and shop floor workers regarding our plans, challenges etc. Even when it comes to grievances, employees can directly speak up on any issue in any language they like and even elevate it to the regional level if satisfac­tory action is not taken locally.
Q: How have recent macro­economic changes impacted the way you work at HEINEKEN Lanka?
A: Our industry has been impacted since 2019 when tourism dipped after the Easter Sunday attacks. This was followed by the COVID-19 pandemic in 2020/21 and now the economic crisis. These circumstances have helped us prioritise three key aspects when it comes to our people: health, prosperity and happi­ness.
In terms of health, we were hyper-focussed on caring for our people by initiating multiple company-wide vaccination drives, a flexible work policy that allowed our employees to work from anywhere, complimentary safety gear, informative safety communi­cation and training, and a regular drumbeat with the leadership of the organi­sation to stay on top of the developing situation on the ground.
From a prosperity perspective, we are empathetic to the mul­ti­ple challenges that people are facing. As such, we have em­powered them with financial wellness training and paid a US Dollar equivalent special crisis allowance to help mitigate the adverse effects of the depreciation of the rupee.
Our latest initiative was to introduce the HEINEKEN Lanka Bicycle Policy where we provi­ded employees with bicycles and safety gear to ensure mobility during the fuel crisis.
To ensure employee happiness and wellbeing, we worked with external counsellors to provide psychological support via a confidential hotline, mandated a lunch policy where employees are entitled to an hour's lunch break devoid of meetings, and implemented 'No meeting Friday afternoons' where employees are given time to wrap up work for the weekend.
Q: What career enhance­ment opportunities do your employees enjoy?
A: Our multiple career enhancement opportunities, which we extend to our employees, include inter­national exposure for high potential talent across all levels.
For instance, the 18 month long HEINEKEN Graduate Programme grooms manage­ment trainees, locally and regionally while our Regional Talent Programme sends people for assignments in Regional Operating Companies to gain experience. The Leadership Fast Track programme is an eight month long leadership development programme that grooms management teams to take on senior assignments in other HEINEKEN Operating Companies.
We have many success stories where Sri Lankans are sought after for their talent. We are globally recognised on HEINEKEN's talent map and get handpicked by the group's international talent bench. This is why performance assessment is a priority at HEINEKEN. We integrate digital technology to carry out these assessments so that there is a line of sight to local talent at regional and global levels.
When people join HEINEKEN Lanka, they join a global organisation. Our people have the
opportunity to grow not only locally but globally as well. We believe that people are talented and
that we have a responsibility to create opportunities for them.
Telephone 4866575   |    Email info@heinekenlanka.com   |    Website www.heinekenlanka.com