HEALTHCARE SECTOR
NAVIGATING THE PANDEMIC
Dr. Lakith Peiris commends valuable contributions by private healthcare
Compiled by Isanka Perera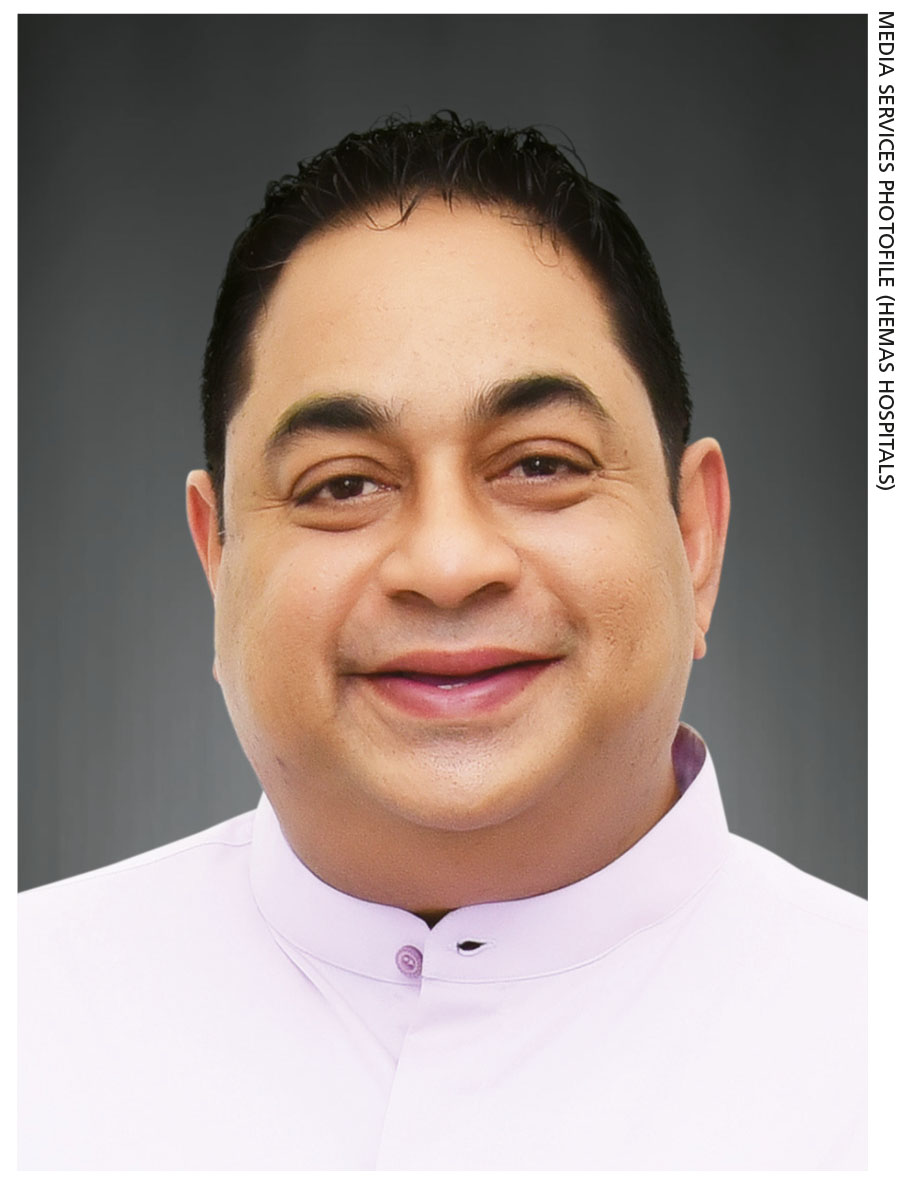 Q: What is your take on the country's present state of affairs?
A: COVID-19 reached Sri Lanka's shores as it was recovering from the impact of the Easter Sunday terror attacks of 2019. The pandemic is estimated to have caused between 48 and 59 million people to become or remain poor in South Asia – with countries having to contend with lower investment flows, disruptions to supply chains and setbacks to human capital.
Although Sri Lanka's economy has suffered because of these successive shocks, it has displayed resilience throughout – particularly in the last quarter of 2020 – and this has carried into 2021.
On a brighter note, the vaccination roll out has been highly successful and drastically reduced the adverse impact of the pandemic. Ensuring that a majority of the population are fully vaccinated is the only way we can revive the economy.
For a service sector driven economy such as ours, this is vital for winning back the confidence of international travellers and investors.
Q: Currently, Sri Lanka is rolling out the booster dose for eligible citizens. In addition to what you've said above, how do you view the progress of the nation's vaccination roll out so far?
A: According to official statistics, almost 99 percent of those over 16 have received the first dose and more than 85 percent both doses.
Currently, booster doses are being administered daily and the public is expected to support the government's vaccination effort for the benefit of the nation at large.
These figures are commendable compared to developing and neighbouring countries. In early January, Sri Lanka's fully vaccinated population was above both global and Asian percentages; and the government, state healthcare sector and armed forces must be given credit for this achievement.
Q: How concerned should we be about recent variants of SARS-CoV-2?
A: Variants emerging as a result of mutation is definitely a cause for concern. The WHO has stated that the Omicron variant carries a higher risk of reinfection. It is crucial that we continue to adhere to safety measures as a precaution and comply with vaccination efforts.
Some developed countries have adopted the stance that COVID-19 is now endemic rather than a pandemic – Spain was the first European nation to say so. Though its spread is ongoing with the appearance of new variants, we see that an infected majority are asymptomatic due to efficient vaccination drives.
Q: Could you outline the importance of the private healthcare system?
A: A strong private healthcare system is an asset that complements state services. Considering the constraints on the state healthcare system, particularly in the midst of a pandemic, the importance of a robust private sector has never been greater.
Currently, over 60 percent of OPD services are catered to by private healthcare, and we continue to introduce the latest equipment and procedures for better clinical outcomes.
There is a shortage of healthcare workers – especially nurses, lab technicians and paramedic staff – so building human capital is a priority. Private healthcare institutions have proactively engaged with the authorities to introduce qualifications to address this issue.
Q: How would you evaluate private healthcare's role in Sri Lanka's COVID-19 response?
A: The agile and resilient responsiveness of private healthcare has been a pillar that helped reduce the unprecedented burden of the pandemic on the public healthcare system.
And the introduction of intermediary care facilities for infected patients, increasing the country's PCR testing capacity, and introducing dedicated COVID-19 wards and ICUs, are among the many ways in which it has contributed to the government's efforts to navigate the pandemic.
When most public hospitals were mobilised to treat COVID-19 patients, private hospitals continued to provide routine healthcare, elective surgery and laboratory services while leveraging on digitalisation to ensure that healthcare is accessible to the public. It has been quick to adopt digital solutions for both front and back end services – for the convenience of patients and clinicians, and to reduce overcrowding.
These measures have worked well for hospitals and laboratories. It's worth noting that these services were provided amid many challenges – especially given the need to follow stringent safety protocols in hospitals.
Q: Based on recent developments, how must the country prepare for the post-pandemic world?
A: We must strive to minimise the pandemic's adverse influence on public health while ensuring that the economy continues to thrive.
Rather than being a short-term inconvenience, COVID-19 is here to stay. It is important that we change our mindsets and continue to be proactive in policy reforms that benefit the people. Consistent public policy is a key to success.
The 'new normal' has presented the world with an exacerbated set of challenges, as well as diverse possibilities, skills and technology – and a unique and evolving way of life. Resilience has always been our nation's defining characteristic in hard times so let's embrace it and move forward.
The interviewee is the Managing Director of Hemas Hospitals