HEALTHCARE CRISIS
THE STRUGGLE TO
HEAL SRI LANKA
Fazmina Imamudeen assesses the impact of the economic crisis on healthcare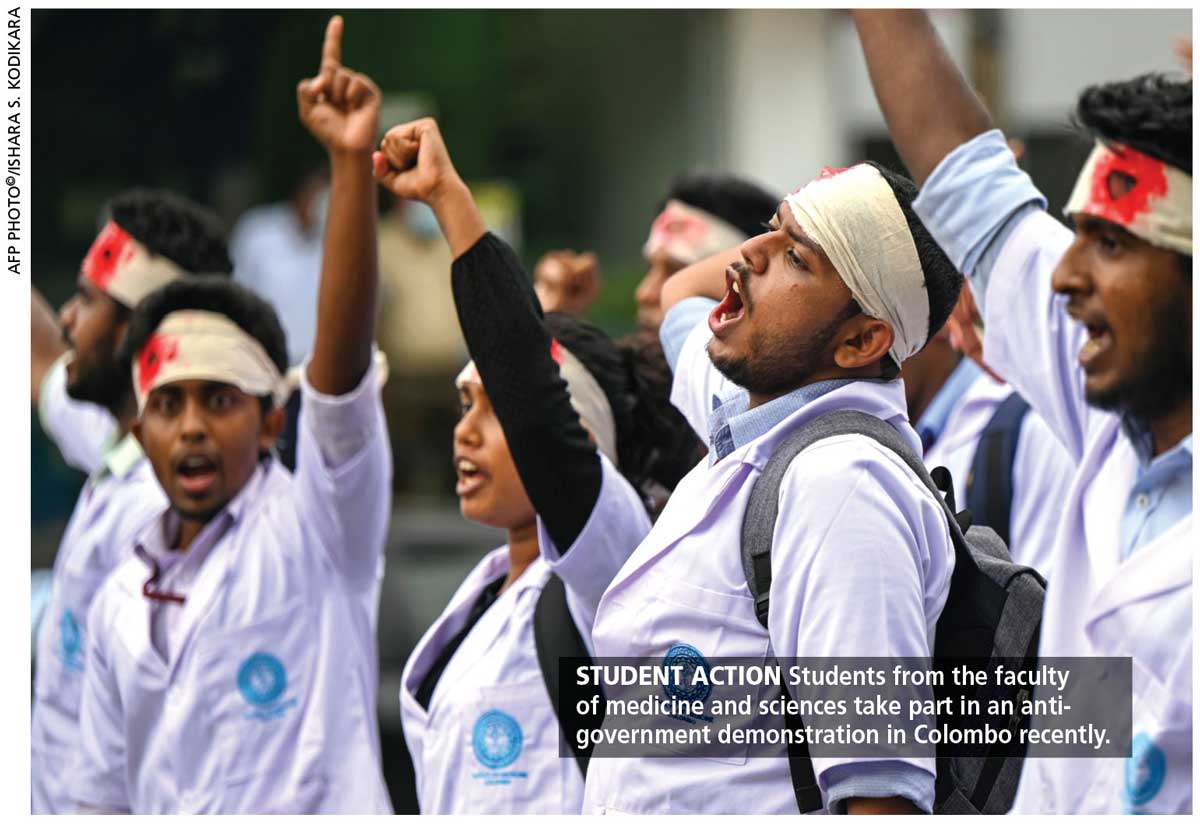 "The government's solution to a problem is usually as bad as the problem," says Milton Friedman. And his words are the absolute truth with regard to Sri Lanka.
Ideally, the state provides free healthcare in the form of Western medicine through government hospitals that are located throughout the island. Sri Lankans have access to a vast network of public healthcare clinics and hospitals, and the majority of the population lives within five kilometres of such facilities.
Sri Lanka has accomplished remarkable milestones in healthcare by going above and beyond what would be expected given its level of revenue. From the grassroots where public health midwives travel to assist pregnant mothers in every nook and cranny of the island to the elimination of malaria, filariasis, polio and tetanus in newborn infants, the state has achieved enviable advancements in essential healthcare indices.
The nation has longer life expectancy and lower mortality among mothers and babies than its neighbours, and this gives it a higher score than the norm in the region in terms of healthcare.
Unfortunately, recent events have warped the situation since February 2022 and the healthcare system has all but collapsed. Sri Lanka is heading towards a self-proclaimed apocalypse not by the ship's sailors or passengers but the captain's drastically ill calculated calls.
An entire nation is now paying the price.
There's hardly any money left in the state coffers and the nation is being forced to default on its foreign debts for the first time. And the country stands naked like a baby – helpless, hapless and orphaned wallowing in agony as it continues its rapid descent into a black hole of debt that unscrupulous political leaders have opened up.
As a result of the lack of foreign exchange and funds, medication and medical equipment are now in limited supply. This has restricted access to regular procedures and clinical treatments, and put the healthcare system in jeopardy. Most hospitals are restricting surgical procedures to those that are considered urgent and standard operations have been postponed until further notice.
The poor and marginalised are suffering the most. Since they don't have the financial means to seek medical treatment in private hospitals, their access to medical care is restricted.
So what's the solution? Should they give in to their suffering and stay quietly, or allow themselves to fall ill and die?
Several upsetting stories went viral recently on various social media platforms. A pregnant mother, desperate to escape the deprivation she was facing, stood in the queue at the passport office for two days. On the third day, she went into labour while in the queue.
Many deaths have been reported of people waiting in fuel queues. Sadly, there have been instances where family members have gone hunting for medicines, only to find that the patient had passed away while they were out.
These sound like stories right out of a dystopian novel.
In addition, keeping COVID-19 and dengue at bay has become significant issues. In the current environment, rabies will be fatal if the vaccines aren't available. Even the common cold causes immense anxiety. Uncertainty increases tension, leading to trauma and depression.
Can this catastrophe be mitigated?
Healthcare professionals had previously campaigned for political reforms and decision-making processes that are more open and transparent, all of which will assist in managing the crisis.
Dr. Lahiru Kodithuwakku is a firm believer in community resilience and community engagement in disaster risk reduction. He says that it is critical to devise contingency plans to shift resources to the most vulnerable by establishing community outreach clinics and mobile or field medical units.
It is necessary to begin with more targeted measures such as soliciting financial support and contributions of medicines, consumables and equipment via social media, crowdfunding, professional organisations and nongovernmental organisations in foreign countries.
"Everything that happens once can never happen twice. But everything that happens twice will surely happen a third time," wrote Paulo Coelho in The Alchemist.
Sri Lanka can't afford to gamble with its political leaders any longer. Seven decades of independence is seeing a country that's being ravaged by corruption. The true lesson of history is that it will repeat itself.
So now is the time to call it quits and work through the devastation to resurrect Sri Lanka as a land of promise once more.