HAMEEDIA
Hameedia's 'Men in Black' dazzle at CFW
Hameedia, the pioneer in men's fashion celebrates its 70th anniversary this year of providing superior quality menswear and exceptional services to Sri Lankan men from all walks of life.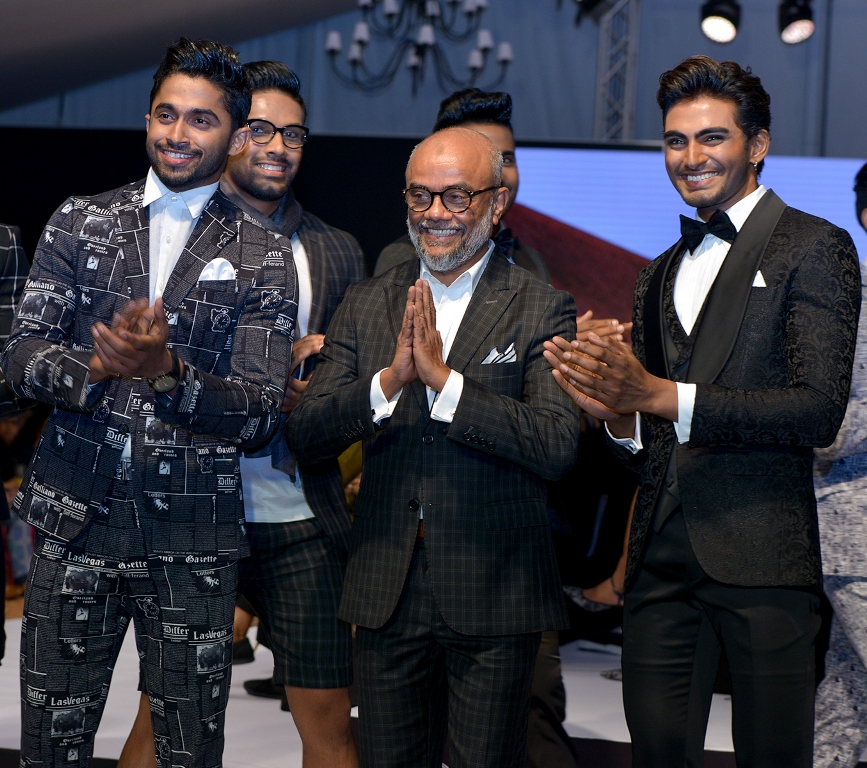 Its brand new collection which was featured at the recently held HSBC Colombo Fashion Week under the theme, 'Men in Black' redefined menswear with models adorning the most current and classic trends woven around the textures, shades and fabric of black haute couture. It was a dazzling spectacle and mirrored the fashion giant's ability to showcase class, elegance, timeless and contemporary fashion concepts throughout its journey spanning seven decades.
Founder and fashion guru Fouzul Hameed was quoted as saying, "The sense of style among Sri Lankan men is fast evolving and the CFW which depicts glamour and grandeur has provided a platform for Hameedia to dazzle in the local arena. It has also been an honour and privilege to offer the men of our country and international clients the most unique designs in keeping with global trends for the past 70 years".
The seasonal splendor focused on 'Men in Black' which in itself is a strong shade of colour which complements all skin tones and defines class and power made Hameedia's latest collection (2019/2020) the rage at the CFW. A total number of fifteen outfits were presented comprising five from the Ceremonial Collection which Hameedia's is famed for and ten of which portrayed the street-smart suave and savvy look.
In true Hameedia style, the street smart collection was a blend of brocade, cotton, linen, poly-viscose and stripe rollup with black, gray and white colour combinations, giving the wearer a more vibrant and diversified range to choose from.
While providing a one-stop fashion solution consisting of custom-made and ready-made clothing, intricately designed shoes and accessories for all Sri Lankan men, Hameedia's fame has also spread exponentially securing an ever-growing overseas clientele. Moreover, it has received global recognition as the designated brand at prestigious pageants held internationally.
Hameedia's portfolio is further strengthened by its business partnership with world acclaimed leading menswear brands. Throughout its seventy years of existence it has earned a reputation for providing its clients with an exclusive range of designs incorporating the finest fabrics and embellishments which are on par with international standards. The leading brand is synonymous with comfort, class and style and available at spacious showrooms located island wide.
"The 'Men in Black' collection is exclusively for the men who want to make a statement and an impact which is subtle yet powerful. It is a tribute to all the men who have contributed towards our success. At Hameedia's, each garment reveals a story of determination and accentuates the drive which fuels our passion to energize men fashionably." concluded Hameed who spearheads Sri Lanka's premier men's fashion brand.