TOURISM INDUSTRY
Compiled by Lourdes Abeyeratne
GREEN VALLEY OF GROWTH
Adrian Jansz is confident about prospects for the local tourism industry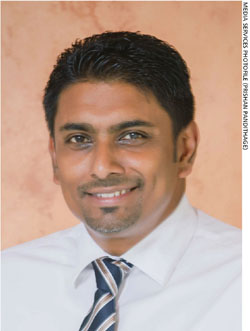 Q: What is your assessment of the tourism landscape in the Asia-Pacific region?
A: In my opinion, the tourism landscape is evolving and the Asia-Pacific region has displayed substantial growth.
This is because more people are opting for experiential travel – i.e. exploring new areas by excursions, camping, nature trails or other activities rather than staying in one place. For example, cooking with the natives is one of many activities that can be experienced here.
In Sri Lanka, the informal sector seems to be growing, which includes unclassified hotels, Airbnb lodgings, villas and boutique hotels. Meanwhile, star class properties are experiencing moderate growth because people are dissatisfied with the traditional setup. Instead, they're looking to explore new paradigms.
The tourism landscape is changing and I believe that the Asia-Pacific region will continue to grow.
Q: And how do you envision Sri Lanka's tourism industry in five years?
A: For the industry to bounce back to performance levels prior to the Easter Sunday attacks in April, it will need another year to regain travellers' confidence. By then, many new products would have entered the market.
There will be an influx of rooms in Colombo and the south coast; and the Cultural Triangle is becoming congested to the point that one may see more roofs than trees from the Sigiriya rock fortress!
Resource scarcity in terms of talent makes the difference as regards service. Sri Lanka boasts the best hospitality because our people always serve with a smile. As those with knowledge and skills have left for higher wages in other countries, the industry must work to regain this edge.
The government and tourism stakeholders should look to set up training centres or hospitality schools. And the latter must collaborate in this endeavour, taking into account projections for the next five years, and thinking about how to achieve this goal as well as the support needed.
So the outlook for the industry should be positive with big brand names entering the country. This will provide Sri Lanka with more visibility through meta-search engines – especially online travel agencies such as booking.com – and that would mean the destination is known and associated with renowned brands. This would attract more customers and generate higher revenues.

Q: What strategies should the industry implement to achieve its stated Vision 2025 target of attracting five million tourists?
A: An important strategy should be to engage brand ambassadors, which we're looking into. Sri Lanka was the premier partner at the recent World Travel Market (WTM) in London where Kumar Sangakkara was a spokesperson to help generate hype for the country as a destination.
Beyond this, we should identify source markets with repeat clients who know the country and are looking to spend long holidays.
For instance, the UK has been among Sri Lanka's top source markets for a long time, followed by Germany. Additionally, we should seek new source markets.
As the island has a sufficient number of hotel rooms, we must look to develop attractions in the south, the hill capital, the Cultural Triangle, Jaffna and the east coast. These would be long-term projects and setting the stage for them would lead to prospective travellers perceiving Sri Lanka as a viable destination.
By 2025, the ideal situation would be for everyone in the tourism industry to be working together with one voice.
Q: And which strengths should be developed to enhance the country's tourism offering?
A: It's of utmost importance that the Sri Lanka Tourism Development Authority (SLTDA) plays a role as the face of Sri Lankan tourism because it is the first point of contact. So it should participate in trade fairs or road shows alongside our embassies and high commissions in these locations, and promote the island as a whole rather than specific hotels or properties.
This should begin with promoting our people, the destination and its unexplored areas, and gaining testimonials. We must do this consciously and on a regular basis.
Furthermore, we should expand our tourism offering. While Sri Lanka may have its traditional beaches, it is also known to offer travellers four seasons in a day – i.e. when travelling from the south through Kandy to Nuwara Eliya, for example. We should embrace and promote this.
In addition, we should promote the country's diversity when it comes to areas like Ella, which has been a trending destination in recent years. Tourism should be promoted by driving growth in these areas.
The interviewee is the General Manager of Sales and Marketing at Serendib Leisure Management