GLOBALDATA
Asia-Pacific suffers 12.4% decline in deal activity in July 2022 due to investors risk-aversion, finds globaldata
The ongoing geopolitical and macroeconomic headwinds seem to be making investors in the Asia-Pacific (APAC) region risk-averse. A total of 1,342 deals (mergers & acquisitions [M&A], private equity, and venture financing deals) were announced in the region in July 2022, a decline of 12.4% over the 1,532 deals announced in June 2022, reveals GlobalData, a leading data and analytics company.
This follows 9.6% year-on-year growth in deal volume in H1 2022 despite China, which is the most prominent APAC market, witnessing a decline in deal activity.
An analysis of GlobalData's Financial Deals Database reveals that the deal volume in July was down by 14.8% and 4.3%, respectively, compared to the monthly average of Q1 and Q2. VC funding activity so far this year has been fluctuating with July reversing the growth trend witnessed during the previous month.
Aurojyoti Bose, Lead Analyst at GlobalData, comments: "The decline in July can be attributed to the subdued activity experienced across several key markets. Several APAC countries are going through economic distress causing slowdown in deals activity."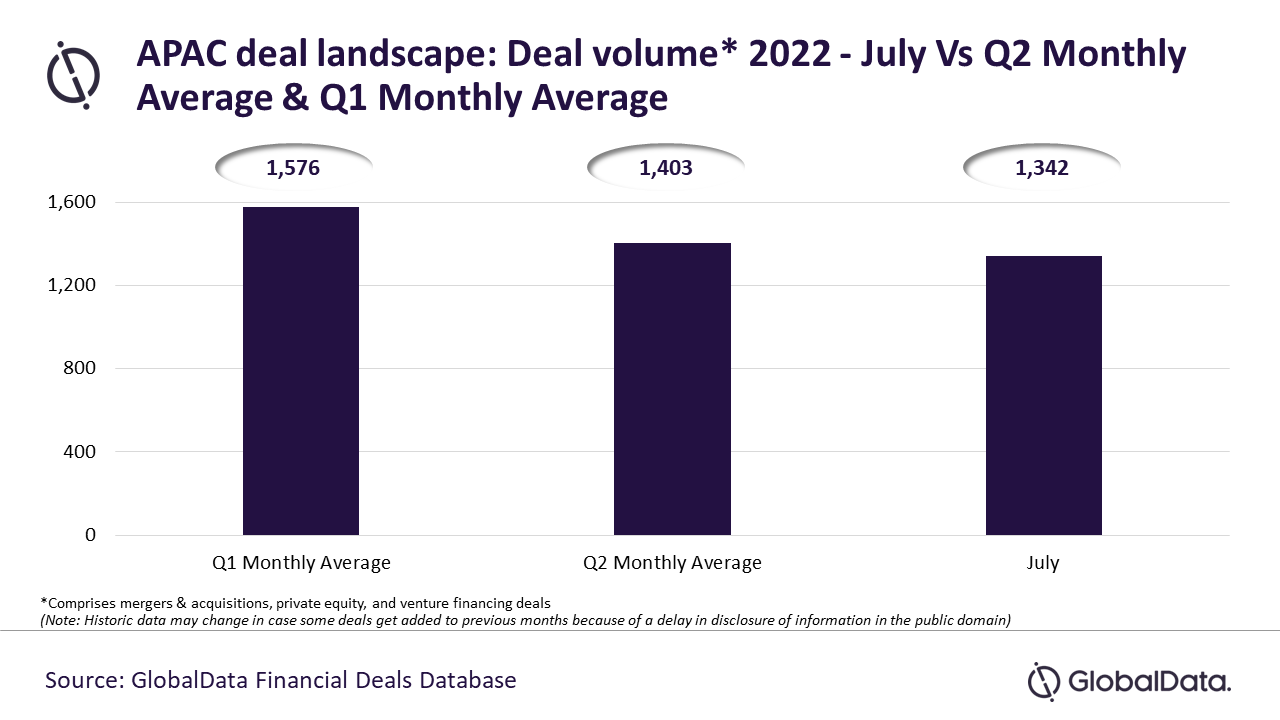 Deal activity suffered a setback in most of the key APAC markets with China, India, Japan, South Korea, Australia, Singapore, Indonesia, and Hong Kong witnessing 7.6%, 13.7%, 12.4%, 21.3%, 10.5%, 8.6%, 2.7% and 45.2% month-on-month decline in deal volume respectively in July. Meanwhile, Malaysia and New Zealand were the notable exceptions to register improvement in deal volume by 4.5% and 33.3%, respectively.
All the deal types under the coverage witnessed decline in volume. The number of M&A, venture financing and private equity deals decreased by 15.8%, 8.7% and 27.5%, respectively, in July 2022 compared to the previous month.
Bose concludes: "Just as the deal activity across APAC was beginning to show some signs of resilience during H1 2022, the ongoing global geopolitical risks undid the gains. Any rebound in H2 2022 will depend on how the regional governments respond to the evolving socio-political developments."