GLOBAL OUTLOOK

SUSTAINABILITY 
TRENDS
Resetting the future path of the planet – Kiran Dhanapala
Indeed, 2021 is a 'reset year' with continuing uncertainty. Since the World Resources Institute (WRI) says current policies will result in a 2.9º C rise, climate change will have a decade-long focus.
Corporates must have aggressive rather than incremental sustainability targets and implement their publicly disclosed 10 year action plans with mandatory reporting.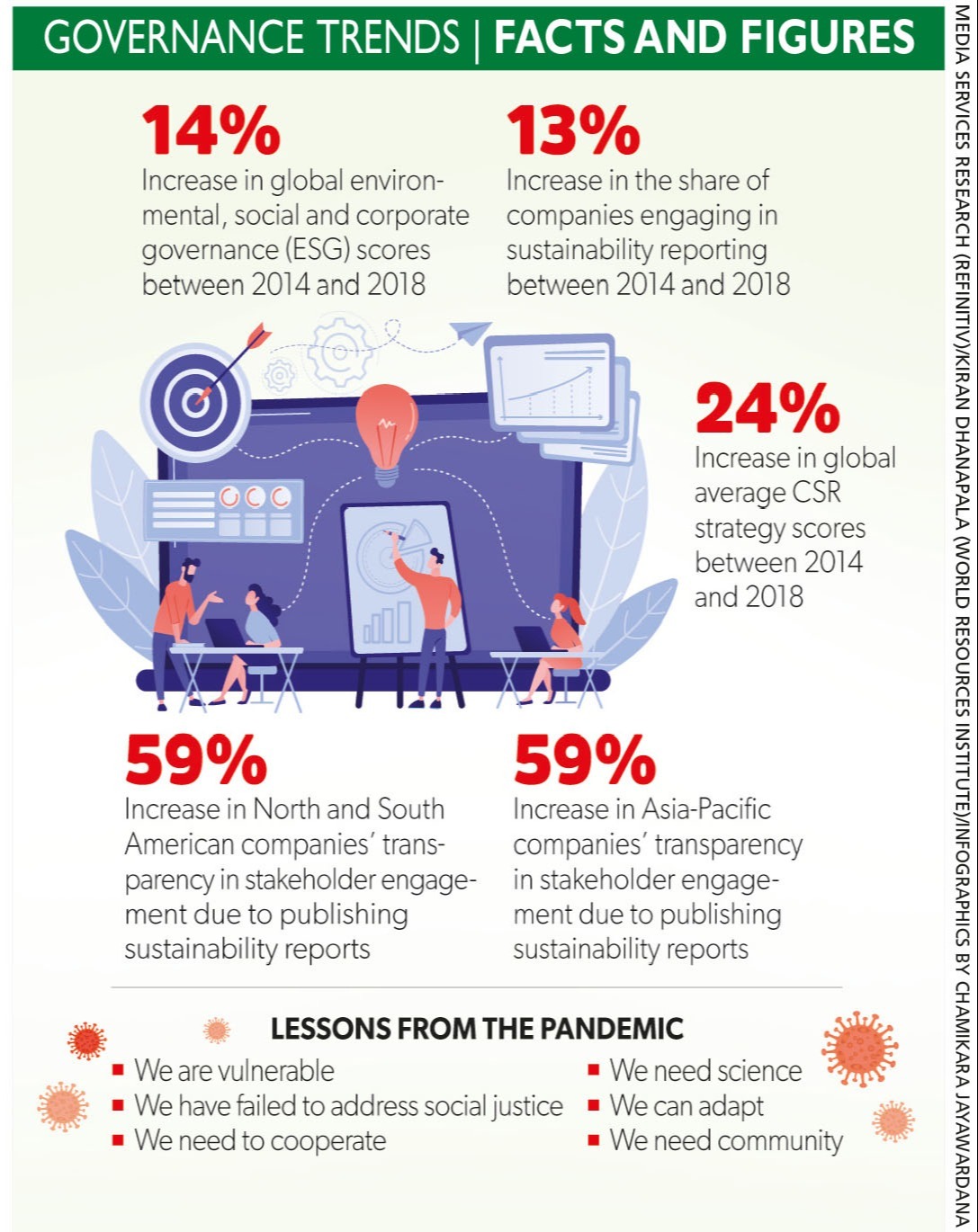 NATURE Biodiversity is the vital buffer between animals and humans that keeps zoonotic diseases such as SARS, bird flu, COVID-19 and so on at bay. This calls for increased regulation of high-risk species in the wildlife trade, and better conservation and protection of their habitats.
The next Conference of the Parties to the Convention on Biological Diversity (COP 15) will be held in China this year. And 2021 will see many other nature related meetings that are key to the climate change fight as well.
Furthermore, previous zoonotic outbreaks in domestic livestock or pets implies the need for stronger measures in food systems – especially meat processing plants, worker and food safety, animal welfare, antibiotic use etc.
Blue (marine) environmental issues will become increasingly significant due to ocean floor mineral extraction, micro-plastics and other pollution of the seas, as well as overfishing leading to dwindling fish stocks.
A four part strategy to realise the value of nature – viz. produce, protect, reduce and restore – is being advocated. This includes efforts to integrate nature with food and agriculture through increased funding, in addition to greater investments in biodiversity by both state and corporate sectors in national stimulus packages.
SOCIAL JUSTICE Race (Black Lives Matter), gender (Me Too) and all forms of social justice will continue to trend. The pandemic disproportionately affected women, lower paid workers, those without social safety nets et al.
This implies that the 'S' in ESG (Environmental, Social and Corporate Governance) will become a focus within sustainability. Initiatives can have a major impact by building and strengthening communities.
SELF-SUFFICIENCY Regional and national protectionist moves are afoot given the state of the global economy. Since many countries are promoting local consumption and supporting local producers, 'deglobalisation' will trend.
USING RENEWABLES The Institute for Energy Economics & Financial Analysis (IEEFA) notes that more than 150 major global financial institutions have 'coal exit policies' in place. Sixty-five banks have committed to tighter lending guidelines this year alone. Since oil and natural gas are also affected, long-term oil price forecasts are lower.
Major North American banks no longer support Arctic drilling and big pension funds are divesting from fossil fuels. Predicted accelerating capital flight will soon include oil and gas. And all are considered 'stranded assets' with risks.
TECH DISRUPTION Digital platforms such as Zoom and big tech proved indispensable in 2020. They also enabled productivity increases. AI and digitalisation took off faster in Asia particularly with customers. However, the downside of data privacy, impact of social media, fake news and so on will pose concerns such as with WhatsApp after privacy policy changes.
Tech innovations bring disruptions and create space for entrepreneurs that need support. Many may be 'solopreneurs' but some are likely to be hired in the future despite many small businesses failing in a few countries.
GREEN RECOVERY There is more emphasis on green recovery now than following the 2018 financial crisis. China's 2020 pledge to become carbon neutral by 2060 is advantageous.
Large investments also provide benefits including avoiding premature deaths from air pollution, reducing climate damage, limiting CO2 emissions, saving fuel and maintenance costs, and creating jobs.
South Korea's Green New Deal over two years with US$ 10.5 billion and 133,000 new jobs is remodelling public buildings, creating urban forests, recycling and developing low carbon industrial complexes. Singapore has begun investing in sustainability and jobs, to boost its climate mitigation and adaptation capability.
The pandemic has caused near bankruptcy in many public transit systems and as such, new green investments in city transport are also needed.
Resilience in the tourism industry brings potential for regenerative tourism. Many niche tourism operators are using local 'travel bubbles' for environmentally and socially responsible activities until travel takes off.
WORK SPACE WFH will continue even in a hybrid form. It implies less office space, different office designs and more real estate for urban housing. While less commuting means less pollution, it also requires different kinds of cleaner mass transportation investments.
Work will be increasingly purpose driven, purposeful employers will benefit most from attracting and retaining the best talent, and stakeholders will replace shareholder capitalism.