CG HOSPITALITY
Two iconic properties signal Binod Chaudhary's CG Hospitality entry into East Africa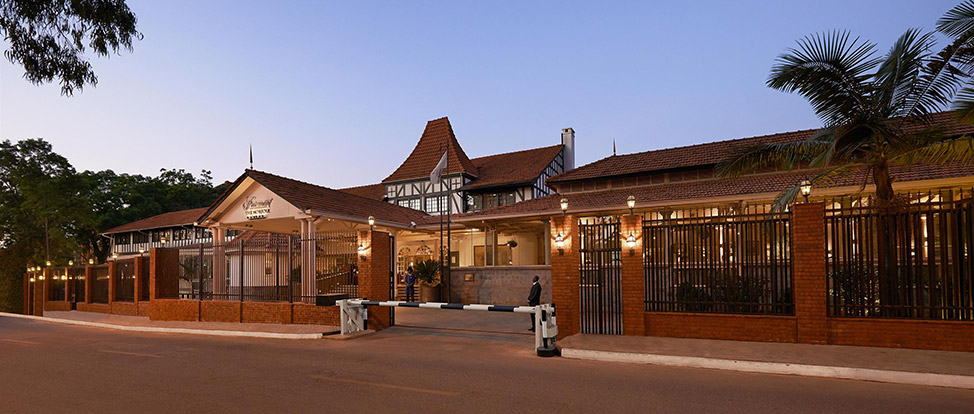 Chaudhary has footprint of 14 hotels in Sri Lanka
Global hospitality journey began with Taj Samudra; owns and operates 134 hotels, resorts and wellness spas across 93 destinations
Has JVs in Sri Lanka with Jetwing Group, Ceylon Hotels Corporation and partnership with Hatton Plantations
 16th June 2020: CG Hospitality, the hospitality arm of CG Corp Global, the first multi-billion-dollar conglomerate from Nepal headed by Binod Chaudhary who also has investments in the hospitality industry in Sri Lanka announced its re-entry into the rapidly growing East African market, with the acquisition of two iconic Fairmont properties in Kenya, The Fairmont Mara Safari Club and Fairmont The Norfolk.  Renowned for its impressive and storied history, Fairmont The Norfolk hosts 27 luxurious suites and 143 rooms set around tranquil tropical gardens intertwined with the rich history of the city.   The Fairmont Mara Safari Club with its 51 luxuriously furnished tents at the foot of the Aitong Hills overlooking the hippo-filled Mara River, is inside the Maasai Mara Game Reserve and home to the great wildebeest migration.
With this acquisition, CG Hospitality becomes a part of a rich historical legacy that the Fairmont 'The Norfolk' hotel celebrates. From being the first luxury hotel in Kenya to being a shelter to men and women during World War II, the property has seen and been a part of momentous world events.  It 1909, it was also one of the stops on Theodore Roosevelt's "Africa Safari and Scientific Expedition" and was a gathering place for legendary figures throughout the 1900s including author of Out of Africa Karen Blixen and the Adamsons, immortalized in the movie Born Free.
Expressing elation at leading the company into its strategic expansion plans, MD & CEO of CG Hospitality Holdings and CG Corp Global Rahul Chaudhary said, "The acquisition of these two Fairmont assets in Kenya is a proud moment for us given that it signals our re-entry into East Africa, especially for our local partnership in this acquisition through our holding Company CG Madison (Kenya) Limited. With the Fairmont The Norfolk, we are really buying a piece of history which is priceless! This acquisition plays a very important role in our global vision to reach 200 properties by 2025. In this regard, we have mapped out a 5-country growth strategy in Africa, which we will henceforth pursue."
CG Hospitality's journey began in 2001, when Nepal's only billionaire Binod Chaudhary invested in Taj Samudra, Sri Lanka along with two other iconic Taj properties in the Maldives. The CG Group has in the last 19 yeas inked joint ventures with the Jetwing Group for Jetwing Vil Uyana and Jetwing Sea and the Ceylon Hotels Corporation as well as a partnership with Hatton Plantations.  Continuing his father's entrepreneurial legacy, Rahul Chaudhary joined the already successful CG Corp Global in 2006 as Managing Director and has been spearheading the new hospitality properties in key destinations around the world.
About CG Hospitality [Global]:
Globally, CG Hospitality Holdings owns and operates 134 hotels and resorts with 7561 keys in 12 countries and 93 destinations. Focused on "Vision 2025", its portfolio is expected to grow to over 200 hotels globally. CG Hospitality also has a proud history of successful joint ventures and investments with esteemed partners and brands such as Taj, Vivanta, Taj Safaris, Jetwing, The Farm, Radisson to name a few.  They operate hotels, resorts and spas across Asia, Middle East, America and Africa. CG Hospitality also owns the global management company, CG Hotels and Resorts, which manages and owns a range of mid-scale to luxury hotels through its own brands namely "The Zinc" as well as "The Fern", through JV Company's Concept Hospitality.
CG Hospitality continues to provide renowned hospitality services, which makes it one of the most diversified hospitality groups in the region at large. The portfolio consists of some of the most iconic properties and destinations of the world — including Taj Exotica Resort & Spa, Maldives, Jetwing Vil Uyana – Sigiriya, Sri Lanka, The Farm at San Benito, Philippines, Meghauli Serai (A Taj Safaris Lodge) – Chitwan, Nepal, Taj Samudra – Colombo, Sri Lanka, Taj Jumeirah Lakes Towers – Dubai and now Fairmont The Norfolk – Nairobi, Kenya, Fairmont Mara Club – Masai Mara, Kenya amongst others.