GALLE FACE HOTEL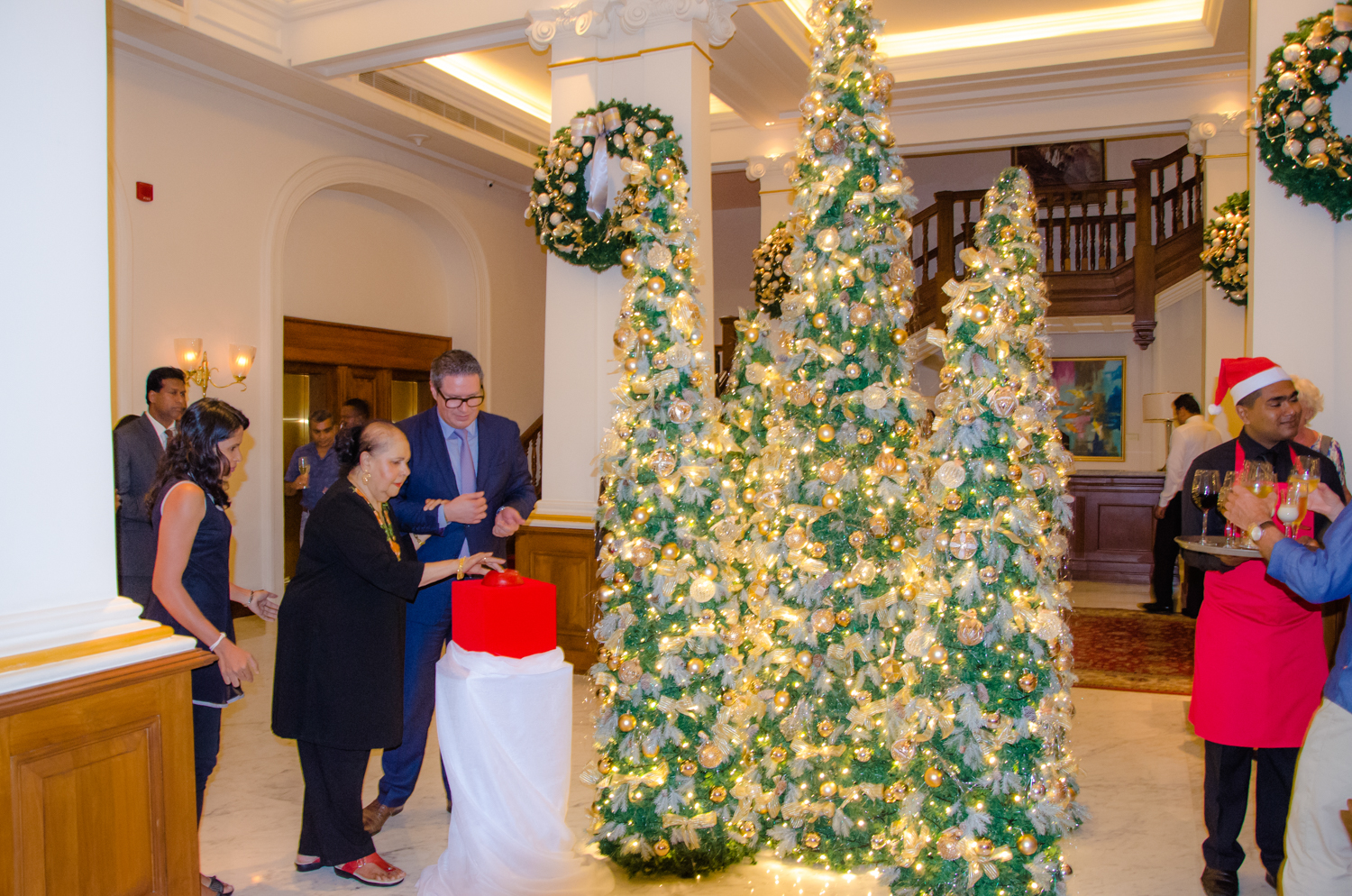 Colombo, Sri Lanka (December 4, 2017): South Asia's leading Grande Dame kicked off the holiday season on Monday night as Chairman and owner, Mr. Sanjeev Gardiner and his mother Mrs. Mavis Gardiner threw the switch that lit the Christmas tree inside the hotel lobby, surrounded by in-house guests and friends of the hotel.
The annual Tree Lighting Ceremony has become a holiday tradition at the Galle Face Hotel, and is a celebration of cheer and goodwill. A choir sang Christmas carols while the audience looked on in delight. This year's event also featured the arrival of Santa Claus who greeted the children and handed out early Christmas presents.
General Manager of the Galle Face Hotel, Mr. Deni Ohlsen-Dukic invited guests to enjoy canapés and Christmas goodies such as Reindeer buns, as well as an assortment of cheeses, mulled wine and eggnog which added to the air of festivity.
The hotel was decorated with beautiful Christmas trees and intricate wreaths, while the exterior was bathed in a cheerful green lighting to mark the season. For more information on seasonal events at the Galle Face Hotel, please contact the Special Events Team on 0777222135.
About the Galle Face Hotel     
South Asia's leading Grande Dame, the Galle Face Hotel is testimony to both Sri Lanka's colonial past and its independent present. Celebrated within the hospitality world, it blends historicalsplendour with crafted modernity to form a new model for heritage properties. International guests are immersed in the Galle Face Hotel's rich traditions and compelling stories, while Colombo society perceive the hotel as the most prestigious, desirable destination in the city formemorable dining and special events. Whether at the hotel for dinner or for a month-long stay, an experience of the Galle Face Hotel is one of timeless grandeur and exceptional hospitality.
Celebrating 150 years, the Galle Face Hotel is one of the landmarks in Asia and was acclaimed as one of the best heritage Hotels in Sri Lanka in 2012. Further it is the first Hotel in the country to be featured on a postage stamp.
About the Galle Face Hotel Group
The Galle Face Hotel Group manages the hotel and leisure interest of Galle Face Hotel, Kandy Hotels PLC & Ceylon Hotels Corporation PLC.
Under this banner are 3 distinct portfolios of businesses.
The Deluxe Heritage Hotels Collection
Galle Face Hotel in Colombo and Hotel Suisse & Queens Hotel in Kandy.
Each hotel is a connected to Sri Lanka's history, imbibed with the splendor of yesteryear while continuing to serve visitors, foreign and domestic is gracious surrounds.
The Resorts Collection
4 hotels routed in some of Sri Lanka's most special areas offer a modern facility with outstanding vista & access to experience this great country.
The Lake Hotel Polonnaruwa, The Surf Hotel Bentota, The Safari Hotel Thissamaharama and The Lake House Polonnaruwa.
Each of these recently refurbished hotels offers traditional Sri Lankan hospitality to visitors.
For more information please contact:
Shalini Perera
Associate Director, Public Relations
shalini@gallefacehotel.net
+94 77363 4907 – www.gallefacehotel.com