SRI LANKANS OVERSEAS
FUTURE FUNDING
Suresh Weerasinghe calls for investment friendly policies
Q: How do you perceive Sri Lanka today?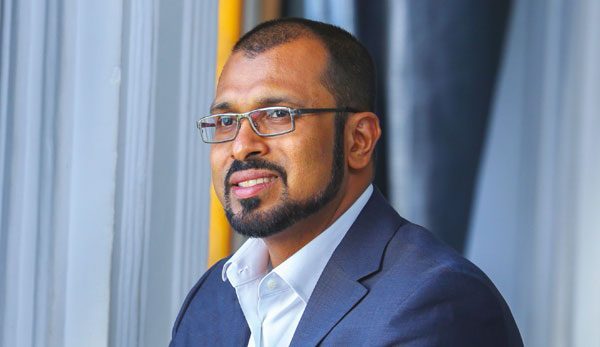 A: Without a doubt, Sri Lankans enjoy peace, public safety and safe travel around the country. As a nation, we deserve a better country after almost 30 years of war. The tremendous postwar infrastructure development and economic growth are clearly visible.
Technology drives globalisation and has opened numerous avenues on which Sri Lanka seems to be capitalising. Some local startups have proved their ability to compete with global brands using similar technological concepts.
Our island nation is moving in the right direction but much more growth is needed.
Q: So how do compatriots in your country of domicile view Sri Lanka?
A: While Americans are familiar with the name, a majority aren't aware of this beautiful paradise's location. As in many other countries across the globe, Sri Lankans have made their mark in many fields stateside.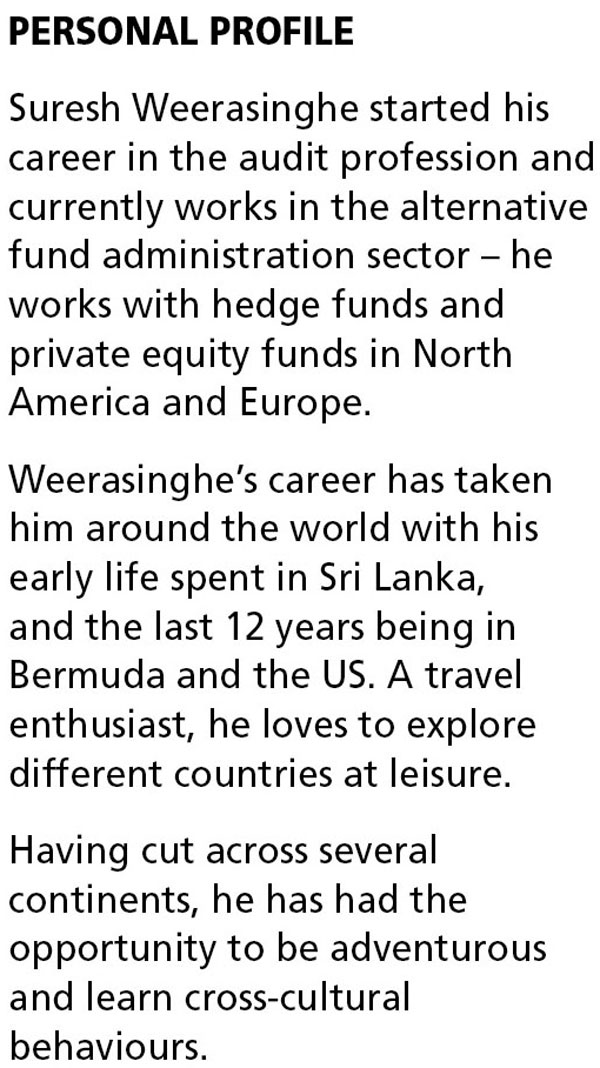 I have seen Sri Lankan temples in the US contributing to local communities – by promoting Buddhist philosophy, meditation programmes and Sri Lankan cultural events. Americans enjoy our hospitality and of course, various mouth-watering dishes.
Q: What were your impressions of Sri Lanka on your last visit and how much has it changed from the past?
A: Though I have been away for many years, personal relationships have encouraged me to visit every year. I've seen a difference in terms of a clean environment, high-rise buildings and many top-notch restaurants in Colombo. Technology has also made a major difference to people's lifestyles especially among millennials.
When visiting, I make it a point to enjoy Sri Lankan hospitality by travelling with my family. Tourism has developed to a new level and Sri Lanka was recently ranked by Lonely Planet as the best place to visit in 2019.
Taking into account my travel experience across many countries, Sri Lanka's upscale hotels and resorts are on a par with or better than other international resorts.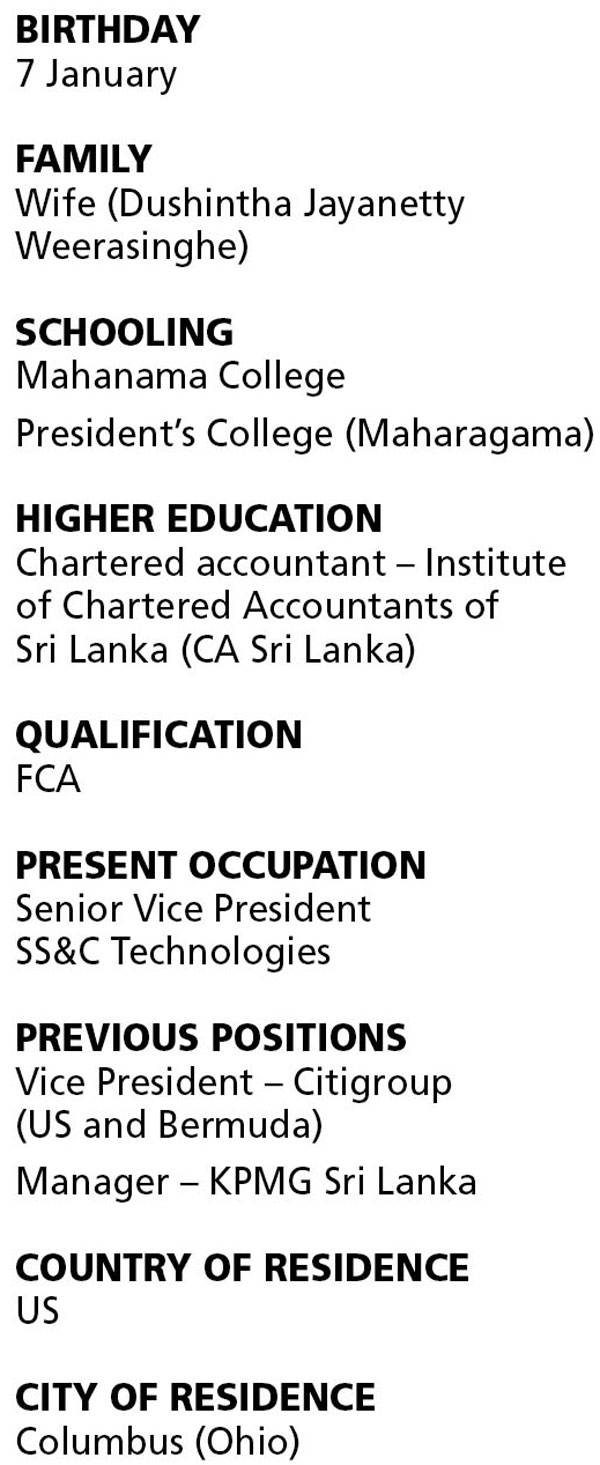 Q: From afar, how do you perceive news about Sri Lanka?
A: Even though I haven't been in the country to observe drug trafficking, violence, corruption and politicians' involvement in those activities, they are commonly associated with Sri Lanka. The nation was ranked 89th out of 180 countries in the 2018 Corruption Perceptions Index, which indicates slow progress since 2014.
There is a pressing need to improve living standards to fulfil people's basic needs at least, regardless of which government is in power. People seem unclear about how political leaders aim to address these issues. 
Q: How do you view the brain drain and why is there still no reversal of it, in your opinion?
A: Factors such as the civil war, relative economic opportunities and high standards of living abroad are leading to a continuous brain drain. Highly educated and intelligent people leave the country in search of a better future.
On the other hand, skilled workforce migration leads to foreign exchange remittances. However, a substantial amount of their earnings would remain outside the country. Economic and political stability are necessary to attract investments from migrant Sri Lankans; else they'll look elsewhere.
Q: What should Sri Lanka focus on most in the coming decade?
A: There should be a focus on improving the quality of education, student loan programmes, and infrastructure in schools and universities to support the future demand for skilled labour – qualified parrots won't suffice!
From the outset, future generations should be moulded by visualising local and international workforce requirements going forward.
Sustainable economic development is essential and can be achieved by focussing on expansion policies and long-term strategic plans as a nation, irrespective of changes in government and political views.
The capital market is the heart of any country's economy. An unstable political climate, the rupee depreciation, high transaction costs, limited financial instruments and a lack of liquidity are some reasons why Sri Lanka lacks appeal for foreign investors.
It's important to establish transparency, integrity and trust, while introducing investment friendly fiscal and monetary policies.

Q: And what are your hopes for the country in the next decade or so?
A: Sustainable economic development while conserving the environment. Sri Lanka is rich in biodiversity and we must preserve the island's natural beauty for future generations.
We all hope for change so let's work together as one nation of Sri Lankans. Let's ensure that the next generation lives in peace and harmony, ignoring differences in background and beliefs.
– LMD