FREEDOM MORTGAGE
JOHN KEELLS PROPERTIES PARTNERS WITH COMMERCIAL BANK TO OFFER 'FREEDOM MORTGAGE' TO THEIR VALUED CUSTOMERS
Colombo, Sri Lanka, August 2023 – John Keells Properties has relaunched 'Freedom Mortgage' for TRI-ZEN Apartments through a strategic collaboration with Commercial Bank PLC. As part of this home financing solution, customers of John Keells Properties can pay 20% now and nothing more for the next 6 months. This will provide aspiring home buyers and investors with a unique opportunity to enjoy enhanced financial flexibility.
Freedom Mortgage aims to ease the financial challenges often linked with property ownership, empowering potential buyers to experience the joy of owning an apartment without the immediate burden of mortgage repayments. This innovative solution demonstrates John Keells Properties' dedication to transforming the residential real estate landscape and prioritizing the requirements and dreams of their esteemed clientele.
In response to this initiative, Head of Sales & Marketing, John Keells Properties, and Vice President,  John Keells Holdings – Nadeem Shums, stated: "We are delighted to reintroduce a mortgage instrument that we pioneered a couple of years ago. With declining interest rates, the real estate investment proposition has become exceptionally appealing, particularly when compared to heavily taxed fixed-income options. Through this initiative, we seek to provide our valued customers with a sense of relief and enhanced financial flexibility, enabling them to transition smoothly into their new homes with peace of mind. This limited-time offer presents an opportune moment to seize the advantages of the Freedom Mortgage and secure an attractive mortgage package."
"We are delighted to partner with a leader in the property development sphere to offer tangible benefits to customers that invest in a TRI-ZEN apartment with a Commercial Bank Home Loan. The support of Sri Lanka's leading private sector bank and the cost savings represented in this agreement should give any buyer a welcome confidence booster to make their dream a reality", said Commercial Bank's Deputy General Manager – Retail Banking & Marketing, Hasrath Munasinghe.
In addition to the financial advantages of Freedom Mortgage, TRI-ZEN Apartments presents a diverse range of contemporary living spaces designed to cater to the varying needs and preferences of urban residents. TRI-ZEN is engineered from the ground up for smart tech integration allowing residents to enjoy a convenient lifestyle in the heart of Colombo's business and entertainment district. What truly sets the apartment complex apart and entices potential homeowners is its prime location – situated just a few steps or a short drive away from Colombo's main public transport terminals, business centers, educational institutions, healthcare facilities, famous places of worship, hotels, and a plethora of entertainment options.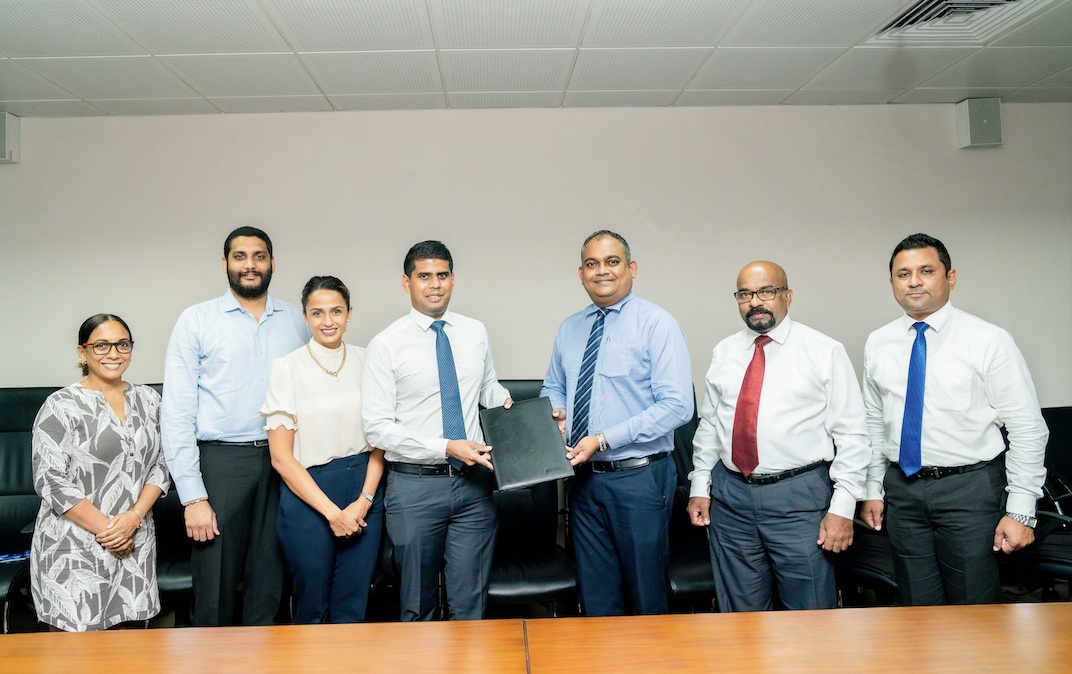 (from left to right), Head of Marketing, John Keells Properties – Shafeeka Gunasekera, Manager (Legal), John Keells Properties – Kanishka Herat, Manager (Sales), John Keells Properties – Roshanara Hatch, Head of Sales & Marketing, John Keells Properties – Nadeem Shums, Deputy General Manager (Retail Banking & Marketing), Commercial Bank – Hasrath Munasinghe, Chief Manager (Retail Products), Commercial Bank – Dushmantha Jayasuriya, Product Manager (Home Loans), Commercial Bank – Hasela De Silva, at the signing of the 'Freedom Mortgage' agreement.