FRANCE EXTENDS ENERGY ASSISTANCE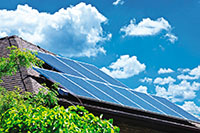 French Development Agency (AFD) has agreed to provide EUR 30 million to fund projects for green energy development and energy efficiency improvement investment in Sri Lanka.
The loan agreement between the two countries will result in France covering a portion of the total costs for three sub-projects regarding green energy.
AFD is also set to establish a new office in Sri Lanka, which will be given diplomatic status, subject to a Cabinet-approved agreement.