FOOD SECURITY
THE WORLD'S
HUNGER PANGS
Sanjeewaka Kulathunga cautions that global starvation is on the rise in the midst of the pandemic
Access to safe and nutritious food has always been recognised as a basic human right by the UN. Under the Universal Declaration of Human Rights, all human beings have the right to be free from hunger and malnutrition, and have food security.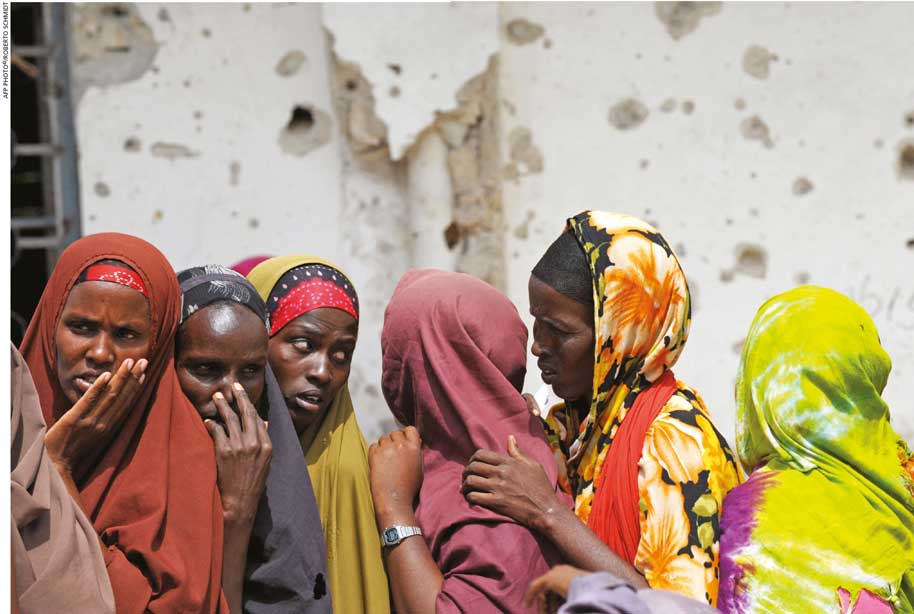 However, over 420,000 people die and around 600 million citizens of the world become sick after eating contaminated food every year. In reality, food borne hazards are one of the major causes for over 200 acute and chronic diseases ranging from digestive tract infections to cancer.
The quality of the food we consume will determine our health and lifestyles. Though the volume of food produced annually is sufficient to feed the world's population of 7.9 billion, it is unfortunate that more than 690 million people go to sleep hungry each day.
STARVING PEOPLE Global starvation is on the rise, making 8.9 percent of human lives vulnerable around the world. Since 2018, the number of malnourished people has increased by 10 million annually.
Due to unequal income distribution and the higher cost of food in the market, billions of people are unable to eat healthy and nutritious foods. Hunger is becoming a critical issue in Asia and expanding more rapidly in African countries. With the spread of COVID-19, around 130 million people fell into the chronic hunger state by the end of 2020.
Noncommunicable diseases such as diabetes, cancer, and cardiovascular and respiratory illnesses have resulted in the deaths of 41 million people each year – i.e. 71 percent of all deaths reported globally.
Every year, 15 million people between 30 and 69 years of age are lost to the global workforce, and 85 percent of these premature deaths are reported from low and middle income countries.
UNSAFE FOOD Unhealthy and unsafe food of low quality in these countries has become one of the major causes of the rapid spread of noncommunicable diseases.
Simply put, food quality means the healthy and nutritious value of substances that are acceptable for consumption.
Further, it includes external factors such as size, shape, colour, textures and flavours that aren't harmful to the health of consumers.
FOOD QUALITY When considering the important role of nutrition on human health and the increased varieties of food available in the world market, a global system for maintaining food safety and quality standards is needed now more than ever before.
During the evolution of food quality management from the first stages of inspection, the process has passed through statistical food quality control, a quality management system and quality assurance, until it's been incorporated into the strategic scope of organisations that are manufacturing and distributing food. As a characteristic of the inspection stage, the control of raw food materials and products for inspection is carried out with the basic intention of complying with government health regulations.
Accordingly, laboratory analysis is used to manage food quality at the initial stage by measuring both quantity and quality of physical, chemical, microbiological and sensory properties of raw materials, ingredients, packaging and finished products.
The implementation of Good Manufacture Practices (GMP), and Hazard Analysis and Critical Control Points (HACCP), will increase the capacity of quality inspection to a greater degree as a preventive approach in continuous quality improvement.
Quality management in the food industry has evolved into a strategic function of organisations in developed economies. However, poor quality and low safety levels of food in low and middle income countries have been critical even at the initial stage of quality management due to a lack of knowledge and technology, corrupt authorities and unethical business practices.
EMERGING TRENDS To prevent quality issues in the food industry, a paradigm shift from 'reaction and response' to 'prediction and prevention' requires holistically structured quality approaches and measures, to collect and analyse data that's related to food quality as a priority.
Global food manufacturing giants such as Cargill, Archer-Daniels-Midland, Nestlé, JBS, Tyson Foods et al. have already embarked on a cloud-based quality management system (QMS) to maintain and improve the quality of food manufactured throughout respective worldwide locations until their products reach millions of customers in the market.
A unified and holistic cloud solution for managing food quality and safety will certainly motivate food and beverage companies to bring innovative and healthy food products to market faster without compromising on compliance standards.
Cloud-based QMS is more efficient and effective in managing the quality and safety of food by complying with international standards, and enhancing the competitive edge of food and beverage companies in both global and local competition.