FMJ
GMT OFFERS QUALITY AND AFFORDABILITY IN A STYLISH MIX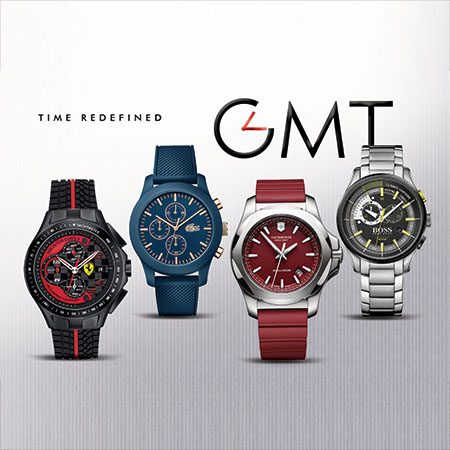 The exclusive new wristwatch store at the Majestic City shopping complex, GMT, boasts a whole array of fashion brand watches, all of which are showcased in a chic new showroom.
Creating a concept of easy affordability, the store exhibits simple yet elegant designs from internationally reputed brands, and caters to the needs of customers in search of a classy and timeless purchase that also makes a certain fashion statement – all within the consumer's individual budget.
Located on the First Floor at Majestic City, GMT promotes such globally renowned brands as Victorinox, Hugo Boss, Swiss Military, Scuderia Ferrari, Lacoste, Timberland, Maserati, 88 RUE DU RHONE, GANT and Lee. That's besides the equally renowned Earnshaw, AVI-8, James McCabe, Police and Pepe Jeans. These exclusive brands have their own line of loyal customers to whom GMT promises only the finest in terms of quality and service.
With the youth consumer in mind, GMT also offers the latest, most stylistic fashions in watches, along with a two-year warranty on all items. The store's main thrust is to nurture the concept of affordability and quality design, and displays this eye-catching collection for a range of cost-effective prices.