FINANCIAL SERVICES
Tharanga Gunasekera
TOMORROW'S BANKING TECH
Digital and social media are transforming how banks in Sri Lanka operate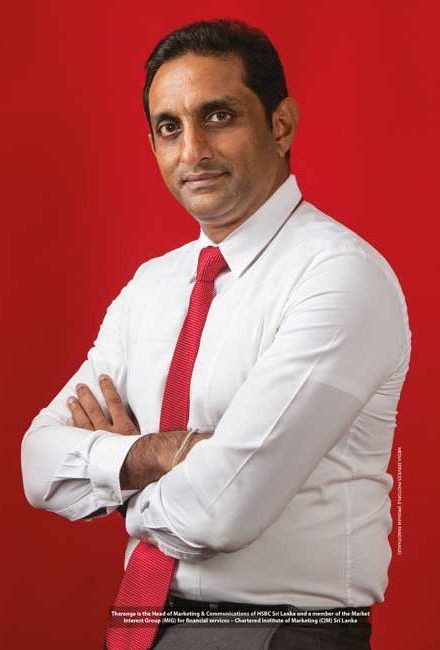 How do you perceive the banking habits of Sri Lankans today?
Sri Lankans have a natural affinity for banks and financial institutions given that the country has a banking penetration of over 80 percent. What's interesting though is the transition that is taking place as we speak – from bricks and mortar to 'click and mortar' banking. With over 18 million debit cards in use, plastic money is making rapid inroads into cash transactions.
Smartphones have not only helped this transformation but fuelled the adoption of mobile and online banking. What is challenging though is the pace of change – for instance, password verification has transformed into biometric verification. Therefore, the industry has to be agile and quick to adapt. Continuous development and deeper engagement in digital ecosystems will determine success or failure.
In what ways are digital and social media affecting the financial services industry?
In any business, marketers need to fish in the right ponds to acquire and engage clients. There are broad value pools that create market opportunities – they range from millennials to 'silver surfers' and other key segments.
On the other hand, the world has achieved rapid strides especially in online search behaviour – Google is now the second largest global brand, according to Interbrand.
We strive to operate in three key domains in terms of the digital space – viz. paid, earned and owned digital media. Given the options we now have, there is a need for a better line of sight for performance marketing – a marketing challenge that eluded many of us in the days of above the line (ATL) communications.
Today, thanks to digital and social media, firms have a clear line of sight in the conversion funnel including aspects such as cost per conversion (CPC) and cost per acquisition (CPA). What's needed is to test and learn, and find the ideal operating rhythm in digital and social media.
Disruptions will bring customers even closer to brands – brands will try harder to stay relevant, making resource optimisation a reality unlike in the past. Digital capabilities such as live chat bots, personalised messaging and re-marketing capabilities will make the industry even more customer centric.
What are the pros and cons of smartphones being an integral part of banking services?
Smartphones have clearly redefined customer engagement capability. This has both an upside and a downside. The upside includes capability enhancement, relevance, reach and convenience, while the downside reflects the pace of change, development costs and higher cost of data consumption for consumers.
These devices undoubtedly render a physical visit to a branch virtually redundant, thereby making the customer's life simpler and more convenient. This has changed the conversation in banks from a traditional view of footfall, reach and frequency, to more big data, analytics and algorithms.
What innovations are necessary to cater to the needs of millennials?
The consideration set for Sri Lankan millennials in the context of banking is different to silver surfers – it goes beyond mere online and mobile banking. Speed, convenience and devices play a critical role.
Consider emerging economies especially in developed markets and you would observe a rapid proliferation of peer-to-peer (P2P) transactions driven purely by the capabilities of smartphones.
More than banking, it's about the ability to relate to the millennial lifestyle and stay relevant. On a typical day, a millennial will search for the nearest cafe on Google, order an Uber ride online to office, check Facebook and wish friends for their birthdays, log in from an offsite station to check in at work and settle bills using mobile banking.
If a bank doesn't tune into this ethos, it becomes irrelevant to a millennial's banking needs.
In the search space, a capability that's enjoying some success is chat bots, thanks to machine learning capabilities and AI. Watch this space, as exciting times lie ahead for banks.
Having said that, the demographic shifts of ageing in Sri Lanka must be noted – in the next three years, one in six Sri Lankans will be over 60.
Therefore, the adoption of technology is key to sustaining business in the longer term.
What is your mantra for success?
Think and behave like a startup, fail fast, learn and optimise, and be open to new ideas.
Describe yourself in one word…
Passionate
– Compiled by Ruwandi Perera
Tharanga is the Head of Marketing & Communications of HSBC Sri Lanka and a member of the Market Interest Group (MIG) for financial services – Chartered Institute of Marketing (CIM) Sri Lanka