FB ROO SITTHAM
Fashion Bug concludes Roo Sittham 2018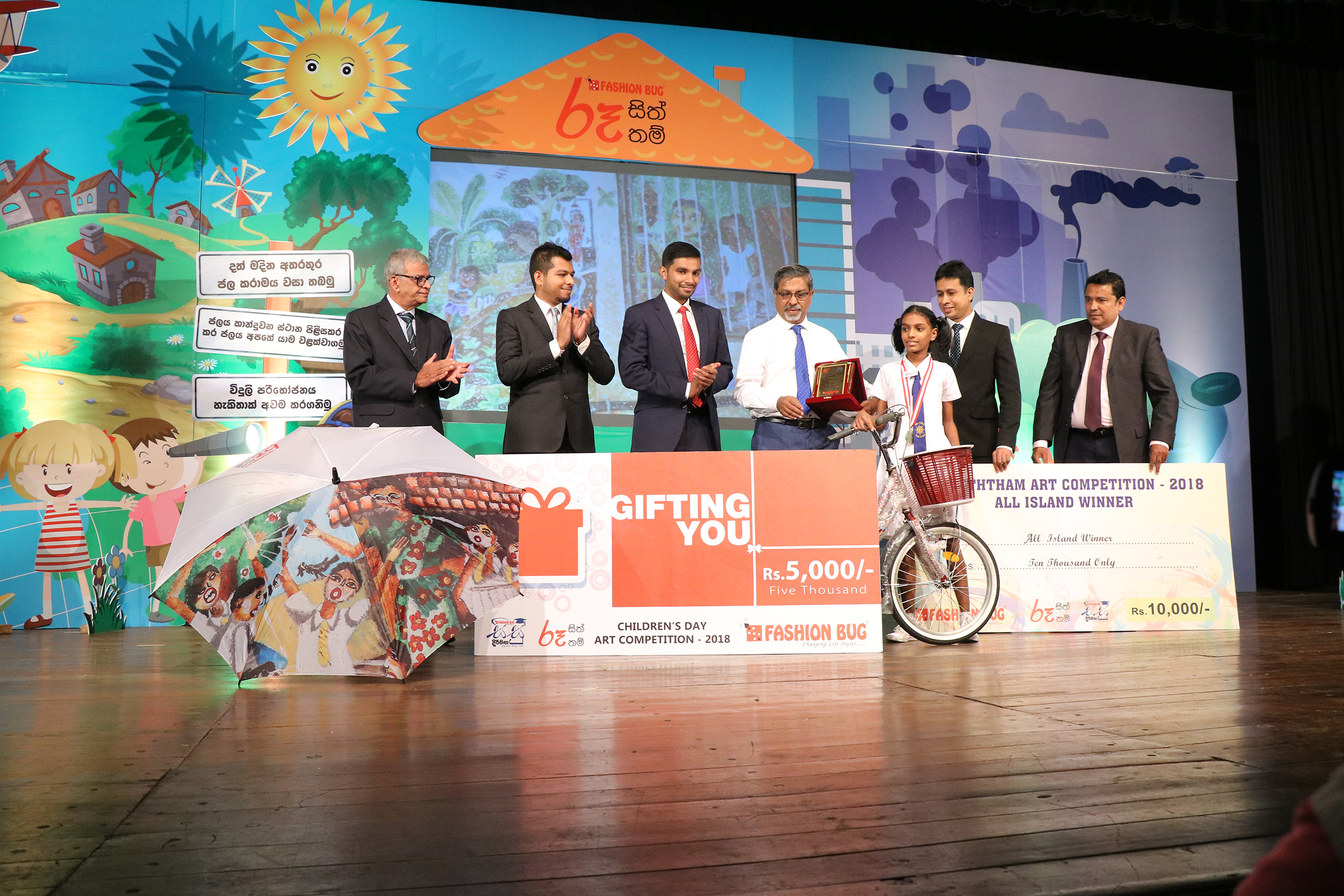 Creative expression is one of the key features that needs to be nurtured in any child, and art is one of the mediums. Bringing together illustration, design and colours, a child's creativity is a voice for their own opinion. Understanding the importance of this and creating a platform to showcase their talents, Fashion Bug initiated Roo Sittham in 2011. Conducting the competition for the 8th consecutive year, this year's award ceremony was concluded amongst much applaud in Colombo and Kandy recently, where 6 winners under three age categories were selected out of a record number of over 68,000 entries from over 400 schools.
The competition was organized with the support of the Department of Arts of the Ministry of Education, and the entries were judged by prominent lecturers from the University of Visual and Performing Arts. The theme for the 2018 competition was "Preserve water, secure the future of the generation"
The winners of the competition are;
7-9 age group – W Manuli Mihinsa Watadeniya (Colombo), M P Rasanjana Vibhuthi Rajapakshe (Kandy)
10-12 age group – Vinuki Sandithya Hennadige (Colombo), E M Kavindhya Vibashini Ekanayake (Kandy)
13-16 age group – H D Shashanka Sithuruwan (Colombo), H M D Guwan Dehigasthenna (Kandy)
The winners were awarded Mountain bicycles, cash prizes of Rs. 10,000/- , gift vouchers worth of Rs. 5,000/- and umbrellas with their drawing printed on it.
A special category which was introduced last year for children with special needs continued this year as well, and the entries were judged by officials at the School for the deaf and Blind in Ratmalana.
"Roo Siththam was initiated under Fashion Bug's social sustainability arm Sisu Dirimaga, which is dedicated to improving education of students in Sri Lanka. Over the years, we have seen the number of entries growing and it gives us immense pleasure and encouragement to continue with this project," commented Shabier Subian – CEO of Fashion Bug.
The award ceremony in Colombo were graced by Chandrani Bandara – Hon. Cabinet Minister of Women and Child Affairs along with Deputy Inspector General for Colombo, Lalith Pathinayake and professional racer Dilantha Malagamuwa – Founder of Dilango Racing. The guests at the Kandy awards ceremony were Hon. Minister of National Integration, Reconciliation and Official Languages – Mano Ganesan as Chief Guest and the Captain of the Sri Lanka Netball Team Chathurangi Jayasooriya as Guest of Honour.