EX-PATA CHIEF PUBLISHES SECOND BOOK IN A YEAR
Lakshman Ratnapala, Emeritus President & CEO of PATA, has achieved the distinction of publishing a second book in a year. Titled  Soaring Spirits and Shooting Stars, the book is a compendium of tributes to fourteen (14) people who have inspired the author through his lifetime, culminating as a global corporate executive of travel and tourism.
The people he has chosen to honor, with their biographical portraits, include leaders of tourism, nature conservation, politics, sports and creative arts, from the  U.S.A., Japan, India, Indonesia and Sri Lanka.
The book, Soaring Spirits and Shooting Stars, will be available in Vijitha Yapa book-shops, other major book sellers and on-line at amazon as well as at www.Vijithayapa.com. It will make a great gift at reasonable price, during this season of gift giving.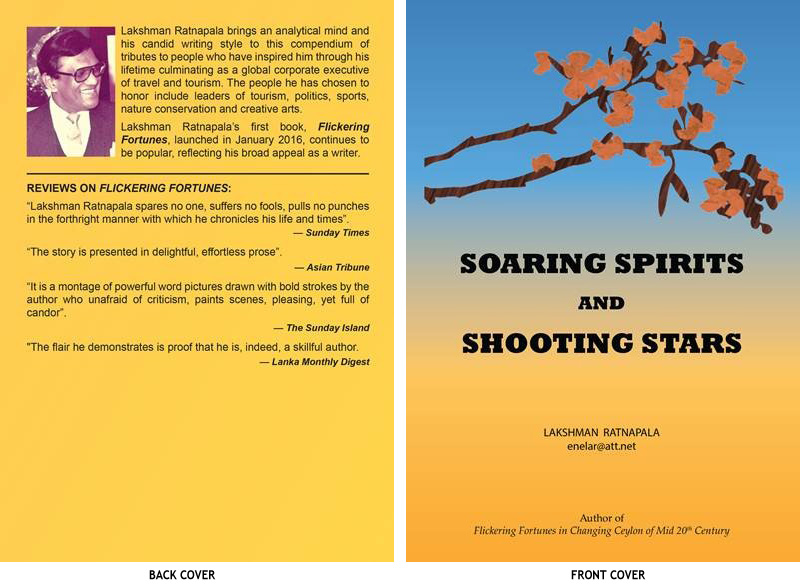 LAKSHMAN RATNAPALA'S FIRST BOOK, FLICKERING FORTUNES, LAUNCHED, JANUARY 2016 CONTINUES TO BE POPULAR, REFLECTING HIS BROAD APPEAL AS A WRITER. SOME PUBLISHED COMMENTS ARE:
"Lakshman Ratnapala spares no one, suffers no fools, pulls no punches in the forthright manner with which he chronicles his life and times"—Sunday Times
"The story is presented in delightful, effortless prose"– Daily News and Asian Tribune
"It is a montage of powerful word pictures drawn with bold strokes by the author who unafraid of criticism, paints scenes, pleasing, yet full of candor"—The Sunday Island
"The flair demonstrated is proof that he is, indeed, a skillful author"–Lanka Monthly Digest
     SOARING SPIRITS AND SHOOTING STARS IS 130 PAGES WITH 75 PICTURES. 
          Available at: www.vijithayapa.com at Sri Lanka Rupees 450.00