EMERGING MEDIA PARTNERS WITH LIFT FOR IGFS 2017
PRESS RELEASE
Emerging Media Official Outdoor Digital Signage Partner for IGFS 2017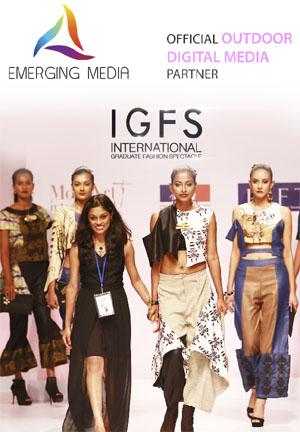 Sri Lanka's Largest Outdoor Digital Advertising Network, Emerging Media partnered with the Lanka Institute of Fashion Technology (LIFT) as the official outdoor digital signage partner for 'International Graduates Fashion Spectacle' (IGFS) held in Colombo in the month of July 2017. IGFS brought together the international fashion graduates from around the world to showcase their talent and best work at a cat walk show and exhibition in Sri Lanka. IGFS is founded by LIFT and Mod'Art International Sri Lanka and the project is partnered with the Embassy of France in Sri Lanka. the event welcomed international fashion graduates from across the world from countries such as France, Germany, India, Pakistan, United Kingdom and our very own local talent from Sri Lanka.
As the official outdoor digital signage partner, Emerging Media provided IGFS with brand coverage on its prime properties of digital screens in order to provide maximum mileage for the event. This is another initiative of the digital media giant to promote and showcase talent and technology within Sri Lanka and to positively influence the youth of today to use their talents and skills to positively impact the society as a whole and give them the opportunity to showcase their talent.
About Emerging Media (Pvt) Ltd
Emerging Media was incorporated in 2009 with the objective of introducing Digital Advertising to the local market. It has fuelled investments of more than 250 million in digital infrastructure in the country and continues to diversify with technology and innovation. It commenced operations with the introduction of 'Bus TV' by installing TV's inside busses and running entertainment content and advertising. Thereafter, Emerging Media further expanded into outdoor LED advertising, which was a mass market medium that made the company a location based digital advertising pioneer in Sri Lanka. The success of gaining a growing clientele from the LED advertising medium allowed Emerging Media to focus on indoor digital mediums diversifying into Salon TV, Medi TV, Motor TV, Uni TV, Cinaplex TV, Shopping TV and Keells TV which cater to specific target segments. Emerging Media has also diversified into online advertising platforms with the introduction of myJobs.lk which is a virtual recruitment specialist and CookingTV.lk which is a food network.For more information visit www.emergingmedia.lk or call 0112447662.