EDWARD LEAR POETRY AWARDS CEREMONY
Owl and the Pussycat hosts Edward Lear Poetry Awards Ceremony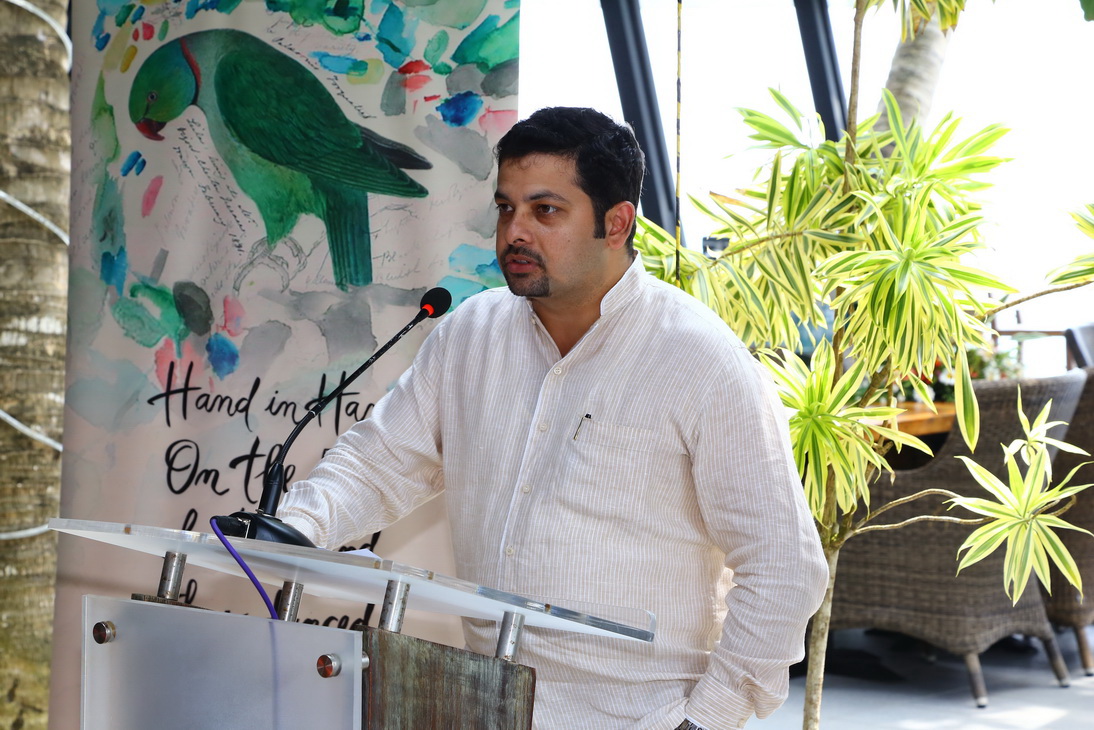 Another spectacular day well spent immersed in the talent of young Sri Lankan poets saw the finalists make their way to the top! Sitting amidst a beautiful setting facing the sea, under a pergola, listening to the wonderful recitations expressing the authors' thoughts contributed to a wonderful afternoon amongst anxious participants, media friends and invitees.
The eminent Judges apparently were faced with a challenge beyond their expectations, where they had to carefully select poems which reached the top five, from which the three finalists were chosen.
While Reita Gadkari and Shane Thantirimudalige expressed their delight in hosting this competition again, they were also honoured by the acceptance of the judges and their decision according to the criteria given.
Aftab Jafferjee as Chair Judge addressed the gathering with his usual banter. Ranked in Band 1 in the field of Crime by Chambers & Partners, UK, he was appointed Junior Treasury Counsel in 1997. Aftab became the first member of any ethnic minority to be so appointed in the one hundred and thirty eight year history of Treasury Counsel. He was also responsible for the template for the presentation of complex mobile phone and cell-site evidence, which has since been adopted nation-wide, for both prosecuting and defending. He is proud to announce that he has just completed his first novel to be published later in the year.
Jane Kramer another judge in this year's competition has been a staff writer at The New Yorker since 1964 and has written the Letter from Europe since 1981. Before joining the magazine, Kramer was a staff writer for the Village Voice; her first book, "Off Washington Square," is a collection of her articles from that paper. Her article on multiculturalism and political correctness, "Whose Art Is It?" won the 1993 National Magazine Award for feature writing and was published as a book in 1994.
Sri Lankan born Dilhani Thantirimudalige is a poet herself and a free-lance communication specialist who hails from Kandy. She began writing and publishing poetry as a young student of Good Shepherd Convent. Her poem at that time "The World I See" was chosen to be published in the American Poetry Anthology of 1991. Among her favorite styles of writing are the narrative and confessional poems that share expressions of memories and experience. She owns a Bachelors Degree in the stream of social sciences from the Open University of Colombo. Dilhani has been a judge two years running.
Gehan Talwatte is a London based media entrepreneur and investor. He enjoyed being a judge second year round.
Grace Wickremasinghe a 22 year old Sri Lankan spoken word poet and a Law student at the University of London, who moonlights as a food critic from Colombo. She was the youngest writer to be shortlisted for the Gratian Prize for her second collection 'Closure' and World Black Water Poetry Festival in Ireland. Her third collection, 'Not Your Baby' is available now. Both of her previous collections are sold out!
The afternoon concluded with light refreshments served in the garden under the shade of the coconut palms where cool breezes enveloped the gathering. The pictures says it all.
WINNERS
1st Place
KHADEEJAH SAMSUDEEN
Khadeejah Sabry Samsudeen is 18 years old and studied at Ilma international Girls' school. She studied Literature in English for Cambridge A Levels, and is looking forward to a higher education in graphic design. An avid reader who is also deeply appreciative of art and passionate about writing. She is currently working on composing a collection of poems and hoping to publish her own novel in the future.
2nd Place
SHAAHIMA RAASHID
Shaahima is a breakfast-powered freelance ink-slinger with a Bsc. In Biotechnology. She currently writes on art, culture, and social issues, and spends most of her income filling up her bookshelves and that of her three-year old son. She aspires to one day become a successful children's author – a measure of said success being to encourage a generation of socially conscious and responsible young adults.
3rd Place
SAKUNI COORAY
Sakuni is a second year medical student at the Faculty of Medicine, University of Kelaniya. She is a member of the University chess team and is an active member of the faculty green society and been a full time volunteer at Embark. Reading has always been her favourite past time and writing was probably influenced by that and her grandfather. Despite the hectic work load at the university, jotting down poems during long lectures and writing, is a way of expressing herself which brings her great pleasure, and sometimes clarity.
4th Place
AYESHA RATNAYAKE
Ayesha enjoys reading books, writing poetry, sketching faces and making artful presentations. She is a former national chess champion and currently the CEO of Affno Ventures where she dreams up socially conscious e-businesses.
5th Place
SHANIKA RATNAYAKE
Shanika has a background in architecture and graphic design. She fell in love with Edward Lear's The Owl and the Pussycat while growing up in Fiji, and so was thrilled to have an excuse to explore it with her own take.