ECOTOURISM
Compiled by Ayesha Reza Rafiq
GREENWASHERS BEWARE!
Charitha Abeyratne believes it is time to up the ante in ecotourism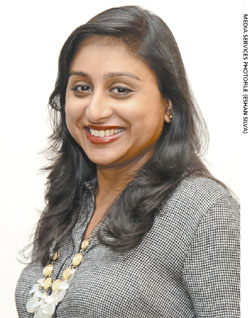 Given the challenges posed by indications of accelerated global warming, the argument for environmental preservation and encouragement of ecologically sustainable practices continues to gain rapid purchase. For some time now, the ecotourism sector has sought to contribute to promoting awareness and environmental sustainability.
"The current landscape of ecotourism in the country is an interesting blend – a juxtaposition, if you may of 'natural readiness' as the nation's DNA of an inherent sustainability ethic offers it a natural edge in the ecotourism space," says Charitha Abeyratne.
She observes that the case for promoting a sustainable ecotourism sector is strong because  "the discerning millennial traveller values responsible travel and authentic experiences. So ecotourism would represent a significant segment of the global tourism space."
Unfortunately, except for determined efforts by some independent entities, the recognition of ecotourism as a viable sub-industry by the corporate and government sectors has yet to occur. This has resulted in under-exploitation of its rich potential. Abeyratne stresses: "A poor understanding of the global interpretation of the broader concept stifles product development and alignment to globally accepted norms of ecotourism, creating a misconception that the current landscape is not developed and ready for the eco-conscious global traveller."
This scenario contradicts the ecotourism sector's fledgling efforts, and negates any potential progress and dampens investor enthusiasm.
According to Abeyratne, ecotourism in Sri Lanka is being challenged by "imitators and greenwashers who attempt to operate with an incomplete understanding of global alignment." This undermines the credibility of ecotourism offerings currently available in Sri Lanka, she adds.
Abeyratne counsels an approach of propagating awareness through structured programmes that would dispel common misconceptions of how to classify an ecotourism product. Heightened sector regulation would also have a positive impact, beginning with a nationally defined classification for the ecotourism category. "Although there's general policy direction to brand Sri Lanka as a hub for green tourism, the regulatory framework and action to implement these policies have not materialised to a level that can yield meaningful results," Abeyratne laments.
Meanwhile, stakeholders who are committed to establishing a sustainable ecotourism sector continue to forge ahead in spite of these challenges, laying the groundwork upon which its potential can be developed.
Abeyratne acknowledges that "many sector stakeholders are enthused and committed to sustainability" – and in the case of some, there are examples of stakeholders venturing beyond traditional boundaries "to create unique and differentiated products in this space, which have a very strong global appeal."
Elaborating on moves in this direction, she explains that "the simple aim of ecotourism is to provide travellers an immersive experience of the location to which they travel in a responsible manner."
She continues: "What in fact would serve Sri Lanka best is to stick to authenticity by harnessing and presenting our way of life and its abundantly sustainable ethic in an inevitable, out-of-the-box and simple manner, as opposed to elaborate and contrived efforts that give the impression of greenwashing."
"The openness of our culture, and willingness to showcase what we do and how we live in our homes – as well as our trades, crafts, cultural practices, religious beliefs, rituals, traditions and cuisine, and a host of other attributes that many other countries and people are not so open about and enthusiastic to showcase – offers the country an edge in this arena," Abeyratne declares.
The need of the hour is a concerted effort to establish a strong sector and promote it. Countries in neighbouring regions with relatively limited product offerings have been able to steer their ecotourism sectors ahead of Sri Lanka by uniting to promote and position their destinations under one unique selling proposition (USP).
As for potential, Sri Lanka lacks nothing. A regulatory framework that helps benchmark and maintain standards with a strategic farsighted vision can propel the ecotourism sector towards fast-paced growth. Providing much-needed support for startups would also be of immense assistance in encouraging niche and differentiated services, and adding value to Sri Lanka's ecotourism product offering.
Abeyratne believes that Sri Lanka has much to offer as an ecotourism destination with a difference.
Crafting a credible, authentic and fully immersive travel product that focusses on sustainability, responsible practices and value propositions is a distinct possibility – and it is one that should be explored with enthusiasm.
After all, Sri Lanka is blessed with all the attributes that make for an ecotourism experience like no other.
The interviewee is the Founder – Chief Executive of Saraii Village