ECONOMIC REVIEW
GROWTH CONCERNS CONTINUE TO PLAGUE ECONOMY
Shiran Fernando reports on the ups and downs of the national economy in recent times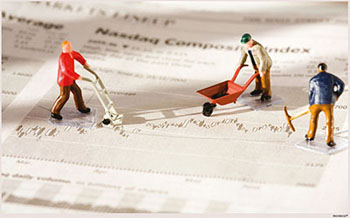 Sri Lanka's GDP growth has been weak over the last two years. Quarterly GDP has been below six percent in the most recent eight quarters – and the last time GDP accelerated by more than six percent was in the April-June quarter of 2015.
During this period, the economy has faced its fair share of difficulties including the impact of the rupee depreciating by about 14.5 percent against the US Dollar, interest rates adjusting upwards, several tax changes and three consecutive unfavourable harvest seasons.
These factors have taken their toll on the economy, which at this point lacks a growth driver to propel it beyond a five to six percent expansion.
RECENT ECONOMIC TRENDS Recent data indicates that the economy grew by 3.9 percent in the first half of this year compared to the corresponding period in 2016. GDP growth in the second quarter was much better than expected at almost four percent although it received a boost from base effects – the quarter witnessed  the impact of the floods in May and ongoing drought conditions.

The contraction in the agriculture sector has been a key drag on growth due to the country experiencing the worst drought in 40 years, according to the UN. This could mean that 40 percent of the essential rice harvest is likely to be lost in 2017. The agriculture sector has in fact contracted on a year on year basis for six consecutive quarters.
In the last few quarters, GDP growth has been driven primarily by a few sectors such as construction, and certain service subcategories like financial services and telecommunications.
However, CBSL is optimistic that growth will pick up in the second half on the back of more structural reforms being implemented and expectations of foreign investment inflows.
The Governor of the Central Bank sees the impact of GSP+ and agricultural preparation work for the Maha season as two areas where economic activity could pick up – in particular in the final quarter of the year. However, the Central Bank's latest expectation for overall GDP growth in 2017 is between four and 4.5 percent whereas earlier in the year, it was expecting an acceleration of between five and 5.5 percent.
PRIVATE SECTOR CREDIT There's a divergence in recent growth in private sector credit and GDP performance. Private sector credit growth has witnessed a declining trend but been rather slow in responding to policy hikes and other adjustments in the economy that would derail credit growth.
However, absolute growth in the year so far continues to be high – average growth has been around Rs. 50 billion a month. This has also been driven by sectors such as construction and financial services.
POLICY IMPLICATIONS CBSL has been patiently monitoring the gradual easing of credit growth and appears in no hurry to announce a policy hike similar to the one in March. With a slowdown in growth, the Central Bank has a difficult choice to make – i.e. whether it should consider tightening policy rates even more to curb credit growth at the risk of a further slowdown in economic activity.
The other policy risk is if the government looks to provide a near term boost to spending and economic activity in either the forthcoming budget or other non-budgetary concessions. This could derail the government's existing fiscal consolidation objectives and reduce the relative stability of the macro economy that has been achieved in the last 12 months or so.
REGIONAL COMPARISON According to the IMF's South Asia Regional Update published in May, the region is expected to grow at an average pace of 6.9 percent. Sri Lanka's growth projections are below this average (with an IMF growth expectation of 4.5%) – it lags behind countries such as Bangladesh, India and Nepal that are driving growth in the region.
While this may be a near term concern – in particular in attracting foreign investment based on a robust growth environment – the benefits of reforms undertaken by the government should outweigh the negativity in the medium to long term.
THE GROWTH DRIVERS Sri Lanka will need better and newer growth drivers if it is to propel its growth trajectory to beyond five percent on a sustainable basis. The economy will need to move away from being driven by non-tradable sectors such as construction to more export led manufacturing.
It will also need improvements in productivity to ensure that overall growth is resilient in the future when adverse weather conditions such as droughts impact economic activity. This will stem from garnering higher foreign direct investment (FDI) inflows, reducing barriers to trade and business, and improving human capital.