BUSINESS SENTIMENT
MILD UPTICK IN BIZ CONFIDENCE
The unique index returns to triple digits albeit with little cause to rejoice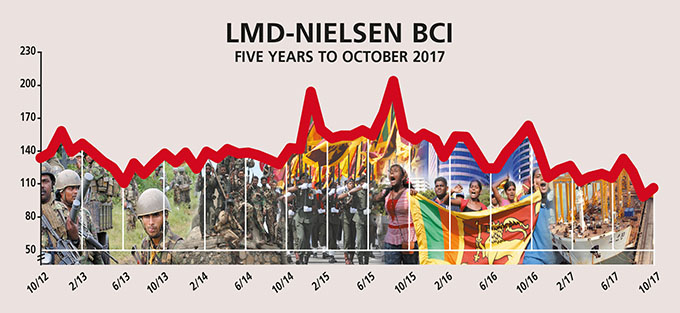 Sri Lanka's economy grew by four percent year on year in the second quarter of 2017, improving on the 3.8 percent acceleration in the previous quarter, according to the Department of Census and Statistics, with modest growth in the industry and services sectors being partially offset by a contraction in agriculture sector output. And in line with recent trends, services accounted for the lion's share of GDP, followed by industrial and agricultural activities respectively.
Meanwhile, the Central Bank of Sri Lanka reports that the country's external sector "continued to improve with increased exports and inflows to the financial account" in July.
But the monetary authority adds that "the trade deficit widened in July 2017 compared to the corresponding month of 2016 due to higher import expenditure amid the increase in export earnings. Tourist earnings declined marginally in July while workers' remittances increased, reversing its declining trend in the last four months."
While these and other factors may have brought about a marginal improvement in the latest LMD-Nielsen Business Confidence Index (BCI), the survey results and outlook offer little assurance of there being better days ahead.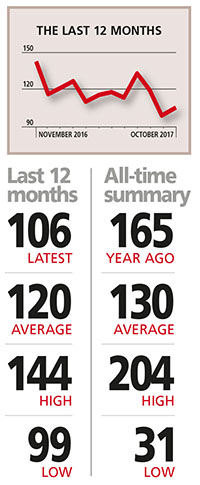 THE INDEX The BCI recovered from its crash to 99 basis points in the previous month to record 106 in October. Nevertheless, the index remains well below both its 12 month and all-time averages of 120 and 130 respectively – and a year ago, it was as high as 165.
Nielsen's Managing Director Sharang Pant cautions that "large-scale concerns on the economy and business climate still persist."
He notes: "While Vision 2025 has been welcomed by stakeholders, business leaders and consumers are looking for more on the ground and immediate action to rebuild lost confidence. Watch out for some announcements in the budget and before the local [government] elections!"
THE ECONOMY The outlook for the economy continues to be more or less the same with a little more than one in 10 respondents stating that it will improve in the coming 12 months. This count stood at around one in five – or 21 percent – just two months prior.
This means that the majority (46%) of those surveyed feel the economy is likely to deteriorate in the 12 months ahead while nearly as many expect there to be no change in economic conditions. A businessperson goes as far as to say that "currently, there's a very high level of uncertainty about the economy."
BIZ PROSPECTS Sentiment regarding biz prospects continues to slide with a mere 15 and 13 percent of corporate executives expecting better prospects for their businesses in the long and short terms respectively – versus 48 and 29 percent respectively two months ago.
To put this in perspective, a businessperson asserts: "Our company had to cut down on some of its planned investments as we started to see a decrease in sales revenue. We will have to wait and see if market conditions improve in the future to resume these investments."
And according to another survey respondent, "companies are thinking twice before investing due to the current uncertainty about the economy."
INVESTMENT The investment climate also reflects a worsening trend with only seven percent considering the prevailing environment to be a cause for optimism. Again, this figure was higher (13%) in September and as high as 29 percent in August. The majority (50%) of those surveyed are of the view that the investment climate is 'fair.'
"The current investment climate is quite poor," says a member of the business community, although a more cautiously optimistic respondent affirms that "the country is in a good position to attract more foreign investments; however, there needs to be an improvement in infrastructure facilities and transparency in government."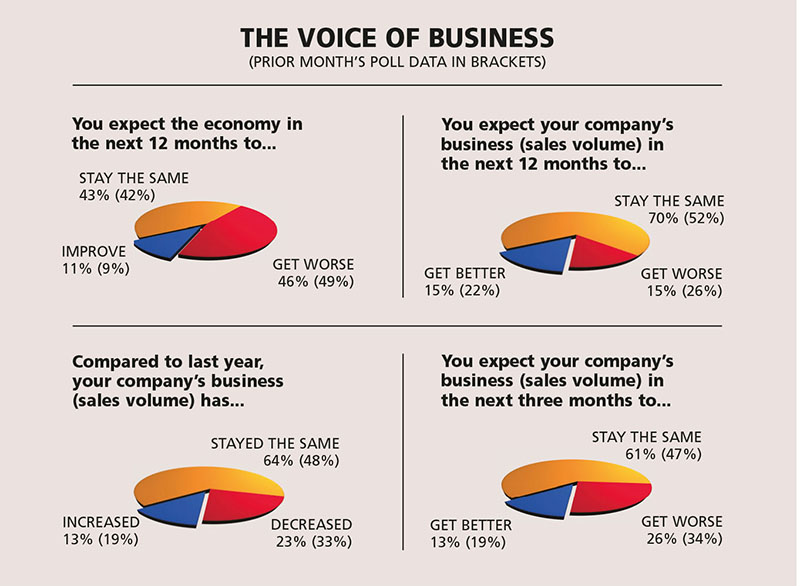 WORKFORCE A meagre eight percent (compared to 17% in September) of corporates consulted by Nielsen allude to plans to expand their workforce in the near future. Almost nine in 10 poll participants say they will look to maintain their staff numbers in the coming six months while four percent point to a decrease.
SENSITIVITIES Inflation, taxes and high interest rates continue to be the major concerns or impediments in terms of the ease of doing business.
Moreover as one respondent observes, "with the rupee continuing to depreciate, revenue has taken a major hit due to the high import cost of raw materials."
PROJECTIONS While the outcome of last month's BCI survey may have come as a rude shock, relevant stakeholders have had the time to digest the implications of the new Inland Revenue Act as well as the unfolding tax regime.
Judging by the latest poll results however, corporate leaders and executives seem to have derived little solace from what's in store for their businesses.
There's also the prospect of Budget 2018 around the corner that could come with a few surprises of its own, in addition to which the growing phenomenon of disruptive strike action by far too many sections of the workforce could undermine confidence in biz circles.
Last year's budget was a non-starter in many respects and its immediate aftermath witnessed a free fall in the BCI – by a gut-wrenching 27 basis points, which came hot on the heels of a slide of 21 notches in the lead up to Budget 2017.
Thankfully, there's unlikely to be a repeat of this next month because sanity has seemingly returned to the nation's finance portfolio although the prospect of local government elections in the New Year may dampen the BCI's near term outlook.
Therefore, 'in limbo' seems to be the most appropriate description of where the confidence barometer sits at this juncture – and possibly for some months to come.
– LMD