ECO33
ECO33 actively contributing to the realization of SriLanka's and Australia's Climate action goals
Energy reduction engineering and tech company ECO33 saves kWh 29 million (20 million kg CO2) over last 5 years, since 2014 incorporation .
 Energy usage has direct impact on Economy and mother earth
ECO33 Sri Lanka and ECO33 Australia , both leading award winning Energy conservation companies,started by Sri Lankan born Australian Dammica Wickramaratne in 2014, have successfully delivered
Energy savings with triple bottom line advantage to Srilanka's leading PLC/Bluechip companies such as JohnKeells properties at Cinnamon Grand & Cinnamon Lake, Indias leading hotel chain Taj Samudra colombo, Seylan Bank head quarters building , ShangriLa "The One Galle Face -Mall & Office", BIA airport , Brandix energy award winning head quarters building, MAS active and dozen more. The company was recently awarded corporate membership at Sri lanka Green Building Council. Green House Gas emission (GHG) of 36% comes from 40% of global buildings , the need to save now is critical Given global warming challengers. There is going to be accelerated digitalization & electrification in the world, energy conservation is the cheapest energy source to meet the immediate demand.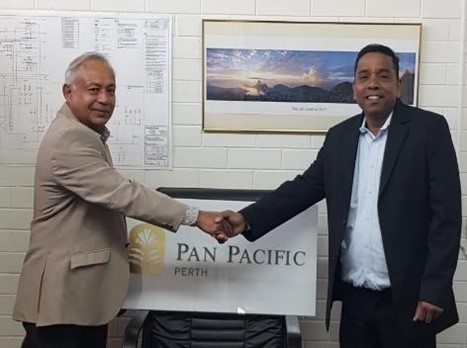 The company recently signed contract to deliver energy savings of kWh 355,000 per anum (GreenHouseGas savings 344 tonnes) at Pan Pacific – Perth, Western Australia .
ECO33 was invited by Salalah Interntional Airport to look at possible energy savings opportunities.  Sectors across Airports, Hotels, Hospitals, Entertainment centers, Manufacturing and RealEstate are struggling to sustain their businesses let alone looking for new sales postCOVD, cost reduction by way of energy conservation is the only option for organizations to unlock  capital.
Energy saved over last 5 years

Electricity            : 29,109,239 kWh

29.10 GWh

CO2                         : 20,356.09 tonnes

Measured & Verified using International M&V protocol till 30th march 2020
"ECO33 business is a "Game changing" model that is proven and tested, providing 100% commercial bank guarantees on the proposed energy savings outcome at the onset of the project . Single contract covering; Audit, Design, procurement, ECO33 software tools, behavior changers , Installation and commissioning , 24×7 energy monitoring & services. holistic solution under one contract, assuring savings for next 15 years. Our first 4 years was to focus on delivery of our promise to our customer and country, before marketing ourselves. "says Rukshan Sheriff- Director/CEO for ECO33-Sri lanka
As a leader in the Energy retrofit  Segment , it remains one of the leading companies in Asia to deliver complex energy saving solutions with a commercial gurantee on ROI .  Have officers and JV in Singapore, Dubai and Malaysia. ECO33 are the representative of global technology brands such as Schneider BMS/GRMS from France, SMARDT magnetic bearing chiller from Australia, Sondex heat exchangers from india, TICA- HVAC products  from china, Danfoss PIBCV valves from Sweden, Pelco security cameras from USA