EASING HEALTHCARE EXPENDITURE
Sri Lanka's free healthcare delivery package is aimed at minimising patient expenditure, according to Sri Lanka's Minister of Health, Nutrition and Indigenous Medicine Dr. Rajitha Senaratne, who represented the island at the 144th Session of the WHO Executive Board being held in Geneva, Switzerland.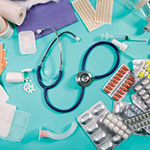 The main purpose of the forum is to review the decisions and policies of the World Health Assembly and facilitate its work.
Sri Lanka's representative noted that the nation has successfully implemented various field-tested strategies such as the PEN package of essential noncommunicable disease interventions to minimise patient expenditure.
He added: "Towards this end, we are in the process of promoting public-private partnerships (PPPs), presently in pharma production and soon to be extended to healthcare service delivery."