DISCUSSION WITH FOREIGN DIPLOMATS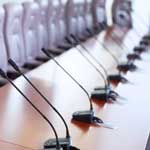 Prime Minister Ranil Wickremesinghe recently met with foreign diplomats including high commissioners and ambassadors at Temple Trees, to discuss the current situation in the country.
The meeting addressed the actions to be taken in view of the recent suicide bombings in several parts of the country, the possible setback the tourism industry of Sri Lanka may face and the actions to be taken to rebuild tourism to strengthen the country's economy.
"We do not hesitate to ask for foreign help to defeat terrorism if these suicide bombers are proven to have international links," Wickremesinghe added.