COVER STORY
 LMD EXCLUSIVE 
DISCOVER THE GEM
Carl Cruz underscores the importance of industry stalwarts coming together to tackle the development challenges of this age
Having arrived in Sri Lanka from the Philippines where he served as the Vice President of Customer Development of Unilever Philippines, Carl Cruz assumed duties as Chairman of Unilever Sri Lanka on 1 March 2016.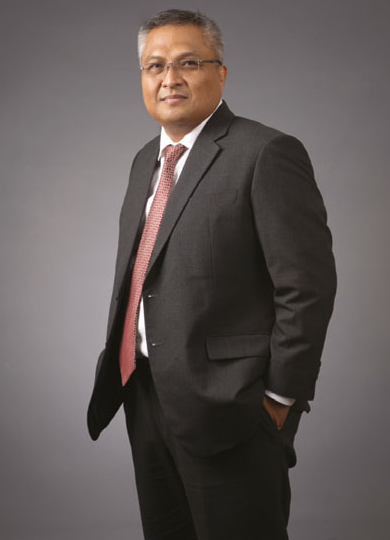 Joining Unilever upon graduating from university in 1992, Cruz began his career in general trade before eventually being appointed as the company's first General Trade Development Manager. In 1999 – as the Sales Development and Trade Marketing Manager – he set up Unilever's Category Management and Retail Solutions capability, which was critical in attaining thought leadership in the Philippines' retail trade sector.
In his 24 years with the organisation, Cruz has gained the breadth and depth of experience in customer development and marketing in the Philippines, Thailand and India.
Speaking about the corporate behemoth he took the reins of at the time, Cruz remarked: "Sri Lanka is an important market for us and these are exciting times for the country… I look forward to energising our team, building on the gains we have made and bringing to life our vision of improving the lives of Sri Lankan consumers."
In this exclusive interview with LMD, Carl Cruz offers insights into Sri Lanka's consumer landscape, foreign investment, public-private partnerships and thought leadership. And he concludes that "Sri Lanka is a gem that's yet to be discovered by the world. It's a wonderful country; it's clean and safe, and the quality of life is so good compared to where I come from."
 – LMD
---
Q: What are the key differences between the Sri Lankan market and countries in the region where you were based previously – i.e. India, Thailand and the Philippines?
A: There are some similarities and some differences in terms of culture, country size and so on. But the challenge for Unilever as an organisation remains the same – i.e. to be closest to the consumer, which is the case even in Sri Lanka.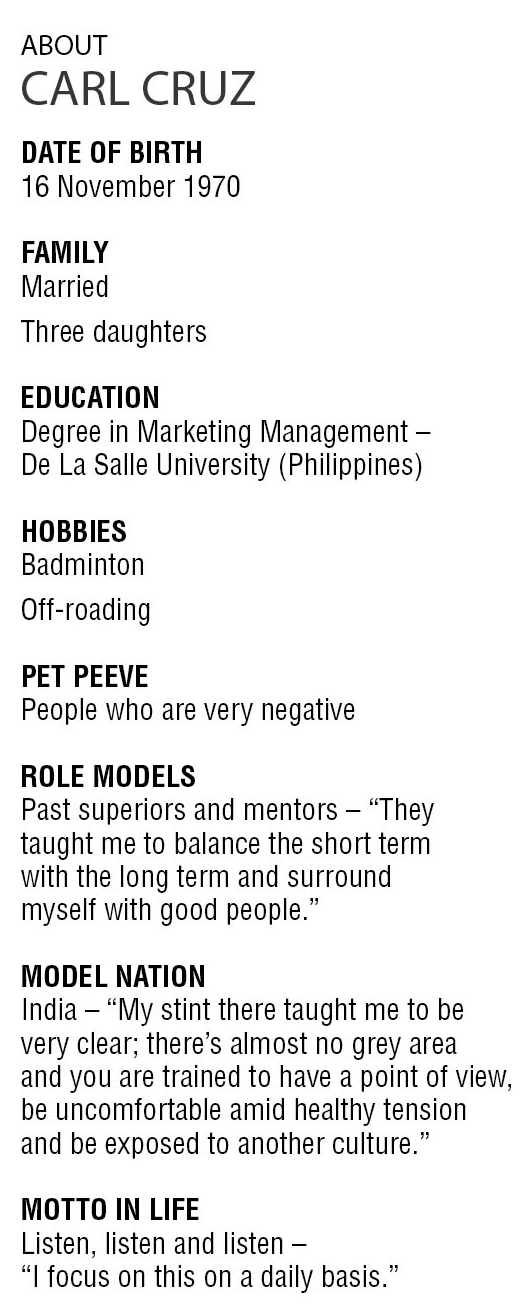 So what are the differences? It really depends on the evolution and development of consumers and the retail trade environment. That will have an impact in terms of the portfolio we will have in that particular market and the way we service it.
For example, when I was in Thailand, it was a little more developed in terms of retail trade; therefore, the contribution of modern trade as organised retail could be conventionally higher than in Sri Lanka, India or the Philippines.
As for the consumer sector, of course it depends on how open the economy has been in terms of being exposed to other products and the media. That difference has drastically reduced over the past couple of years with the advent of technology. Years ago, you couldn't have access to the web and be able to find out what's happening elsewhere – in this era, this is very much exposed.
Q: Do prevailing conditions in Sri Lanka support sustained investment by multinationals?
A: Yes, definitely. From our own perspective, we will continue to be here for the long run. We've been in the country for the past 80 years. And the fundamentals of the Sri Lankan economy and market continue to be very sound from our perspective both in the short and long run.
In terms of our engagement with the Sri Lankan consumer, we have been quite close to them. Therefore, they have granted us top level positions across the sectors and categories that we participate in. The engagement that we have with them has been built over time. Therefore, the intention is to build meaningful relationships with the consumer. And I guess it's the same with the other multinationals.
The first real challenge is that the economy is somewhat dependent on good weather. In the past two to three years, the economy has been impacted by a prolonged drought and floods in 2016 and 2017.
More foreign direct investments (FDI) are also required. The economy needs to move from an agricultural state to being more industrialised so that it isn't as impacted by adverse weather conditions.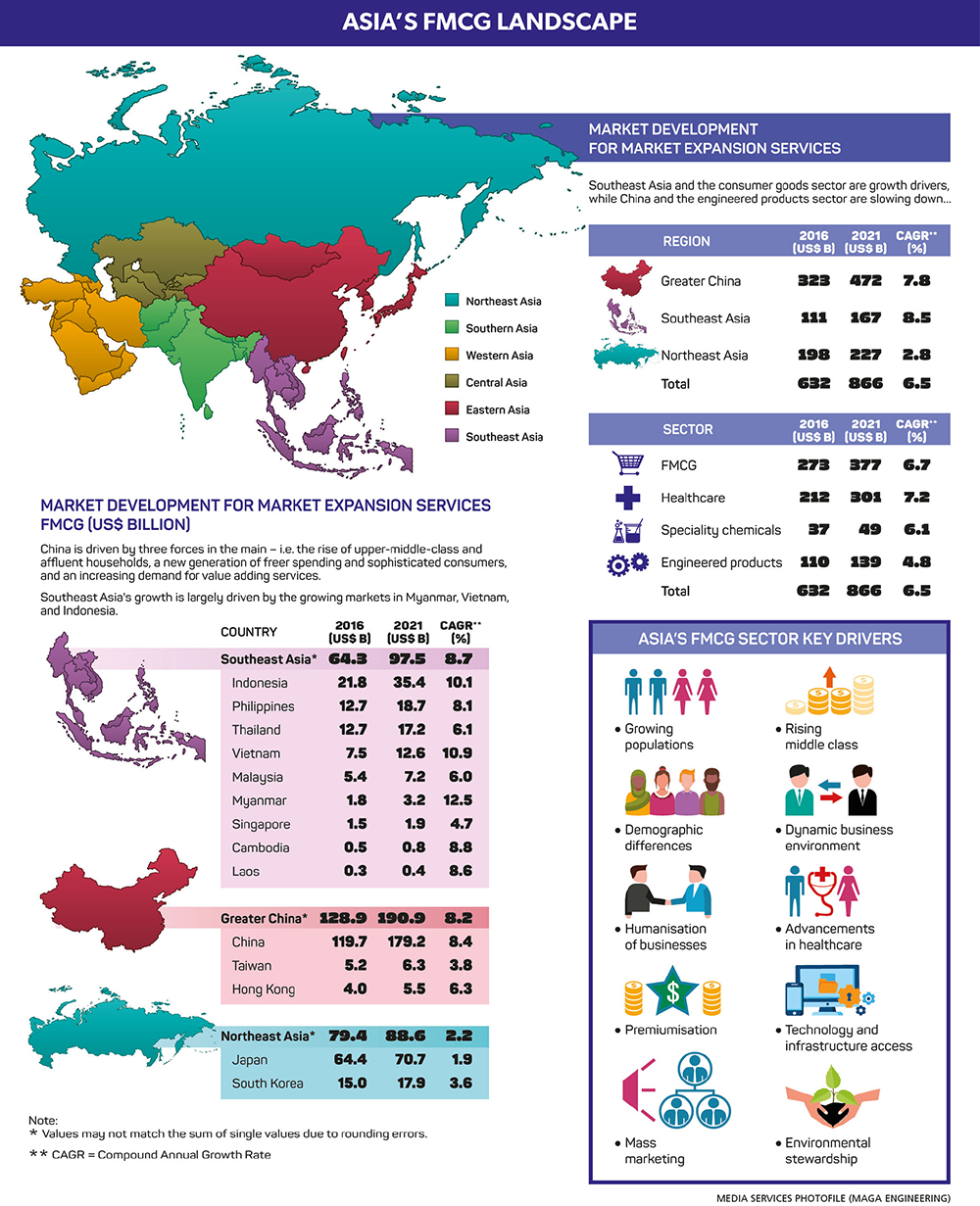 Q: In your view, is there greater room for public-private partnerships (PPPs) to address key economic priorities? And how can we gain more state inputs in this sphere?
A: The mindset that we've come in with is that we will do our own thing. Even though it's quite small in the larger scheme of things, so long as we do the right thing from a sustainability or country talent leadership development lens, we'll always go for growth side by side with sustainability.
Of course, if there is support from the government and other players in the industry, that would be very good. But we firmly believe in the statement that 'small actions make a big difference' – especially if you combine those actions as an organisation with others in the industry. That's why we conducted the PPP forum supported by the UNDP. 
Q: Are there lessons to be learnt from the region vis-à-vis the ease of doing business?
A: There will always be challenges related to this. In any other market, it's the same. One has to realise that these hurdles or challenges exist; and one has to work the system rather than work around it – because working around the system can be illegal in many ways.
So one has to find ways to actually work the system so that other players in the industry go along in the right direction and we get over those challenges. It's something that's very dear to our way of working wherein we value integrity. Even if we lose a competitive edge, if we want to get there and do something that is not right, we won't do it.
The government is actually doing a lot in terms of the ease of doing business. But what's most important is stability of policies, frameworks and the ease of doing business in the country. That would be of utmost importance because if someone has to work in an environment where there is back and forth, then it will be difficult.
Q: How do you view Sri Lanka's ongoing infrastructure development programme including pros and cons – such as the nation's mounting debt perhaps?
A: The progress achieved has been very good. If I were to compare it with other markets – for example, with India or the Philippines – those countries probably don't have the benefit of having paved roads for more than maybe 80 or 90 percent of the population. In the Philippines, safe drinking water or pipe borne water is not freely available to more than 70 percent of the population. But more than 90 percent of the Sri Lankan people have access to pipe borne water. So from that lens, the country has done really well.

If you've been to other parts of South or Southeast Asia, they have a term called 'rural.' I've been around Sri Lanka and visited more than half of our distributors, and the way rural is defined where I come from is not rural here – it's almost semi-urban. So from that lens too, the country has done really well.
The debt burden is the same in the other markets that I have been to. In the Philippines, our hands are tied behind our backs in terms of the same issue of debt. So this is where the government needs to balance short and long-term decisions. Stability is one concern; churning of demand in the countryside also helps from time to time especially on a sustained basis. 
Q: What is your take of the local workforce? Are we making the most of available human resources and talent?
A: It is very good. We continue to provide talent to not only Unilever in the cluster but also from a global lens.
I do receive feedback from many local industry leaders. And we do have talent coming from Sri Lanka outside Unilever that is also very good. The agencies that we work with, our distributors and business partners are very good. Some of them are world-class.
Q: And is there adequate investment in imperatives such as R&D and innovation?
A: This is probably something that's still a gap, which in discussions and forums that I have been a part of recently there's been a call out by some people in other industries and also the government. So it's something that should be definitely looked at.
We're not lacking in terms of talent and capability for R&D to do something to disrupt the way we work, to actually improve and get to the next level.
Q: Is enough being done by corporates to tackle the environmental impact of their operations?
A: The problem is so huge that we will never be able to do enough. Then again, corporates and organisations need to start working on this.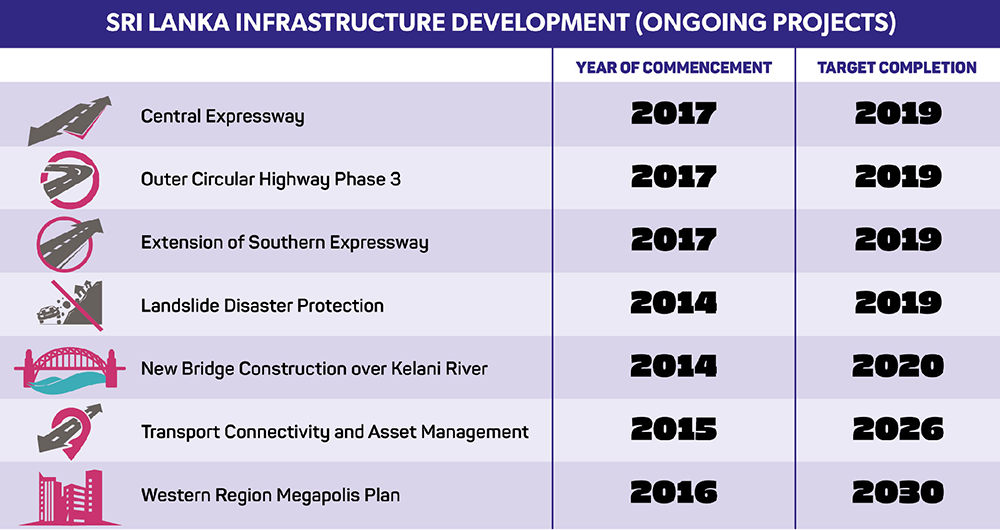 We can all shout and point fingers at one another but the approach that we're taking as an organisation not only here but even regionally and globally is to do the right thing. We set up a sustainability agenda as early as in 2010.
We're working with our extended supply chain and partners in making sure that we are able to do the right thing and have our own impact even in the communities that we operate in. For example, we do a lot of work in tea estates. From that angle, we try to uplift the health and hygiene conditions in the estates that we work on – one by one as we can't do it all in one go.
Once you witness this kind of improvement, other partners realise that our distributors are our business partners. Then you create a snowball effect because the mindset that we've adopted is that growth cannot be decoupled from sustainability. Right now, consumers are willing to pay a higher price for sustainably sourced products. That in itself makes a lot of commercial sense. 
Q: How would you describe the present FMCG landscape in the region and beyond?
A: The FMCG sector especially among the established players can be disrupted if we're not careful. The competitive advantages of certain industries and organisations can be toppled in a jiffy because of technology, which is disrupting everything that we do.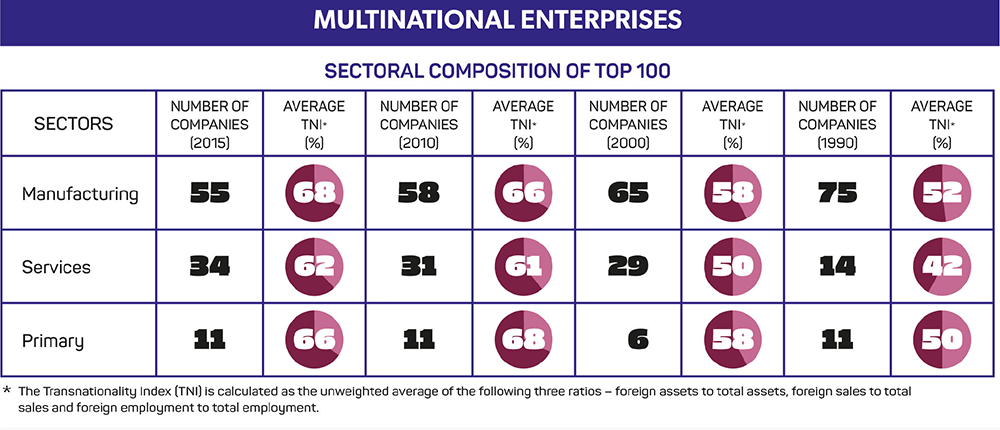 Organisations, and leaders of today and the future, need to accept the fact that they have to be disrupted themselves. We can't afford to rest on our laurels; we always have to be externally focussed. Startups today can topple big companies. So established companies need to be very afraid and uncomfortable because disruption is key – be prepared to be disrupted and the way we do things needs to be disrupted as well. So always stay on your toes – that's what industry should be focussing on.
You need to be more personal and can't expect everyone to call you 'Boss' or 'Sir.' The role of business leaders is to energise their organisations. It's about being a leadership team rather than doing the work itself. The role of leaders is to equip the larger organisation with the skills, capabilities, environment and support for it to get to the next level.
Q: And what are the consumer trends that companies need to watch out for?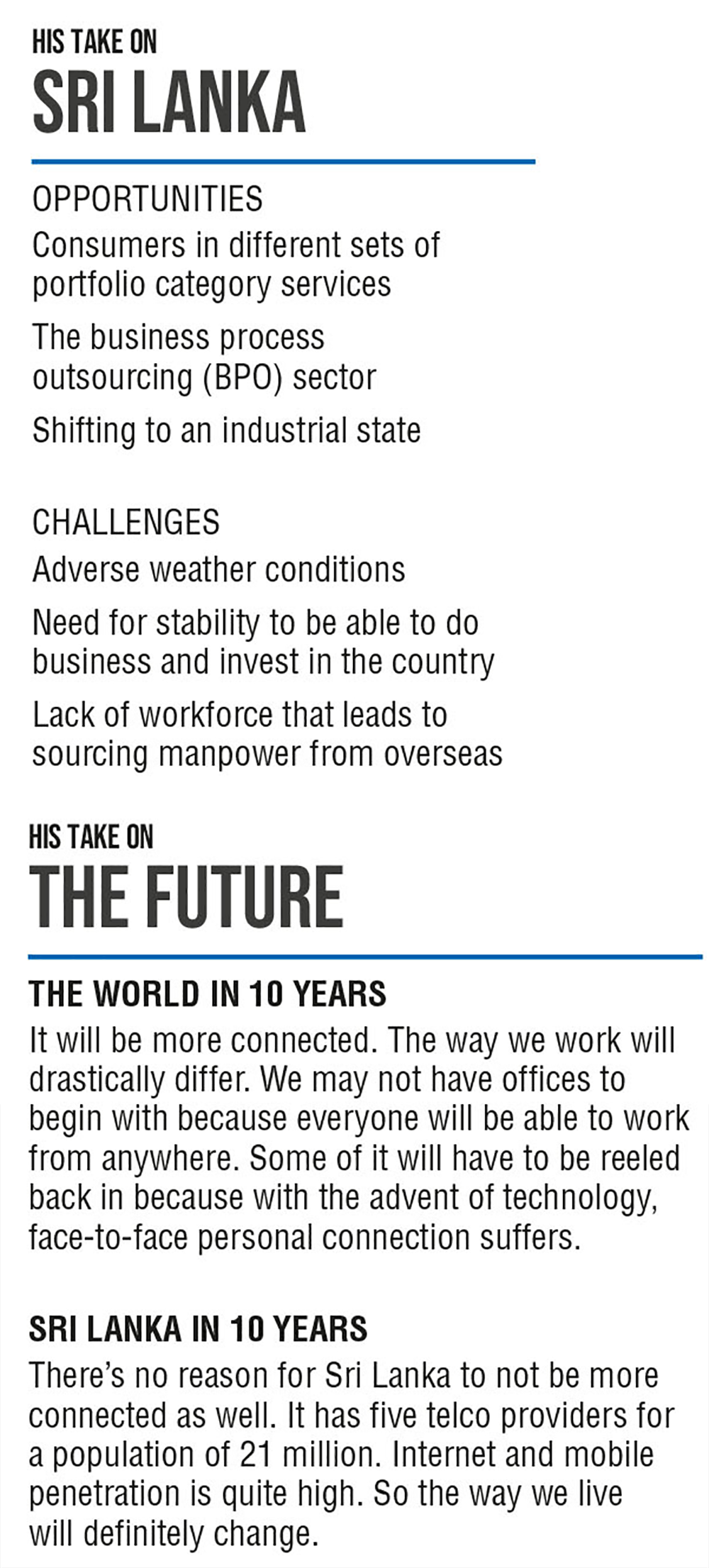 A: There's a lot more going for individuals. There's this trend for mass customisation. In the past, we could release a product and have one form of communication. But now the requirements of consu­mers are more different. Because of the knowledge that they have, a lot of them are in a way brand managers themselves.
The ability of companies to know when to get involved in a conversation – for example, on social media – is key because in the past, it used to be a one-way approach where FMCG companies would introduce a new product and educate consumers that this is what you need. Now more than ever, it's a two-way process.
That in itself presents an opportunity and a challenge – to serve them better and have an individual approach whereas before we had a mass type approach. Now we have to be good at doing certain things to cater to certain segments of consumers.
Another trend would be the shift to more naturals or sustainably sourced products.
Q: What is your assessment of the extent of brand awareness here in Sri Lanka?
A: There is a high level of brand awareness. Of the brands that we have right now, many are top brands with universal penetration. So the opportunity is for us to move into segments where there is more opportunity for consumers to latch on to a certain format and category. There is a lot of brand awareness, more so in terms of the need for personal solutions, naturals and companies to be a little more straightforward in the way they do things.
Q: How would you assess the global economic and investment landscape?
A: It's challenging. Right now, we are in a world that's in a state of flux. Then again, the business model that we took on in 2010 is delivering many opportunities, most of which we have addressed and taken on board.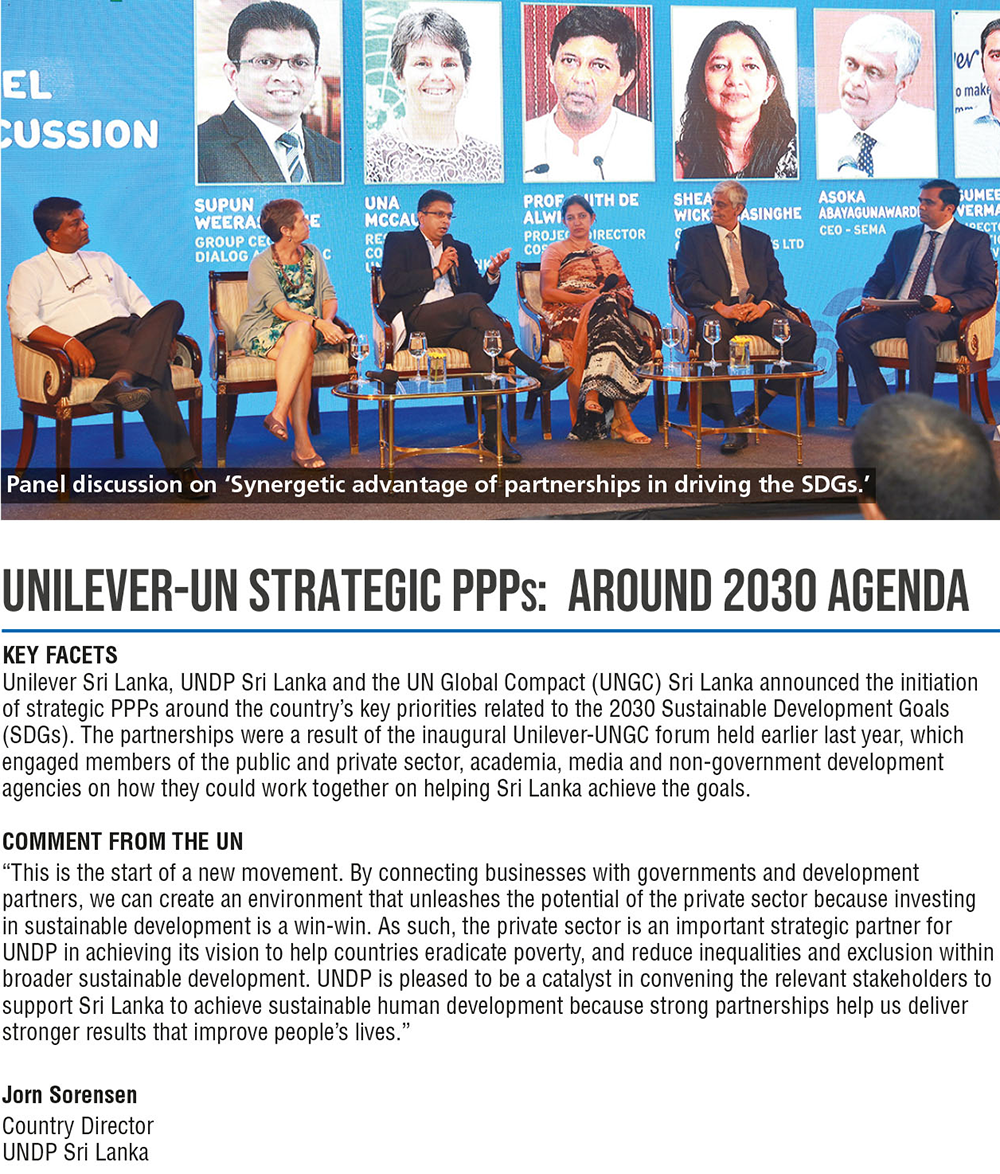 Of course, there still are opportunities elsewhere because the world is huge – you have certain markets where we're not present and certain markets where we are present but haven't maximised the portfolio.
While conditions will continue to be very fluid, the business model – in terms of the fact that you can't decouple growth from sustainability – is of utmost importance.
Not much has changed from 100 years back – companies in our space that tend to be very successful are those that engage the most with consumers. That was true 100 years ago and is true today too. But the approach has greatly differed. Today, it's digital, there's technology, you can communicate via tri-media (TV, radio and print), now on social media and your mobile phone.
So the ultimate goal remains the same: to be closest to the consumer wherever we are – in this case, Sri Lanka. But the way to do that has greatly moved on. So whoever is the best in adapting to that consumer context at this point in time will continue to win in the future.
Q: Having worked with leading global brands, what guidance can you offer in the context of building 'Brand Sri Lanka'?
A: Sri Lanka is a gem that's yet to be discovered by the world. It's a wonderful country; it's clean and safe, and the quality of life is so good compared to where I come from.
Some do know about the beauty of Sri Lanka. The people are nice. Compared to other countries, tourists here say the people leave you alone and let you explore. It's still very green. Society is still at a place where family is deeply valued and elders are respected.
Sri Lanka's per capita GDP is higher than that of India and the Philippines, and the per capita GDP of the Western Province is almost equal to that of Thailand – so the consumer sector is poised to reach the next level.
– Interviewed by Zulfath Saheed