DIPLOMATIC MISSION
Compiled by Savithri Rodrigo
THE COLLECTIVE SPIRIT
Yang Thai Tan stresses that working together will help resolve crises
It was seeing Nelson Mandela in person that inspired Yang Thai Tan into the diplomatic service. The Malaysian High Commissioner to Sri Lanka and Maldives was a teenager when Mandela visited Malaysia, and the forgiving persona of this charismatic gentleman influenced Tan into carving his life's career in building peace, harmony and unity among peoples.
"When I saw Mandela lift his fist in that iconic gesture of unity, it was my 'aha moment'," he says.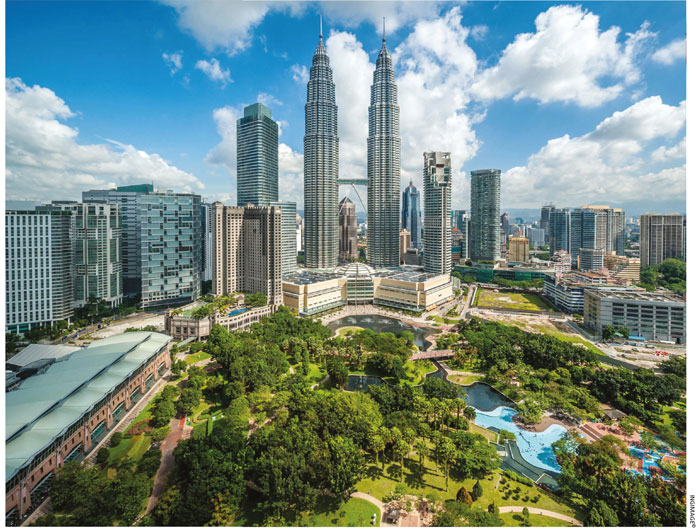 From then on, Tan expanded a copious reading habit, immersing himself in history – and enjoying learning about various countries, their past, present and future.
This constant search for knowledge led him to take up a posting in Uzbekistan, and then Moscow and Shanghai – and now Sri Lanka.
He has a special affinity for Sri Lanka due to the many similarities between Colombo and his birthplace George Town, including the cuisine and architecture – all of which makes for a sense of being at home here in Colombo.
Malaysia and Sri Lanka have much in common – whether in multi-religious multicultural coexistence, similarities in tourist attractions from beaches to rainforests or the vestiges of colonial rule in their architecture, cuisine (lamprais is among his favourites) and of course, the weather.
Nevertheless, M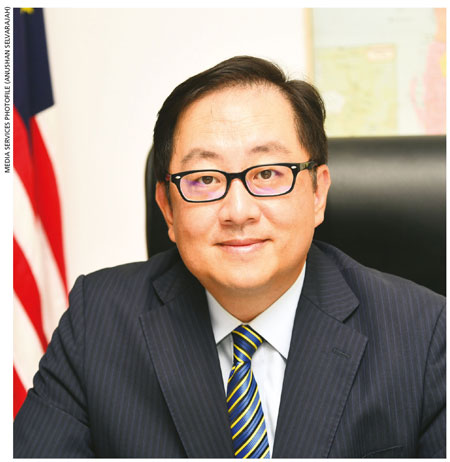 alaysia has developed considerably in the past few decades due to the visionary outlook of former Prime Minister Dr. Mahathir Mohamad. As a newly industrialised robust market economy, its GDP growth is now a stable four percent and Malaysia's exports are the second highest in ASEAN. The secret formula to this success is its people – and they've been the country's strength during the pandemic.
"Malaysians are law-abiding citizens and traditionally very respectful of authorities. Therefore, when the government decided to implement the Movement Control Order (MCO), it was followed strictly," he informs.
Tan maintains that "this in turn contributed to the speedy drop in COVID-19 infection rates. Malaysians are also a closely knit community, which is yet another reason we have managed to identify the source of infections and successfully curtail it." He adds that Malaysia's world-class medical facilities contributed immensely to tackling the pandemic head-on.
Malaysia has focussed on economic cooperation with Sri Lanka, having already infused over US$ 2 billion in investment. According to the High Commissioner, "more Malaysian businesses have displayed a keen interest to participate in the economic development of Sri Lanka."
He continues: "In addition, judging by the large number (over 4,000) in his country at present, Malaysia is a popular destination for Sri Lankan students to pursue tertiary education."
"I would like to see more Sri Lankans studying in my country as the low cost of living and education, similar culture and short travel time are advantageous especially in these pandemic times," he asserts.
Tan affirms that both countries should be collaborating in the agricultural sector – particularly rubber production – given that Malaysia is the largest global exporter of rubber gloves: "We are in need of more raw materials, which Sri Lanka can easily supply. In fact, we could even pursue establishing glove making plants in Sri Lanka as there is a good supply of labour, and easy access to vast markets such as India and the EU."

He observes that while Sri Lanka's strategic location augurs well for developing global trade, the history and natural beauty are undeniably primary reasons to promote tourism.
To this end, Tan states that "you can attract more visitors and make tourism a larger income generating industry. Moreover, your people have a good command of the English language, which is also an advantage for employment anywhere in the world."
This is one of the reasons that has driven Malaysia to employ a substantial number of Sri Lankan expatriates.
While expecting post-COVID times to be difficult, Tan observes that every nation and individual must play a part to eliminate the virus: "Currently, where Sri Lanka is concerned, there's much foreign investor interest in the country, which is a positive sign. Provided that the pandemic can be successfully navigated, Sri Lanka has the capacity and viability to use its advantages and progress even further."
Indeed, the main challenge facing the world right now is contending with COVID-19 and the resultant economic fallout, but Tan says it would be a long while before the virus actually disappears. Therefore, as he says the world must learn to live with it.
"The 'new normal' would see us wearing face masks continuously, being alert of who we encounter and constantly checking our health. To a certain extent, we have to accept the monitoring of movement imposed by the authorities for our own safety," he explains.
Tan also sees the world grappling with multiple issues, ranging from climate change and world hunger, to poverty and border disputes.
He emphasises that "we must remain steadfast and embrace cooperation with one another, accepting the opinions and positions of others in making decisions. This can be difficult but there's no other way as international issues require us to work together collectively for an astute resolution."
"It may take years or even decades but we must accept the fact that everyone will not get all they want and that the ends will justify the means for the whole world collectively," he concludes.