DIPLOMATIC MISSION
Compiled by Savithri Rodrigo
NO END TO GLOBALISATION
Denis Chaibi outlines the future of trade in the post-COVID era
When Denis Chaibi took up his posting as Ambassador – Head of Delegation of the EU to Sri Lanka and the Maldives in November, little did he realise the upheavals he'd experience not only in Sri Lanka but Belgium, his ambassadorial purview of the EU and the world at large.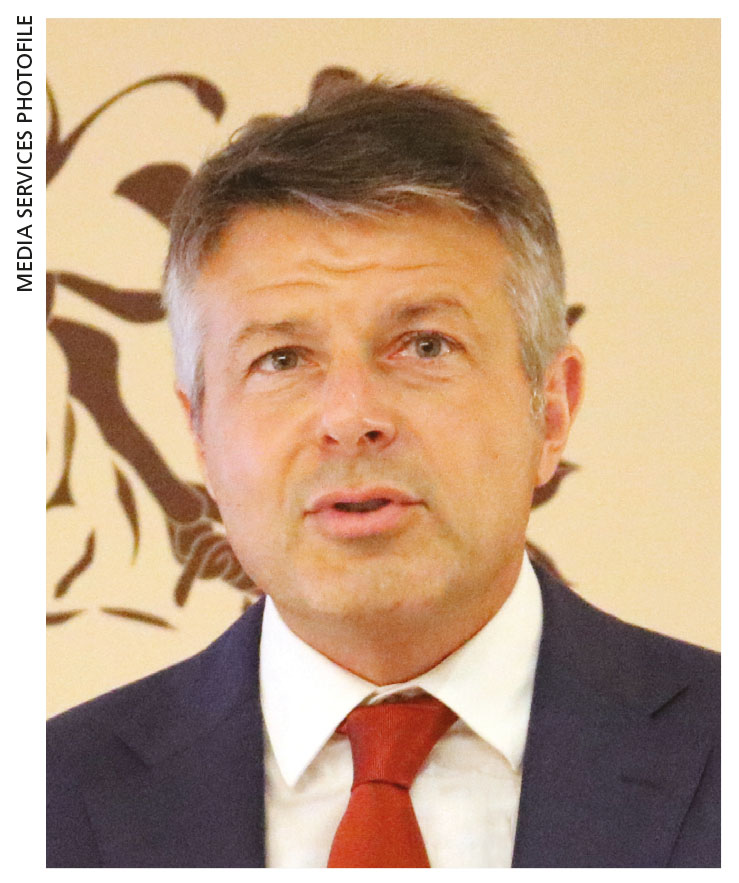 COVID-19 took over the world, leaving in its wake catastrophic consequences for humanity and widely impactful lessons.
Observing the effects of the pandemic on the EU, Chaibi lays out three main impacts facing the union: "The first questions the competencies and preparedness of our healthcare and social systems, and how we understand solidarity; the second is the impact on the economy and livelihoods; and the third spotlights the power and pressures of global geopolitical influences."
The response by the EU to these was manifold and complex. According to Chaibi, it prioritised health, "imposing measures that struck the right balance between individual freedom and risk management, and the strong sense of solidarity in the EU revolved around the three 'C's of caring, community and communication."
Chaibi explains that a continuously increasing death toll brought about a sense of caring among people and understanding that each person had a moral duty to care for those most at risk: "There was a strong sense of community – and with every leader in the EU communicating with their citizens daily, we responded with precision and clarity."
With past experience as a diplomat covering the Middle East and Asia, diplomatic sojourns with humanitarian assistance and crisis response, having organised the Brussels Conference on Syria and coordinated work of the international community on the nuclear deal with Iran, Chaibi can objectively assess the impacts of COVID-19.
He elaborates: "From an economic standpoint, there are three 'S's to talk about – extending solidarity by doubling our budget to EUR 1.85 trillion for those most affected, sustainability by injecting funds into the economy for more sustainable lifestyles, and support for Sri Lanka's response to COVID-19 focussing on tourism, healthcare and agricultural sectors with a 22 million euro grant."
While frank about the EU's response not being the best or most timely, Chaibi notes that the European Union has been transparent and honest, and taken collective decisions, adding that "our response was multilateralism, cooperation and exchange of information at a global level."
Asserting that trade has been ubiquitously impacted, he states that in terms of risk management, there was a need for safety and security measures for food, personal protective equipment (PPE) and medicine: "There was a need for risk management on trade and the way global supply chains are conceived."
"While trade in goods was impacted negatively, it's about services too. With the switch to virtual approaches in legal and accounting services, there is new potential opening up. While many say this is the end of globalisation and a restructuring of trade, the EU holds a different view," Chaibi explains.
He continues: "If we restructure trade to be autonomous, there will be less potential for value addition and a much higher contraction of economies – a dangerous phenomenon. This happened during the Great Depression when the world moved from a globalised to a closed model, which led to wars. We must keep trade open because people need each other and interaction makes it safe for everyone."
Chaibi was initially introduced to Sri Lanka as a tourist in 2015 and feels that until his appointment last year, the island had been through a cycle of hope and disappointment.

He notes that "at the end of 2015, there was hope; economically, culturally and among civil society. Europe had strong hope for reconciliation and amendments to certain laws; but while attempts and progress have been made, people have grown impatient, demanding quicker and better results."
"This overall approach took special significance after the constitutional crisis and Easter Sunday attacks, two events that had a huge impact on Sri Lanka," he adds. The Ambassador counts Sri Lanka's resilience as a strength especially in times of crisis.
"Another strength is Sri Lanka's past built on multiethnic multi-religious communities with its refined civilisation and great sense of history that has thrived on this combination of diversity. Due to these different perspectives, your country moves much faster than its neighbours in terms of economic welfare and development indices," he maintains.
Chaibi opines that Sri Lanka's geopolitical influences augur well for its future: "Your geolocation is increasingly important as India and China become larger actors in global trade, and Sri Lanka has converted this geostrategic position into good relations with major partners, managing a balance between the powers."
He views COVID-19 as an opportunity for Sri Lanka, commenting that "it's well positioned to take advantage of a more selective tourism base, and investments in wellness and healthcare – because your beautiful country has that inherent tradition of wellness."
While the EU supports Sri Lanka with grants that have exceeded EUR 200 million since 2014 – disbursed for agriculture in disadvantaged provinces, academic exchanges and civil society activism – it intends partnering Sri Lanka in moving higher up the value chain.
Chaibi affirms: "We want to work on sustainable growth with a startup ecosystem active in environmentalism, increase research and convert that into commercial opportunities. This requires an economy that's open to developing entrepreneurial activities and a legal framework to support it."