DIPLOMATIC MISSION
Compiled by Savithri Rodrigo
REGIONAL TIES SET TO BLOSSOM
Professor Bishwambher Pyakuryal foresees an upside to regional cooperation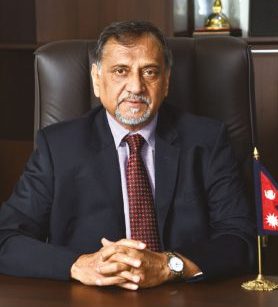 It's been touted by many travellers as a country that merits more than one visit. But this nation of fluttering flags, snow-capped mountains, hallowed monasteries, and helpful people that's wedged between the Himalayas and India lost its pristine quietness the day the earth trembled, smiting nearly 9,000, injuring 22,300, and swallowing historic and beautiful landmarks in its wake.
Two and a half years later, the Nepalese are gradually emerging from the mire that saw a spike in poverty. But Ambassador for Nepal Professor Bishwambher Pyakuryal recalls that Sri Lanka was among the first to provide aid to Nepal, adding that this is "something for which we are very thankful."
Nepal has been grappling with other issues including political instability and uncertainty, which are symptomatic of South Asia. The ambassador delves into the root causes, stating that the centralised system of governance being practised until democratic institutions were reinstated in early 1990 prompted economic suffering and the decade long Maoist insurgency.
"The first Constitutional Assembly (CA) was dissolved without declaring the constitution; the new constitution was ratified by the legislative parliament during the second CA but agitation by some delayed the convening of local elections. However, the first round of elections has been completed while the second will be conducted by January," Pyakuryal notes.
He continues: "With the constitutional monarchy replaced by a federal republic and Nepal declared a secular state, there is political stability now. In fact, our GDP in 2016/17 was the highest in South Asia."
And the ambassador points out that "the promulgation and execution of a democratic constitution has seen macroeconomic stability being maintained, [led to] higher exports and foreign exchange reserves, and increased per capita expenditure on health and education, heralding a Human Development Index (HDI) comparable to both South and Southeast Asia."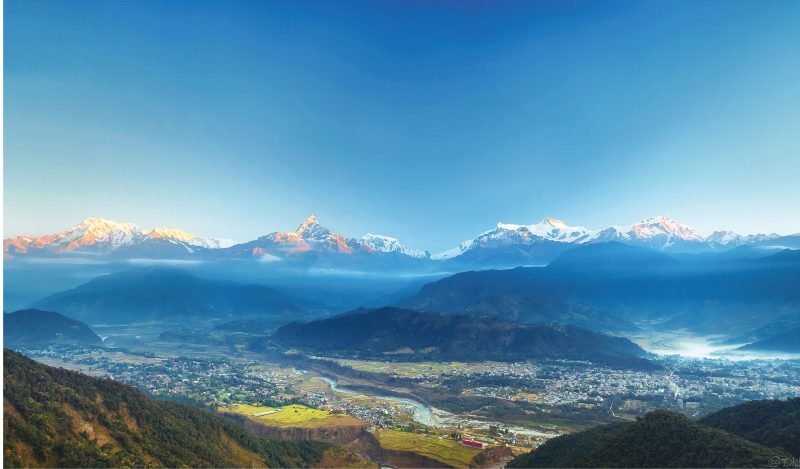 Nepal has also been progressive on macro issues – for example, by recognising three genders.
Pyakuryal considers this progress relevant to the current context: "We claim several other achievements in addressing gender equality including guaranteeing women 33 percent representation in the state machinery encompassing parliament."
With Nepal being the present Chair of South Asian Association for Regional Cooperation (SAARC), the SAARC Secretariat is based in Kathmandu. So the Ambassador reiterates the crucial role Nepal has played since the establishment of SAARC.
An international consultant to global institutions, Pyakuryal possesses holistic and expansive knowledge that is augmented by his appointment as a Commissioner of the Independent South Asian Commission on Poverty Alleviation of SAARC. This enables him to be objective about SAARC's most influential member and Nepal's immediate neighbour – India.
"While the Indian aid relationship has been challenged due to strained political ties at times, the nexus of friendship and cooperation remains unbroken," the ambassador affirms.

Pyakuryal believes that Nepal and India have a unique economic, social, cultural and religious dependence that's not found among other SAARC member countries: "The integration process is strengthened by people to people contact through the 1,415-kilometre open border with unrestricted free movement. India's foreign policy emphasises 'neighbour first' – and if this is the major foreign policy thrust, Nepal should be one of its strategic priorities."
Nepal celebrates 60 years of diplomatic ties with Sri Lanka this year. Describing the cultural and religious bond as being centuries old, Pyakuryal states that "Sri Lanka has been aggressively moving ahead to develop a centre of Buddhist scholarship and learning. As the birthplace of Lord Buddha, Nepal is happy that Buddhist institutions are being strengthened in Sri Lanka."
The ambassador has organised interactions with various entities including academics, investors, and the public and private sectors, while pursuing the transfer of technology knowledge and skills in selected sectors. "We have begun sharing information on tariff structures, investment procedures and provisions of the new Foreign Investment and Technology Transfer Act 2016," he reveals.
With the Government of Nepal identifying hydropower, road and transport infrastructure, tourism, agriculture, healthcare, education and ICT as key investment drivers, Pyakuryal urges Sri Lankan businesses to establish joint ventures.
He states: "Some key projects have already been approved; a chemical fertiliser plant, the Kathmandu Valley metro rail, a second international airport, an east-west electrified railways project, the east-west railways linked to the India project, Tamakoshi 3 hydropower project and Kathmandu Kulekhani tunnel road."
While these initiatives may generate optimism, Pyakuryal views declining commodity exports, trade protectionism, policy uncertainty and financial market disruptions as threats to the global economy. Nevertheless, he perceives that the available data projects a strengthening global economy in 2017.
"China's mission to double GDP by 2020 and the One Belt One Road Initiative point to the possibility of creating business opportunities in Asia, Africa and Europe. With the modest recovery envisaged by the United Nations, there could be a revival in global demand," he concludes.