DIPLOMATIC MISSION
Compiled by Savithri Rodrigo
THE SEARCH FOR COMMON GROUND
Robina Marks imbibes the common ground in humankind's spiritual beliefs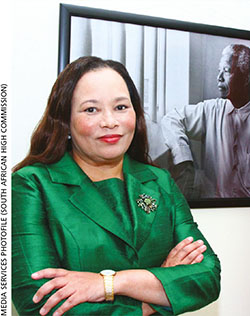 South Africa lived and worked through a vicious apartheid system where death squads, detention without trial, forced removals, bans and imprisonment affected those who defied the system. A bitter struggle paved the way for democracy in 1994 on a platform of a united non-racial South Africa birthed by the country's first black president – a reconciler and man of peace Nelson Mandela who is aptly known as the 'Father of the Nation.'
Reflecting on this dark past, South Africa's High Commissioner to Sri Lanka – who is also accredited to Nepal, Bangladesh and the Maldives – Robina Marks recalls that only 36 countries allowed her nation to run diplomatic missions prior to 1994. Today, 125 high commissions proudly fly the South African flag, the second-highest number of missions following the United States.
"We share a vision of contributing towards an inclusive, prosperous and sustainable South Africa where the hard-won freedom espoused in our constitution is accessible to everyone. As diplomats, we identify with a strong spirit of Pan-Africanism, internationalism and solidarity that's driven by the values of Ubuntu – i.e. that a person is a person because of other people. We represent the values that make us unique – viz. humility, integrity, patriotism and loyalty," the high commissioner affirms.
Among the largest and undeniably most sophisticated economy on the African continent, South Africa is the only country from the region in the G20, recently chairing the G77 plus China as well as the African Union (AU). It is also a full member of BRICS and IBSA, and the incoming Chair of the Indian Ocean Rim Association (IORA).
Pursuing a model of democracy aligned with the AU's Agenda 2063 and The Africa We Want, Marks says: "We are proud of our firsts; we had the first African in space, were the first country to voluntarily cease its nuclear programme, ran a successful 2010 FIFA World Cup and had the largest rollout of antiretroviral drugs for HIV patients."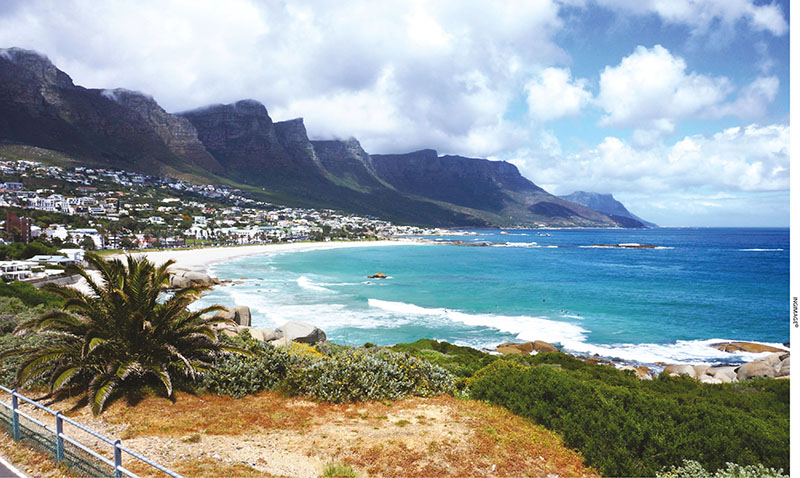 "We are open to foreign investment, offering a diversity of opportunities that has garnered the largest inward foreign direct investments (FDIs) in the region. Our fairly competitive tax bureaucracy and low-red-tape environment also make us an attractive FDI destination," the high commissioner asserts.
Globally regarded as a moral authority on issues of nation-building and reconciliation, Marks observes that with equality being a fundamental in its fabric, today's South Africa eschews racism, sexism and discriminatory practices. She notes that her nation allows same-sex marriage and that gender equality is a cause promoted not only in South Africa but in other countries as well.
Having been in Sri Lanka since November last year, Marks is enthusiastic about strengthening the common bonds of friendship and bilateral relationship. She states: "At our last South Africa-Sri Lanka Partnership Forum, we identified new opportunities that would lead to expanded economic cooperation especially in renewable energy, the blue economy and agro-processing."

"We will ensure that our partnership supports the objectives of our own National Development Plan, contributing to job creation and poverty alleviation to address rising inequality in South Africa, and the strengthening of multilateral organisations and reform of global institutions of governance," she continues. Marks draws parallels between the shared struggles of Sri Lanka and South Africa, believing that the bonds of solidarity, friendship and cooperation have stood the test of time.
She observes: "Our two countries have a common vision on a range of global issues and domestic challenges. Principles such as democracy, human rights, sustainable development, and challenging the prevailing unfair global system and power structures are key foreign and domestic policies of our two countries."
"We consider Sri Lanka to be an important partner to jointly advance the development agenda of the countries of the south. And we'll continue to support the process of reconciliation and nation-building in Sri Lanka," Marks assures.
The South African High Commissioner reiterates that her country recognises and respects the territorial sovereignty and integrity of Sri Lanka as a multi-ethnic, united and unified state.
She remarks: "South Africa has always promoted the need for a peaceful, sustainable and long-term political solution that's best achieved through broad consultation, and an inclusive dialogue process among all Sri Lankans. The South African government will not prescribe how this process should be conducted but has offered to share its experience on transition from apartheid to democracy with the Government of Sri Lanka."
This was echoed by President Jacob Zuma when he met President Maithripala Sirisena on the sidelines of the IORA Leaders' Summit in March.
Marks elucidates that Mandela found his spiritual guidance in the teachings of different religions; and that with Sri Lanka representing a multi-religious melting pot, peace and reconciliation can be achieved by following the fundamentals of these teachings.
"Mandela meditated in prison every day for 27 years and it was one of the reasons he was able to help bring about reconciliation so very successfully, having imbibed forgiveness from the Bible," she recalls.
"We find similarities in the Buddhist precepts of metta and karuna (loving kindness and compassion), as well as similar tenets in Judaism and the Islamic greeting 'As-salamu alaykum' (peace be upon you). This means that there's enough common ground in our spiritual beliefs to find forgiveness and reconciliation among all people," the high commissioner observes, in conclusion.