DIPLOMATIC MISSION
Compiled by Savithri Rodrigo
CHANGING OF THE GUARD
Bryce Hutchesson notes that the world economy is witnessing a historic shift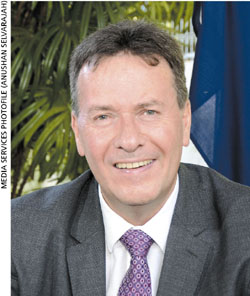 "Colombo is a city on the move," muses Bryce Hutchesson, observing that the commercial capital and Sri Lanka are changing for the better. Hutchesson has visited the island on several occasions, prior to his appointment as High Commissioner of Australia, with his first visit being in 2001, following the terrorist attack on the Bandaranaike International Airport.
"For Colombo, specifically, an obvious indicator is the emergence of skyscrapers, new restaurants, coffee shops, galleries and high-end boutiques, which all point to confidence in the future. There's a sense that the war is really over, and that opportunity is being seized," he observes.
Hutchesson has been involved extensively in the South Asian region, having headed the division covering foreign policy, economic diplomacy and aid management.
And he has a wish list for Colombo: "While Colombo becomes a bustling metropolis, I hope it will also retain its old-world charm, which is characteristic of the city, and take full advantage of the waterfront. I hope that, in 10 years, we will see more restaurants on Marine Drive, and the beaches of Mount Lavinia being maintained. If the correct mix is found, this can truly become a very attractive city."
However, Hutchesson adds that Sri Lanka will witness change at a slower pace, pointing out that the country's strength is in its traditions and potpourri of communities. "For any visitor, Sri Lanka's richness in nature, diversity, cultures, the mix of old and new, and warm and welcoming people are all facets that are truly unique. They encompass the absolute good of this country," he proclaims.
The Australian High Commissioner also discerns that Sri Lankans are entrepreneurial and resilient, as evidenced by how they've dealt with circumstances: "There's much to be done by the country, to come to terms with its past. Progress has been made, but addressing the trauma of the past and uniting the country is a long journey."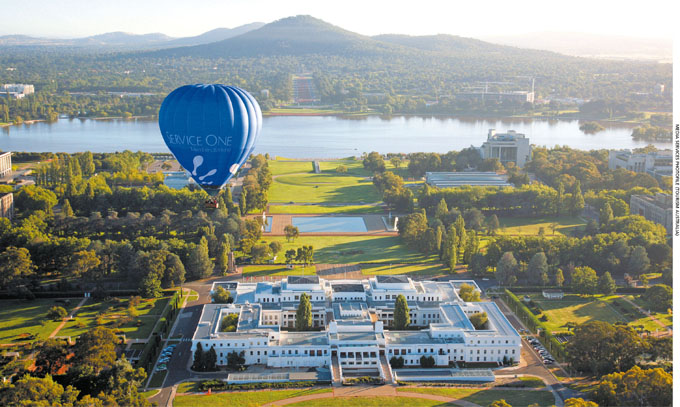 For Hutchesson, the conflict did bring in a positive, however. He explains that "the country has not been subjected to overdevelopment, as seen in other similar nations. Your landscape has been preserved, and the advantage is that you can proclaim to the world that you'll develop it sustainably."
Australia is considered a strategically important trade and bilateral partner of Sri Lanka, a fact that stemmed from diplomatic relations established in 1947.
While Hutchesson will focus on nurturing these trade and investment relationships, he's also keen on developing markets in Sri Lanka and connecting communities with export market opportunities, which will also include supporting skills training and economic empowerment.

"People-smuggling, too, continues to be a bugbear. And successive Sri Lankan governments have been supportive in combatting this and other transnational crimes," the diplomat acknowledges. With the trade trajectory looking positive between the two countries – which, he says, will hit the AUS$ 1 billion milestone this year – Sri Lankans have opportunities in the BPO industry, agriculture (specifically value-added tea), and innovative product lines and apparel, of which the talented cohort of Sri Lankan designers can become an integral part.
Opining that the large Sri Lankan diaspora and growing numbers opting for higher education in Australia have certainly opened doors to him, and made his mission that much easier, Hutchesson perceives that the expat population, in particular, has made an immense contribution to Australia, both socially and economically.
Hutchesson asserts: "The diaspora has positively contributed to Australia, and I do encourage that, in turn, they also seek ways to contribute to building a more harmonious nation – maybe through community-based contributions, or skill and knowledge exchanges. This is important in the larger scheme of things, as it helps restore a sense of unity in Sri Lanka."
He deliberates that the Government currently has much on its plate, including Constitutional reform and the Geneva reforms: "It's not easy, but if those agendas can be delivered successfully, the country is well-positioned for a stable and prosperous future. You must also ensure that the economy is open and new opportunities are seized, productivity increased and economic restructuring completed – a huge challenge, which we ourselves have been through."
Considering the protean hues of the world at present, which Hutchesson claims as being vexed, the looming global challenges are manifold and complex, he believes.
"We are seeing a historic shift in the world, where Asia and the Indo-Pacific regions are re-emerging as major engines of global growth. This, of course, is welcomed by Australia. But these changes bring pressure on global and regional institutions that have served the world well. What will replace them, or how they will adapt, is a challenge to the world," he remarks.
Although international terrorism is a permeating issue with which the entire world must contend, he also cites the challenge of refugees and asylum seekers, as it's not a problem contained within Europe alone.
He concludes, therefore, that "since the end of the Cold War, changes have accelerated. Historians will look back at this period as a time of historic shift."