LIFE
Dinithi de Silva Wickramanayake
In conversation with Ruwandi Perera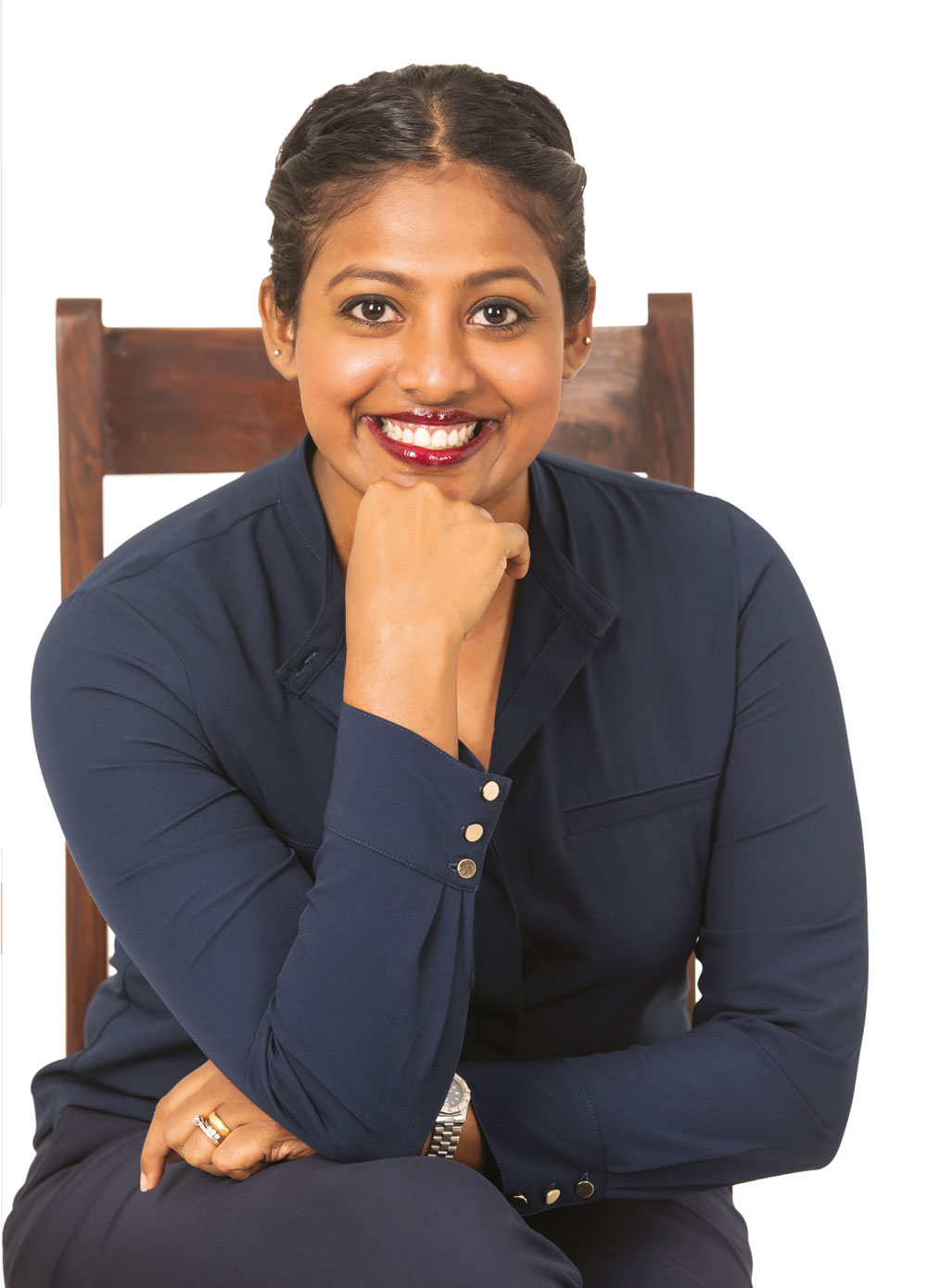 Alma mater
Bishops' College
Family members
Husband (Asoka de Silva), parents, brother, in-laws and two dogs
Wanted to be
A professional diver or lawyer
Is
An account manager who handles luxury and corporate brands
Favourite day of the week
Friday – always
Worst day of the week
An obvious one – Monday
Three must-haves
Phones, laptop and wallet
Two 'would like to haves'
The newest TAG Heuer Aquaracer watch and one more dog!
Mantra to unwind
A glass of red wine coupled with a good movie
Favourite colour
Black – because it's a colour that epitomises elegance
Three favourite brands
TAG Heuer, Nike and Bobbi Brown
Happy place
At home with my husband or nights in with friends
Favourite chill out spot
Singhalese Sports Club (SSC) – either running or swimming
Cook or foodie
Both
Favourite food
Japanese fusion cuisine – but I love good Chinese food too
Favourite drink
I love to drink king coconut or a good cup of Ceylon Tea
 Three hobbies
Diving, swimming and reading
Three pet peeves
Being late, insincerity and animal cruelty
Likes to take part in
Swimming will always be at the top of my list – I also like tennis and CrossFit
Likes to watch
Swimming, tennis and cricket
The glass is half full or half empty
Half full – I believe in staying positive and working to fill the remaining half!
Most unforgettable event
There are two events etched in my memory – the day I married and my first dive in Trincomalee
Most forgettable events
My grandparents' passing
Favourite local destination
Ella
Favourite overseas destination
Bali
Ideal romantic date or outing
A relaxed evening with my husband where we enjoy good food, good music and very good conversation
Three items on the bucket list for the next six months
A weeklong diving tour covering Trincomalee and Mirissa, diving off the Great Barrier Reef in Australia and working to conserve marine life
Best book you've read
Losing My Virginity (by Sir Richard Branson)
Quality or quantity
Quality
Work or play after retirement
A bit of both
Likely retirement destination
For now, it's obviously Sri Lanka but I don't know what life has in store for me
Obsessed with
Diving, chocolates and good Ceylon Tea
Purpose in life
To be a game changer in whatever I do while staying healthy and happy!
Happiness in a few words
Spending quality time with family and friends
Favourite song
I Won't Give Up (by Jason Mraz)
Favourite movies
Sully: Miracle on the Hudson and Captain Philips
Best actor
Tom Hanks
Best singer
I love both Kelly Clarkson and Pink
Favourite author
Sir Richard Branson
Favourite international sportsperson
Novak Djokovic – because he is driven and focussed
Favourite international statesman
Prime Minister Justin Trudeau – he has a relevant and transparent leadership approach, engages in real conversations and makes impactful changes in the system rather than talking about them
Colombo in a few words
Changing every day… for the better
The type of change you want to see in the world
People helping and uplifting each other, working together to conserve the environment and making the world a better place
Role models
Mum and dad
Most used word or phrase
"OK, cool"
Yourself in a few words
Driven, passionate and caring
Motto in life
When you can't change the direction of the wind, adjust your sails
Dinithi is the Client Servicing & Project Manager of Morpho Design Studio