DIMO TATA MOTORS
DIMO and Tata Motors Limited unite in introducing Tata Euro4 Powertrain Commercial Vehicles in Sri Lanka
The World Environmental Day, celebrated on the 5th of June, commemorates with the theme Air Pollution, emphasizing the profound impacts on the health of the planet caused by Airborne pollutants. Transport emissions are responsible for a significant proportion of air pollution in a vast majority of cities, which has created an increased need for more efficient modes of transport through cleaner vehicles in the country.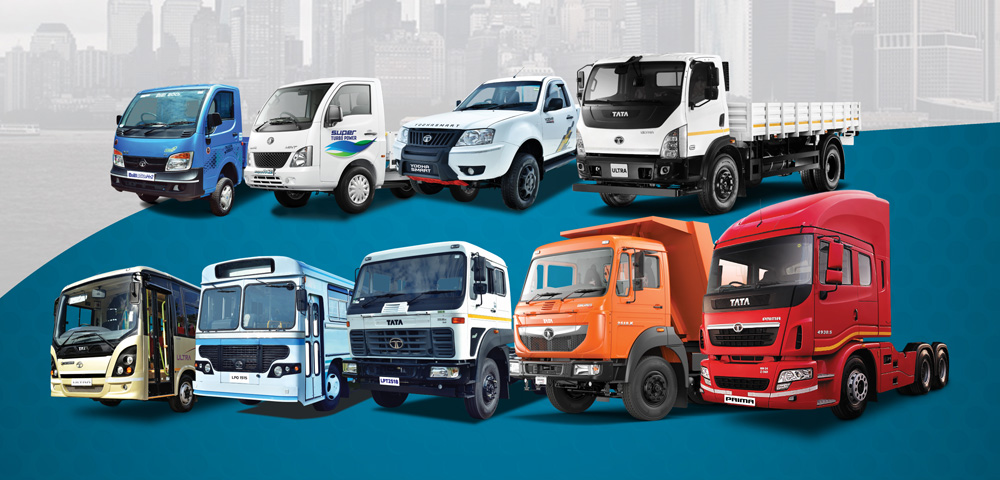 As a responsible giant in Sri Lankan automobile industry, Diesel & Motor Engineering PLC (DIMO), in unification with Tata Motors Limited, has introduced environmentally friendly Tata Euro4 Powertrain commercial vehicles to Sri Lanka.
DIMO also took the lead in introducing the first Indian Euro 4 commercial vehicle Tata Yodha to Sri Lanka in August 2018.Setting new benchmarks in the commercial vehicle market, Next Gen Tata Euro4 Powertrain range is capable of catering all kinds of commercial transportation requirements. Tata Euro4 platform offers an improvement of8% to 10% fuel efficiency improvement compared to the Euro 3 engines, Improved power & torque, low maintenance cost & 80% reduction of particulate matter (environmentally friendly) compared to the previous drive lines.
Chairman & Managing Director of DIMO Ranjith Pandithage said the launch of Tata Euro4 Powertrain commercial vehicles shows our commitment for improving quality of life towards sustainable development and as a responsible company we are confident that this new Tata vehicle range will contribute for the triple bottom-line of the Company.
Head, International Business, Commercial Vehicles of Tata Motors Rudrarup Maitra, said "Sri Lanka is a focus market for Tata Motors & it is our continuous endeavour to raise the bar in customer experience by launching new products. Tata Motors takes pride in being the first Indian OEM to introduce Euro4 vehicles in Sri Lanka with the new Tata Yodha. With the introduction of the whole Euro4 range, we are confident our products will continue to excite customers in Sri Lanka with enhanced performance & comfort features. We wish our channel partner DIMO the very best and firmly believe that the launch of the new Euro4 range will further consolidate our leadership in the commercial vehicles industry."
Next Gen Tata Euro4 commercial vehicle customers will benefit from low operating & maintenance cost with higher fuel efficiency, increased profits with higher loading ability & less turnaround time due to the improved pulling power. Also, Tata customers can be a benefactor to the environment by contributing to lower vehicle emissions.
Next Gen Tata Euro4 Powertrain commercial vehicle range is not only focused on driveline performances but embarked with enhanced comfort features & upgraded safety features that make them a stylish workhorse characterized by everyday practicality.
Next Gen Tata Euro 4 Powertrain range consist of Small Commercial Trucks (Payload less than 1 Ton), Light & Intermediate Commercial Trucks (Deck Length – 10 to 20 feet), Heavy Commercial Trucks (Deck Length – 20 to 24 feet) & Tippers (Bucket Capacity – 8.5 to 16 Cubic Meters), 40 footer container haulers, Light Commercial Buses (28 to 32 Seaters) & Heavy Commercial Buses (54 Seaters).
Next Gen Tata Euro4 Powertrain engines adopt EGR (Exhaust Gas Recirculation) Technology & SCR (Selective Catalytic Reduction) Technology to control NOx, (NITROGEN OXIDE) which is the most harmful pollutant in the vehicle emission. These technologies are adopted after carefully analyzing the performance requirements and through testing.
Next Gen Tata Euro4 Powertrain engine uses EGR (Exhaust Gas Recirculation)Technology for Small Commercial vehicles, pickups, trucks payload less than 15 tons &  buses. The simple principle of this technology is that it reduces the pollutants by lowering the temperature of combustion. In EGR system some part of the exhaust gas is recirculated to the engine with fresh air to lower the combustion temperature. The combustion temperature is lowered because of less fresh oxygen in the total charge hence the complete burning of fuel is restricted thereby keeping temperatures low.
SCR (Selective Catalytic Reduction)Technology is used in heavy commercial trucks & tippers due to the high-performance requirements. This technology reduces the pollutants by after treatment process. Once NOx is generated, it is passed through a chamber in the exhaust path where it is sprinkled with a mixture of Urea and water called Diesel Exhaust Fluid or DEF. The DEF breaks the NOx chemically to Nitrogen & water vapor and releases it in the atmosphere. Most European & Japanese manufacturers use SCR technology for controlling vehicle emissions.
DIMO is also geared to provide Sales, Services & Genuine Spare Parts for the Tata Euro4 range through DIMO branch network & appointed dealers network across Sri Lanka. The presence of 24Hour Roadside Assistance (RSA) service is a unique facility that provides complete peace of mind to our customers with capability of attending to any kind of service requirements across the island. DIMO & Tata Motors Limited have a strong relationship spanning over 58 years with Tata commercial vehicles playing a vital role in the daily lives of thousands of Sri Lankans uplifting their livelihoods. The launch of Tata Euro4 range has enabled DIMO and Tata Motors Limited to further strengthen this association with Sri Lankan customers in the new age of sustainability.