DIMO
DIMO organize Mercedes-Benz Classic Car Forum
Beacon of Light for Mercedes-Benz Classic Car Owners
The Mercedes-Benz Club of Sri Lanka in collaboration with Diesel & Motor Engineering PLC (DIMO) organized a knowledge-sharing session on the restoration and maintenance of young Mercedes-Benz classic models from over 25 to 30 years. The forum was conducted by the current President of the Mercedes-Benz Club of Sri Lanka, Sidath Fernando who is a classic car enthusiast himself and a keen collector of Mercedes-Benz classics in Sri Lanka, in the presence of Mercedes-Benz Club Members, Mercedes-Benz classic car enthusiasts, DIMO Mercedes-Benz staff, and trainees from the DIMO Academy for Technical Skills (DATS).The session took place at DIMO 800, The Mercedes-Benz Centre of Excellence.DIMO holds position as the only authorized General Distributor for Mercedes-Benz in Sri Lanka, which also possesses the capability and expertise to cater to all needs of Mercedes-Benz cars, no matter what condition it maybe in.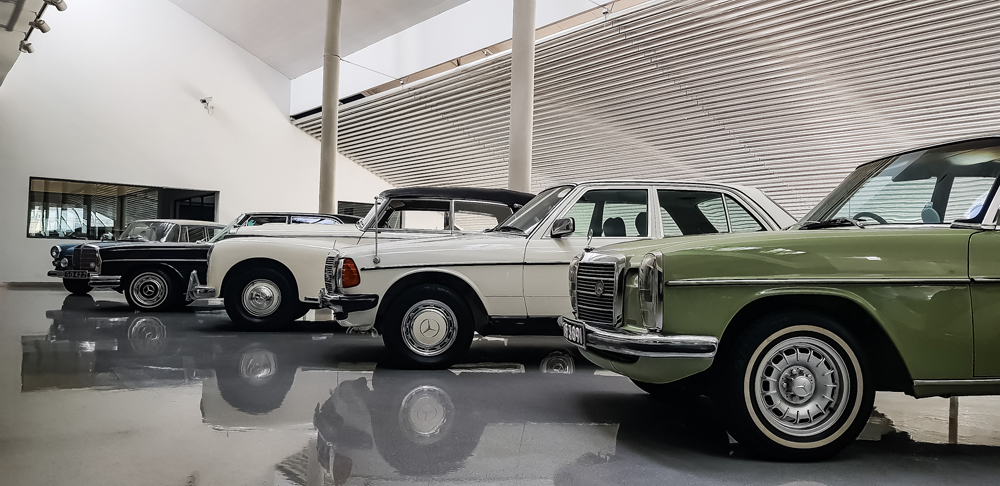 Sharing his insight, Fernando stated, "These Mercedes-Benz cars that were manufactured over 25 years ago or more, are today considered as classics and have begun to garner a great level of enthusiasm from the younger generation in Sri Lanka. What we want to achieve through this forum is to ensure consistent ongoing dialogue between the Mercedes-Benz Club of Sri Lanka, DIMO and Mercedes-Benz classic car owners. If there are any vehicles that require restoration work, we encourage these owners to come and talk to us. Conducting a forum like this will allow them to understand what it takes to look after such a car and learn how to best maintain it as well as determine for themselves what type of services are available to them through DIMO."
He also reiterated that DIMO would happily come on board a project that requires special attention and will initiate stage-by-stage awareness of what would need to take place, a clear project timeframe, an idea of what the costing would be and any other cost-effective methods that can be adopted in order to achieve the desired effect for their car. He also disclosed that these classic cars were manufactured during an era of semi-automatic elements and these cars possess electronic components that can still be repaired.
Therefore, instead of having to go for an entire replacement, DIMO, in collaboration with the Club, has formed a dedicated team of Daimler AG trained technical expertswho will be seeing this type of work through. Old hands who used to be engaged in the mechanical operations of classic Mercedes-Benz cars are slowly retiring and in a few years down the line, the expertise required to handle these specific repairs and restorations would face a natural death.
Commenting on this year's Forum, General Manager Mercedes-Benz Cluster of DIMO Rajeev Pandithage stated, "DIMO has always ensured best service delivery whilst also keeping our customers well-informed about their cars. Being the authorized general distributor for Mercedes-Benz cars in Sri Lanka, we only see it as a fitting responsibility to help our customers keep their vehicles in excellent shape and share knowhow in this manner on how best they can ensure their vehicle's productivity lasts even longer and how DIMO can join hands to assist them in this regard."
General Manager Mercedes-Benz Service – Passenger and Commercial Vehicles, of DIMO   Mahesh Karunaratne stated, "We got the remaining senior hands together and youngsters from the DATS who are classic car enthusiasts and created an interactive team to revive the previous activities that were set in place for classic cars. Currently, they comprise of a team of 25 technicians in all including the senior hands. Some of the trainees who are involved in this project have been doing restorations on their own before joining DATS and their drive and passion for classic cars has enabled them to enrol and work on their craft at the Academy. Therefore, this type of engagement no doubt gives them an extra boost along with the facilities to help them achieve their aim."
This team of expert staff will cater to the needs of young Mercedes-Benz enthusiasts who look towards possessing a practical Mercedes-Benz classic car that would run on the road whilst ensuring that such classic cars receive the right type of after-service and maintenance. Unfortunately, most of these classics end up set aside in a garage to rust away and sometimes forgotten. However, with a little tender loving care, these beauties can be restored and given a new lease of life. Mercedes-Benz classics that have undergone such a facelift have garnered a loyal following especially from the younger generation where they have begun to realize the potential thisbrand of cars have today, due to its solid build and timeless elegance, evoking a sense of renewed passion for Mercedes-Benz Classics.
During the session, a number of slides denoting the before and after visuals of a number of Mercedes-Benz classics under different conditions were shown to have undergone major repairs and restorations at DIMO. For instance, he described how an electric hood of an R129 model had undergone repair.  This particular car was facing an issue after the owner realized its hood would not convert after a period of time being relaxed. When confiding with the manufacturer, their solution is to replace the shocks of the hood completely in order to restore its functionality.
However, he relayed that conducting a repair of this is possible without having to undergo any such extra work and that too in a cost effective manner. In this manner, DIMO has the capability of conducting repairs for owners who require this type of service.He also showed another project in which a fully dilapidated car had been damaged due to conditions such as water ingress. However, the team at DIMO utilized methods of priming and treatment along with a number of other restoration work andwere able to bring it back to life.
Shedding light on a number of discussions that had taken place over the course of the past few months, Karunaratne further disclosed, "We had been initiating discussions with Mr. Fernando on how to take the Mercedes-Benz Classic Car Forum to a different level. Since its commencement DIMO 800 had experienced high throughput and due to this, the company had decided to incorporate a number of development activities. This is when we identified the classic car segment as an important fixture of Mercedes-Benz cars and one which no doubt needed special attention. We also wanted to keep the level of enthusiasm moving forward. Classic car restoration is not something that can be setup overnight and the subject of classic cars requires ongoing discussions and knowledge sharing as well as ensuring the continual of this type of platform. We will ensure that we will restore these most valuable assets to the required levels to keep the brand alive in Sri Lanka as the only Authorized General Distributor for Mercedes-Benz in Sri Lanka."
Mercedes-Benz is known to be the most valuable luxury automobile brand in the world and embracing part of its history for many of these enthusiasts has helped bring about a sense of gratification once they possess such a rare type of vehicle. Presently, it has become extremely difficult to find classic versions such as these in Sri Lanka anymore. DIMO also believes in the importance of ensuring that a significant piece of historic value does not simply die away from neglect.