DIGITAL WISH LIST
THE GIFT OF CHRISTMASTIME
Ruwandi Perera is decked and ready to hang 'digital stockings' this year
Christmas comes but once a year and that time is almost upon us! While we love everything to do with Christmas (i.e. brandy laden Christmas cake, eggnog, shiny lights, decorated trees and nostalgic carols), there's no denying that the shopping can get our antlers in a twist – every year…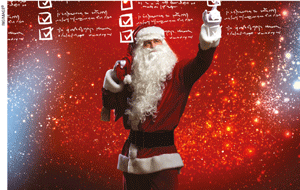 Last-minute gift shopping especially for loved ones can be more daunting than a white bearded old man's mission to visit every household in one night while riding a non-GPS installed reindeer sleigh delivering gifts to those who made his 'nice list'!
Yet, it doesn't have to be that difficult.
Thanks to digital gifts and digitalised gift giving, all your Christmas shopping can be done in minutes from the comfort of a couch, and sans the fossil fuel burning drives and unsustainable wrapping papers.
No, I don't mean ordering a Yule log and having it delivered to your aunt… although that is an option.
Christmas is a traditional time but gifts can be truly and thoughtfully digital given that many of us (including children) lead extremely digitalised lives. So here are some ideas that won't be too hard on your credit card but will help you win the title of 'coolest gift giver of the season.'
Everyone loves advertisement-free TV so what could be better than a subscription to a streaming service? Gift cards are readily available and you only have to decide on the type of subscription, pay and enable your dear ones to binge watch their favourite series over the Xmas holidays.
If your gift list includes avid smartphone users, you're in luck because there are many 'gift-able' items on mobile app stores!
For instance, you can gift a specific movie rather than a subscription to a loved one, making it extra personal and relatively inexpensive. Songs or entire playlists too can be gifted using downloading services as long as you haven't ripped them off a CD or done so illegally.
Go a step further and present a gift such as an app that friends can use over time. Apps make great gifts especially these days with many of us religiously using at least five or six apps on a daily basis and another five or so weekly. With easy gifting buttons on mobile market spaces, it's only a matter of selecting, paying and personalising a message to go with your ready to use gift.
Remember your favourite aunt or uncle who once gave you the best Christmas gift of all – cash?
Now you can be someone's favourite! Send gift cards or credit (based on their operating system, of course) for recipients to use for games, music or cloud storage. Isn't that something we all need more of?
And if you want to give responsible gifts to children this year, think e-books, e-magazine subscriptions or online learning courses (the latter may raise eyebrows among kids but will win praise from parents) that recipients can use at their own pace and time.
Naming a star after a loved one is a special and affordable gift. Stars are available from US$ 19 upwards, according to a simple Google search. Go one step further and make your special digital present a sustainable and environmentally-friendly one, by gifting charity certificates to kith and kin. Donate to charity in their name – be it for wildlife protection, medical research, poverty elimination or education; it will make Christmas a warmer time all-round.
Need a truly personalised gift?
Why not gift your dear ones their own URL? Domain names can differ in price, ranging from 10 dollars to US$ 90 million so choose yours carefully – it could refer to the recipient's name, something special the two of you share or anything witty that only they'd know. Pick a good hosting service, come up with a custom URL and gift away!
Would this mean that we'll soon not be receiving scarves, socks or home-baked cookies for Christmas? Does it mean that a traditional holiday is going digital?
The answer is both 'yes' and 'no.' Yes, you may miss the Christmas morning gift opening tradition with everyone scrolling through their phones to enjoy their presents; but no, the spirit of giving can be even deeper with meaningful, useful and personalised gifts being shared.
Digital technology has also made it possible to spend more time at Christmas with loved ones living far away. Ranging from virtual family games that can be played in real time to unprecedented quality video-conferencing and image sharing, families can be brought together through the virtual world.
So be creative this year, go digital and outdo your past gift giving self with the help of digital Christmas magic.