DIGITAL DINING
EATING SMART!
Ruwandi Perera goes on a digital diet with a smartphone and plate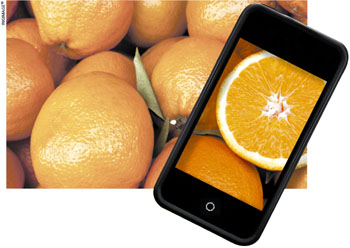 Eating is an integral part of human life, be it as a means of sustenance or enjoyment with family and friends. But in an age where the digital is overpowering our lives, it is also spreading its overwhelming presence onto our plates… changing what we eat, how we eat and how we treat food. Where there once was a knife, fork and spoon beside our plates, there's now a smartphone.
Digital technologies have changed the relationship between people and food, covering all aspects of shopping, sourcing, cooking, eating and sharing. Millennials are demanding simplification with sophistication, as they seek three-step ordering processes that cover everything from a humble hamburger to foie gras.
In fact, Business Insider Intelligence has predicted that smartphone orders will make up more than 10 percent of all quick-service restaurant sales by 2020.
Not only are people relying on WhatsApp groups and Facebook threads to organise dinners and parties, many of them are using technology all night long – even at the table. With so many people using their mobile phones to make reservations, choose take-out options and even pay for their food, many restaurants are changing their game plan.
From smart menus to digital ordering apps and self-order options, eating out is slowly but surely turning techy.
Companies like Pizza Hut have gone a step further – they even have interactive dining tables. You only need to keep your smartphone on the table, and it lights up and turns into your very own pizza-making workstation. Not only can you select your crust, toppings and extras, you may also pay online and even play a game while waiting for your food to arrive at the table.
Californian restaurant Harney Sushi uses digital technology to link the ocean to the table by serving sushi with edible QR codes. Diners can scan them using their smartphones, to know the origin of the fish and also the conditions in which it was bred.
Much like how digital disrupted hospitality and transport with 'middlemen' like Airbnb and Uber, food is also moving into a bubble that's yet to burst, through tech-driven delivery. With the sole objective of bringing grub nearer to consumers, global food delivery apps such as UberEATS and GrubHub are enticing more people to dine at home.
Even locally, Sri Lankan delivery companies – ranging from Hot Wheels to Quickee, and newer ventures such as Grasshoppers and Badaginida – are becoming popular. They deliver everything from pizza to hot butter cuttlefish and kottu roti. Thanks to conveniences such as mobile ordering, mobile payments and geo-based tracking, consumers are finding it easier than ever to order in.
But restaurants cannot fully rejoice in the spread of this new channel since tech-driven delivery companies are bringing down food bills, as deliveries rarely include extras such as drinks and desserts.
These delivery companies offer customers the added advantage of being exposed to myriad options complete with peer reviews. This convenience is not necessarily an option for restaurants, which face direct competition at the point of sale.
On the other hand, digital is eating into people's food habits even in the kitchen. Cooking is no longer considered a chore among millennials. They seem to love to experiment with food and post about it every step of the way. A 2015 Google survey revealed that while those over 35 are likely to print a recipe, 59 percent of 25 to 34-year-olds cook with instructions on their smartphones or tablets.
With healthy eating ruling the roost on our plates, consumers are increasingly relying on Google to learn about food, from the healing power of turmeric to ways in which to infuse spinach into dinner rolls. Unlike the strict dietary trends that have prevailed for decades, many people are now seemingly more concerned about what to add to their plates rather than what to take out.
Increased Google searches for locally grown food also shows that thanks to technology consumers are tracking the farm-to-plate route and opting for more locally sourced fruits, vegetables and meats.
Yet, with all the digital positives served to our dining tables, there are issues that pop out in a stream of chaos and lost values. Meal times are becoming increasingly fragmented among family members, who find it difficult to sit down to eat together. Instead, they take refuge in their phones and tabs.
Eating alone is becoming steadily normal, through which people will browse social media, read online or watch videos while they munch their food. But with many varieties of mobile apps enabling us to track our calories, read up on food origins and share pictures of meals, digital eating will surely keep us busy… until we've finished every last morsel.