DIGITAL BANKING
Compiled by Savithri Rodrigo
AT THE CLICK OF A BUTTON
N. Vasantha Kumar sees potential for digitalisation in banking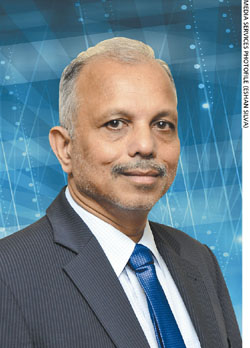 Q: Is Sri Lanka ready for a digitalised banking environment?
A: Well, digitalisation is a holistic approach and not only about technology. The sector isn't ready in the fullest sense as this is a new concept. But we are learning from other nations and there is commitment – which results in discussions, forums and international participation.
Q: What are the priorities of digitalisation?
A: The mindset, talent, technology, commitment from senior management and education of stakeholders. There must be a comprehensive understanding of what digitalisation means. I don't think we are there yet.
Most think it's about providing new services through a handset or mobile device; but in reality, it's much more than that. This understanding must be embraced across the board.
Q: Do banks have a good grasp of the ground realities?
A: Most banks offer tech-driven products and services leveraging on a high proportion of users. But the actual use of digital channels for transactions is approximately 10 percent. Tech options are often used for routine transactions like checking account balances and updates. If digitalisation is to be imbued in its true sense, much more is needed.
And do we have the personnel to drive this digitalisation process? I believe we do because while dipping into the local talent pool, we can attract those working in other financial centres, and leverage their knowledge and the resources that are available.
Q: And what are the emerging risks?
A: This is uncharted territory and the competition is getting in on the act too. So it's about who will be first in terms of time and quality. This calls for substantial investments; but if we don't adapt as soon as possible, the chances of failure are also great.
Another challenge comes in the form of the cultural context as digitalisation re­quires attitudinal change. A sizeable majority is ready for it, and if we innovate to offer products and services that appeal especially to the younger generation – as well as large and small entrepreneurs – we will be on the right track.
Q: Could you outline the challenges that must be addressed?
A: Changes in regulations are being addressed by policymakers. Another challenge is the older demographic segment's fear of technology. This segment should not be disregarded given that by 2020 Sri Lanka will be home to one of the oldest populations in this region.
Irrespective of age, entrepreneurs are keen on digitalisation and it can have a great influence on transforming mindsets. Tech-wise, we must have systems that are adaptable to rapid change. This implies inherent risks that require firewalls to maintain information safely and securely.
Q: What are Sri Lanka's strengths in the realm of digitalisation?
A: One strength is the high usage of about five million internet and tech-savvy customers. An annual growth of around 65 percent is estimated in regular internet user penetration and the high usage of social media has encouraged Sri Lankans to engage with brands online. Network provi­ders are rife with high-tech solutions, so the country has the strengths to build on the digitalisation platform.
Q: Does digitalisation encourage shared services?
A: Digitalisation is not merely for banks but a forerunner to a number of sectors where shared services make business sense. The insurance and healthcare sectors both use shared services in their business models.
Shared services ensure customer centricity that allows consumers to use a singular platform with access to everything on a handset. Industries must sync and collaborate if they are to stay in business, as it's now all about convenience and speed.
Q: Who are the major stakeholders of this process?
A: Senior management must grasp the impact of digitalisation on business and not simply look at ROI. Large hotel chains for instance have had to reconsider their strategies and think more like tech start-ups than conventional hotels. The financial services industry must evolve from its traditional garb and moot a tech start-up mindset to compete successfully.
But a balance must be maintained. While embracing new systems and newer technology is introduced to younger customers, orthodox functions must be maintained for conventional clients. And both segments should be brought onto the same platform eventually.
Gen Y has no patience to filter through information as there are multiple avenues that include dashboards by which they can fulfil such needs. This generation is not looking merely at price, but convenience, rapid results and satisfaction – at the click of a button.
The interviewee is the CEO and General Manager of People's Bank