LANKAPAY
 DFCC Bank Now Accepts JCB International Cards at DFCC ATMs via LankaPay
Understanding the diverse and dynamic needs of customers and the nation, DFCC Bank ATMs now proudly accepts internationally issued JCB Cards, subsequent to the successful implementation of the second phase of ATM acquiring under the National Card Scheme (NCS) program of LankaPay. The first phase of the NCS has allowed DFCC ATMs to accept locally issued LankaPay cards since 2021, enabling LankaPay cardholders to use any DFCC ATM Island wide to withdraw cash from savings and current accounts. As a part of this integration, JCB international cardholders can now use 216 DFCC ATMs when they travel to Sri Lanka.
Explaining the significance of this further integration with the LankaPay National Card Scheme, Thimal Perera, CEO at DFCC Bank said, "As we position ourselves for the impending economic recovery in Sri Lanka, which will be driven heavily by tourism, we are keenly aware of the varied and changing needs of customers, including foreign visitors to Sri Lanka. Thus, we are proud to accept JCB International Cards at our ATMs, making it much easier for business and leisure travelers and ex-pats to access their funds while in Sri Lanka. This will also make it even easier for foreign exchange to flow into the country. Adding JCB International to our acceptance portfolio further helps to diversify our service offerings in line with the needs of customers and the nation. We take this opportunity to recognize the exceptional efforts by LankaPay to further expand interconnectivity and acceptance networks in Sri Lanka and are pleased to lend our support to this effort."
Under the guidance and approval of the Central Bank, LankaPay launched the National Card Scheme program in 2017 in partnership with JCB an International Card Scheme headquartered in Japan, a member of the EMVCo alliance. EMV® is a registered trademark in the U.S.A and other countries and an unregistered trademark elsewhere. The EMV trademark is owned by EMVCo, LLC. As of September 2022, JCB cards have been issued in many countries and territories, including China, India, Indonesia and Thailand with over 150 million cardholders and over 41 million merchant points worldwide.
LankaPay, as the operator of the country's national payment network, has contributed immensely towards minimizing the overall cost structure within the financial sector through a common infrastructure, making digital financial services accessible and affordable to everyone. LankaPay NCS is a cost-effective alternative card scheme to the existing international card schemes operating in the country with local and global acceptance, the highest security features and equipped with latest technology.  This initiative will not only curtail this foreign exchange outflow, but also bring in greater autonomy to the country's financial sector. Therefore, we believe that this initiative is more pertinent than ever considering the current economic context of the country. At a micro level, the LankaPay card offers unparalleled value to both merchants and cardholders, which will help popularize card payments in the country.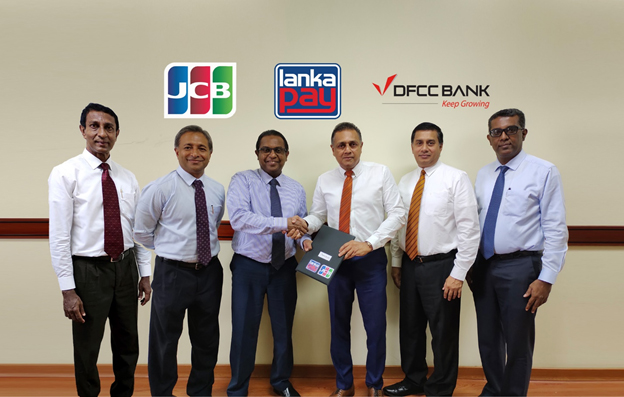 Standing left to right- Lakshman Liyanage- Consultant to JCB International, Dinuka Perera- COO- LankaPay, Channa De Silva – General Manager/CEO- LankaPay, Thimal Perera- Director/CEO – DFCC Bank, Denver Lewis- VP/Head of Card Centre, DFCC Bank and Dinesh Jebamani- VP, Digital Strategy, DFCC Bank.