DESTINATION SRI LANKA
THE ROAD TO RECOVERY  
Puneet Chhatwal believes that Sri Lanka has the potential to reach five million tourist arrivals
Q: Having made several trips to Sri Lanka, what are your impressions of the country?
A: My impressions of Sri Lanka are that it is a clean, warm, welcoming, interesting, pristine and cricket loving nation – a nation of friendly people and wonderful cuisine! The island has the potential to exponentially increase tourist arrivals to over five million with ease. So Sri Lanka's prospects are similar to those of Thailand.
The unfortunate events that took place on Easter Sunday may have created a temporary slowdown in tourist arrivals. However, such incidents have occurred in Bali, New York, Nice and Spain – and tourists have returned to those locations. Perhaps the recovery is more rapid in developed nations than in emerging markets.
Tourism spreads peace, under-standing, culture and awareness. And Sri Lanka is blessed with an abundance of natural beauty, heritage and culture.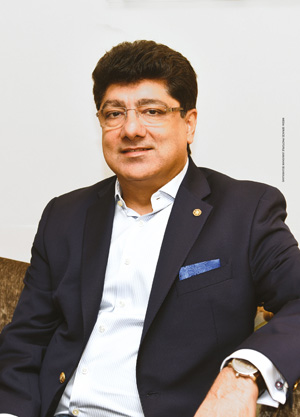 Q: What's your take on the post-4/21 recovery process in Sri Lanka?
A: The process of recovery is already underway especially in city hotels, which are experiencing satisfactory occupancy levels. Sri Lanka is known mostly for its tourism and this will help speed up the recovery process.
City hotels have improved occupancy compared to the previous year and tourists are likely to visit resorts in the winter season. We must remember that the period between May and October every year is considered off-peak in any case due to monsoonal weather.
Sri Lanka has a major opportunity to position itself as a premier tourism destination that is exotic, and offers sun and sand, culture, wildlife, nature, water based activities, high quality accommodation, affordable prices, clean air and much more.
Global conferences such as the Future of Tourism Summit contribute to infusing greater confidence in Sri Lanka. My presence at the 2019 event conveys a message of the Indian Hotels Company's (IHCL) solidarity with Sri Lanka Tourism and the Government of Sri Lanka.
Q: How has the city tourism segment performed following the Easter Sunday attacks?
A: City hotels experienced the initial effects of recovery in the month after 4/21. In the period from April to September, Taj Samudra posted the highest revenue among city hotels. September was especially lucrative with the property recording 35 percent growth compared to the corresponding month in the previous financial year.
Our heritage property with sweeping vistas of the Indian Ocean and signature hospitality ensures that Taj Samudra is uniquely positioned in the sector, as are Taj Bentota Resort & Spa and Vivanta Airport Garden (formerly known as The Gateway Hotel Airport Garden).

Q: In your view, which factors will determine the growth of Sri Lanka's tourism?
A: Sri Lanka has the potential to triple its tourist arrivals to over five million but the infrastructure must also keep pace – this includes air connectivity, highways and so on.
While the focus has to be on supporting the industry, the economy and corporate sector too need to be encouraged because they tend to generate substantial business for hotels. Sri Lanka remains a healthy value proposition compared to other tourism markets in this part of the world. 
Q: So what is the way forward to promote Sri Lanka as a premier destination?
A: One of my favourite authors, Indian politician Shiv Khera, famously wrote that "winners don't do different things; they do things differently." I believe that all winners have one common factor: they dare to be different. Perhaps it is time that Sri Lanka too rethinks its marketing and promotions.
Sri Lanka has a vast pool of tourist experiences that can be leveraged in new ways to offer 'experiential tourism' – a growing global trend. The government has a great opportunity to draw in more tourists from India – which is already the highest contributor to the island's tourism industry in terms of numbers – and seek strategic partnerships.
For example, as the oldest company in the Tata Group, IHCL – which owns and operates Taj properties in Sri Lanka and other parts of the world – has an extensive customer base through its loyalty programmes and elite corporate club (The Chambers) that could be mobilised to visit Sri Lanka.
Q: How do you envision the future of your three properties in Sri Lanka?
A: They hold immense promise. We would love to expand eventually to Kandy, Galle and Jaffna. There is no concrete project in mind at present but we'd like to entrench our footprint in the resorts segment.
We recently launched Ama Trails & Stays, the first branded product in India's homestay market and a model that could be replicated in Sri Lanka. This can be supported by our large customer base of six million loyalty members, which also includes a marketing alliance with Shangri-La.
These members are constantly seeking holidays with a difference – and Sri Lanka has the mix of activities to captivate this segment.
The interviewee is the Managing Director and Chief Executive Officer of the Indian Hotels Company (IHCL)