DESIGN THE PERFECT WORKSPACE
Design the Perfect Workspace for Your Organization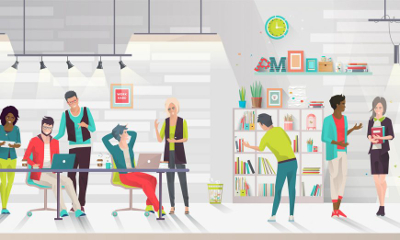 The way you maintain or rather design your working environment can have an enormous impact on your working style. It can make or even break your performance, productivity, communication and efficiency levels, which is why big companies like Google and Apple invest their time and money in designing the perfect working environment for their employees.
Generally a tidy workplace is compulsory in any organization, whether you work at home or for a multinational organization. Going one step further to create a space that elevates the functionality and performance of a business, while ensuring its employees feel free to think and experiment, is the key to success. In 2017, it is apparent that companies are driven towards creating a flexible working environment that enhances employees' thinking ability and effectiveness. Transparency is given special consideration as it encourages team spirit among employees, as well as encouraging a diverse workplace, which plays a huge role in conflict resolution, business reputation and exposure.
Before You Begin…..
Designing the perfect workspace for your company or organization depends entirely upon the nature of the business. If a certain organization is in the field of advertising and marketing they may want to create a space that speaks for the company and inspires its employees. On the contrary, a bank would rather opt for a sophisticated environment that is also welcoming and friendly for its clients. Likewise, before you begin, make sure to ask yourself the following questions to help get started.
What are the core activities of the organization?
Do clients walk into the company on a daily basis?
What are the requirements of the organization?
What are the requirements of your employees?
What type of environment will motivate and inspire you or your employees to work harder?
Let's Get Started Begin by taking time to analyze the type of work you do. Regardless of where you work, whether it's your own cubicle or at a common desk together with your coworkers, it is important to identify the core functions of that space, in order to transform it into an environment that works best for you. This will help to lay the foundations in the designing process.
Pay special attention to your employees' needs. As much as transparency is important for an organization, creating a space that enables employees to work in private, with no distractions, is equally important to maintain a balance between working styles. In order to customize the space in a way that will fulfill the needs of your employees, consider involving them in the designing process, by seeking opinions, ideas and inspirations from your teammates.
Last but not the least, make sure your workspace inspires your team to perform better. It is important to create a learning environment that inspires your team. Possible ways of achieving this are through the use of different color schemes, inspirational quotes and the implementation of various activities that will help alleviate energy levels and competitiveness within the organization.