CULTURAL DEVELOPMENT
DIVERSITY IN THE DESERT
Yasmin Helal tracks the rapid progress of the arts in Dubai and Abu Dhabi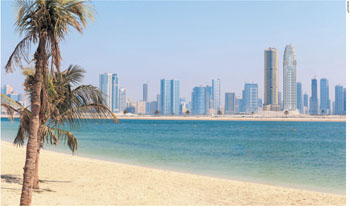 Home to a melting pot of nationalities, the population of the United Arab Emirates (UAE) – and Dubai in particular – displays unique demographics. In addition to locals who make up approximately 10 percent of the population, the largest number of expatriates belong to the first foreigners to inhabit the Gulf region – viz. the South Asian diaspora consisting predominantly of Indians but with Pakistanis, Bangladeshis, Nepalese and Sri Lankans in the mix as well.
Far Easterners are next on the list with a majority of Filipinos and a growing number of Chinese. Africans have also begun coming in large numbers following the real estate bubble of 2008, with Kenyans, Ethiopians, Nigerians and South Africans topping the list.
Even though Westerners were among the latecomers to the region, they have arrived in large numbers from Europe, the US and Australia. In addition to which Arabs have also migrated to the UAE from across the region.
In 2005, Dubai was nothing but an emerging urban space – an ambitious locality at best. Today, it has proved everyone wrong and risen beyond the expectations of many, and silenced its critics. In the past, the world dreamt of living in Europe. Now the world dreams of a life in Dubai. This diversity doesn't exist anywhere else in the world. In addition, each group belongs to a distinct culture and its members have preserved many of the characteristics of their countries of origin.
Coupled with rapid urban development, Dubai began to resemble many parts of the world given its overexposure to globalisation. It was in this context that the emirate's art and culture scene was shaped.
Abdul Qader Al Rais, a local artist who has witnessed the radical transformation that has taken place in Dubai, told a local daily: "In the 1970s, it was difficult to even buy art material. I think there was only one place in Dubai that stocked a few colours and art supplies but most of the material was not available."
"Of course, there were no galleries or even art-related books available… After 2000, there was a real change, a change in everything, especially in my field," he added.
Indeed, following 2005, the art scene in the UAE witnessed a massive shift.
The Dubai Community Theatre and Arts Centre (DUCTAC) and the Bastakiya District, which is the historical neighbourhood of the city, were among the first cultural centres in Dubai, paving the way for more. The Sharjah Biennial, which is one of the oldest cultural events in the emirate, has been taking place since 1993.
More recently, investors have come in to play a part in large-scale projects in the UAE. Dubai has seen several facilities come to life – viz. the Dubai Opera, Alserkal Avenue (a car factory turned into a complex of art spaces) and the Etihad Museum.
In Abu Dhabi, mega projects are either under construction or have been completed including Saadiyat Island, the Guggenheim Museum, and the Louvre Abu Dhabi. Meanwhile, annual events like Abu Dhabi Art and Art Dubai have put the UAE ahead of others in the region.
Supporting the arts are several public libraries across the UAE. The first library in Dubai was opened in the Al Ras area in 1963; and six more libraries followed suit in 1989, 1998, and 2007. As the art and culture scene developed, such institutions became popular and encouraged the government to pay more attention to the arts.
"The launch of our public libraries revamping project underpins the strategic objectives of Dubai Culture to make reading and gaining knowledge very accessible and convenient for Dubai's residents," Shaikha Latifa Bint Mohammad, Vice Chairwoman of Dubai Culture told a local daily.
Today, Dubai boasts 15 public libraries, all of which have integrated new technologies that suit the younger generation – for example, digital content and image databases, which can be accessed by visitors.
While the art scene was changing, the artistic preferences of residents, locals and expatriates alike also began to shift.
Al Rais recalls: "Earlier, a lot of people didn't want their children to study the arts; because if they did well, maybe they would end up as art teachers… There are big museums opening in Abu Dhabi and Dubai; and I think by 2020, there will be an even bigger change in the art scene."
There are many UAE-based artistes these days, thanks to the emerging art scene. Members of these groups come from a variety of backgrounds, reflecting the county's demographics.
Some of the oldest and most successful theatre groups include Backstage Dubai (with over 400 members) and the Dubai Drama Group, which was established over 25 years ago. Even though both groups identify themselves as amateurs, they have performed in productions ranging from complicated Shakespearean plays to children's shows and in-house productions.
There are also a growing number of book clubs whose members convene every month to discuss literary works, as well as poetry clubs where members compose and recite poetry at gatherings and events.
All these groups, events, and cultural centres are creating different forms of art, as well as educating others while encouraging more people to participate in building the UAE's unique art and culture scene.