COVER STORY
EXCLUSIVE
THE POWER OF CONNECTIVITY
Supun Weerasinghe calls on Sri Lanka to leverage on the power of connectivity and propel the nation into the future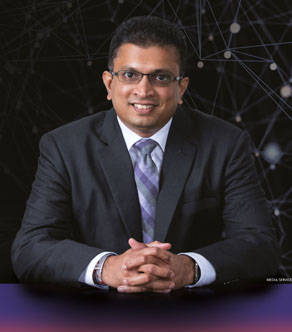 Appointed Group Chief Executive of Dialog Axiata with effect from January, Supun Weerasinghe says he's determined to make his mark in the field of telecommunications while following in the footsteps of an industry legend at the same time.
Before returning to Sri Lanka towards the end of 2016, Weerasinghe served as the CEO and Managing Director of Robi Axiata in Bangladesh for some two years. Prior to joining Robi, he was the Group Chief Operating Officer (GCOO) of Dialog and then Group Chief Strategy Officer of Axiata Group in Malaysia.
Having commenced his career in telecommunications with Dialog in 1999, Weerasinghe served in multiple capacities such as the Head of Strategy and CEO of the Mobile Business before being appointed GCOO in 2010.
A fellow member of the Chartered Institute of Management Accountants (UK) and armed with a Bachelor of Science in Accountancy and Financial Management from the University of Sri Jayewardenepura, he also holds an MBA from the University of Western Sydney and is an alumnus of the Harvard Business School.
Moreover, Weerasinghe has been honoured as one of the country's Ten Outstanding Young Persons by the Junior Chamber International (JCI) Sri Lanka.
In this exclusive interview – the first for a magazine since his appointment as Dialog Axiata's chief – Supun Weerasinghe offers his take on the state of the telecom industry, as well as the potential for Sri Lanka to compete at the highest level in the region and beyond.
"With digital, there are many more opportunities available in terms of productivity, access to global markets and consumer behaviour, automation and big data," he notes.
– LMD
---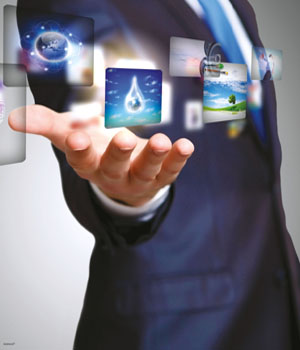 Q: What is your take of the telecommunications industry in the country – the 'big picture,' as it were?
A: Sri Lanka is a market in which connectivity is offered at one of the lowest rates in the region in terms of affordability. But going forward, we foresee certain challenges in the short run because of increased indirect taxation on consumers and usage being constrained. There would be a long-term impact on the industry if usage doesn't return to previous levels.
However, it's encouraging to note that the country has a very strong and growing IT/ICT sector, which is reliant on communications infrastructure and rapid international connectivity. This provides a good platform for us to launch as well as extend connectivity beyond consumer services.
In terms of industry structure, two strong players are competing with each other and creating a very competitive market space.
It is also important to understand how we will move ahead in the future especially in terms of offering broadband to all Sri Lankans, as well as newer technologies such as 4.5G and 5G – in addition to advancements in communications.
Both fixed line and mobile services are vital. They have their own unique uses for the consumer. And we see that both mobile and fixed line services are demonstrating strong growth. In recent times, fixed line services have been moving more towards data services. If you were to consider Dialog's financials, we have experienced strong growth in the fixed line business – this is largely driven by fixed broadband.
Similarly, mobile adoption is expanding with the adoption of data services increasing rapidly to above 50 percent last year. Here we have much opportunity and potential to shift consumers to 3G and then 4G services to encourage them to adopt data services.

Q: How are telcos responding to pressure from low-margin data usage over voice and instant messaging?
A: Low-margin over-the-top (OTT) services that are provided using data connectivity tend to cannibalise some voice services. But not all OTT services are unfavourable for telcos. There are certain services that tend to provide ride-along connectivity services that telcos offer and thereafter cannibalise the core voice revenues.
It's low-margin because the same rules and regulations that apply to mobile telecom operators or fixed operators don't apply to these OTT services, be it in terms of spectrum fees, annual operating charges or taxation. None of these are applied to OTTs and so you're not comparing like with like. In general, OTTs are needed and they are driving data consumption. The consumer has the choice of using either OTT or generic voice services. And we must ensure that we provide the best quality of service at all times when it comes to voice connectivity. As telcos, we're working towards enriching our core – be it messaging or voice services – so that there is a richer experience for the consumer.
It is also imperative that we recognise the fact that the consumer cannot be made to continue on voice. You need to offer that option to the consumer and allow him or her to choose on the basis of need.
As telcos, we ensure that the data connectivity we provide and is needed for that OTT call guarantees a good service experience. And we offer enrichment on that data experience to more than something beyond a voice call so that the combination will ensure the customer's loyalty to the telecom service provider.
The last thing you want to see is the elimination of the payment relationship you have with the telecom service provider. At the end of the day, while OTTs exist, the consumer has a more in-depth relationship with the telecom service provider.
If consumers have an adverse experience, they cannot call the OTT. But there's a telco outlet they can visit to register a complaint or seek clarification. That deeper relationship translates into the trust they place in the telecom service provider. So telcos are working on building the trust they've garnered from the consumer.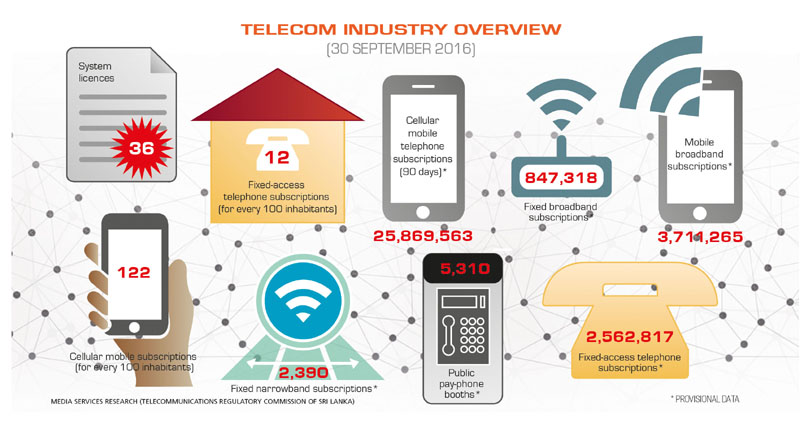 Q: Do you see room for consolidation in the industry by way of mergers and acquisitions to ensure long-term stability and business sustainability? If so, what are the pros and cons?
A: In the mobile industry, yes. There is some consolidation in the fixed line services space. We need to look at what drives consolidation. In the data era, it's important to have a larger spectrum pool to provide better-quality data. And there's a need for economies of scale to be able to serve customers at the lowest cost.
Being a relatively small market in South Asia, Sri Lanka lacks the scale element and the market is fragmented. Consolidation can help these dual requirements – i.e. spectrum or the need to have a larger spectrum pool to improve the quality of service and provide a better experience on data, and the need to build scale so that you have a viable operation with which to serve consumers at the least possible cost.
Q: Where is social media heading, and how should mounting drawbacks such as 'fake news' and abuse be addressed?
A: Whether you have social media or not, those improper things will exist. It's up to the consumer or reader to try and be mindful of their ill effects. There's always a positive and negative side.
But social media helps connect people with their friends and loved ones. You have a fairly rich engagement through social media without the need to physically be present in a location. So it's how you make use of it and perceive it that matters.
There are many more positives. Our sister company in Bangladesh recently launched a service called 10 Minute School that is basically an alternative to tuition. Kids can join most of these lessons online and live tuition classes are conducted through Facebook. This won a GSM Award in February in Barcelona.
Much commerce also takes places on Facebook. Similarly, other platforms also see small-time entrepreneurs entering the e-commerce space through social media. In terms of negatives, they reflect those of the internet in general. But it's up to the consumer to be mindful of their ill effects and use social media for their betterment.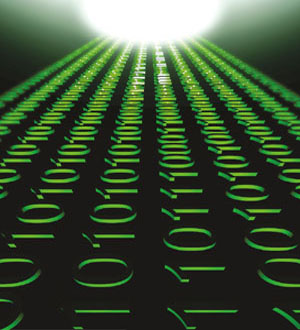 Q: Is the Sri Lankan economy progressing at a healthy pace, in your opinion?
A: It's progressing at a moderate pace but not fully utilising its potential. With Sri Lanka's strategic location, very good resource pool and fairly small base, it can grow much more rapidly. And therein lies the opportunity.
If we could come this far with this level of moderate growth, if we were to accelerate growth the opportunities would be enormous.
Q: What is your assessment of the country's potential to become a regional hub for technological innovation – and what are the must-haves for us to reach such a goal?
A: The critical ingredients for becoming a hub are access to good connectivity infrastructure and talent, resources for development and a relatively low cost base.
Sri Lanka has all these three ingredients. And English language capability is much better in relation to some other countries in the region. We certainly have that advantage and a few companies are making the best use of these capabilities. But much more can be done.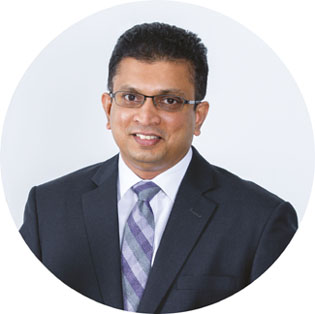 Could the adoption of the most recent technology especially by telcos help attract new investments to Sri Lanka – and how and why?
A: Sri Lanka hasn't fared too well in attracting quality investments, which is also linked to having consistent fiscal and monetary policies. This is a key element. We should be able to regularly promote the country and attract investment. Given our size and infrastructure, we should be able to attract more investment. Then the country will be driven by foreign direct investments (FDIs).
Dialog is a case in point as we are the largest foreign direct investor in the country and have consistently invested in developing infrastructure. Our primary shareholder doesn't really take back the profits in the form of dividends – a majority of the profits are reinvested in the country towards development. Similarly, there are opportunities in every sector to attract long-term investors looking at not only financial returns but also helping the nation to grow.

Q: How are global economic conditions and developments in the Western world (e.g. the United States and Europe) impacting the local telecom market?
A: We observe a few key aspects in general in terms of global developments. One is technology evolution. The country is tracking these developments and progressions very closely. We now see 4.5G as the mainstream technology in most developed markets and have launched 4.5G with our fixed LTE offering in Sri Lanka too. The next step is 5G technology.
Another aspect is how global telcos are being impacted by the cannibalisation of their core revenues. Customers are shifting away from these core revenue streams to OTT services. So operators need to be very agile and work towards lean cost structures.
Having learnt from this experience, we have been continuously working on rescaling our cost structures since 2010. This is an annual exercise to ensure that we look at our internal organisation and find ways to do things better, reduce our cost base and make ourselves leaner, as well as use technology and innovation to break down our cost base so that we're ready proactively rather than reactively.
The third factor is the overall increase in the cost of capital. The US Federal Reserve is increasing its interest rates and the cost of capital is becoming pricy. That is an important element in our business because we operate in a capital-intensive industry.
Last year, we invested over Rs. 25 billion although our profit was only nine billion rupees. We also paid Rs. 31 billion in taxes. So we invest much more than we generate as profit. And in an era when the cost of capital is increasing, we need to be very mindful of every dollar we spend on the ground and ensure that it's aligned with the benefits that we want to achieve through that investment. That again is a key component.
This is how I see the telecom sector progressing with innovation and us being in line with that. There is a need for proactive preparations to make ourselves leaner and agile to face the challenges that will occur with changes in consumer behaviour. It's also important to consider the increase in the cost of capital and how we prepare ourselves so that we don't need to reduce our investments in such a scenario.
Q: Which regional economies would you single out for having the greatest growth potential – and why?
A: My experience is largely in Bangladesh. But I also have some experience with countries such as Cambodia, Malaysia, India and Indonesia. In terms of telecommunications, scale is very important.
In that context, scale and market accessibility is very good in a market such as Bangladesh as it is home to over 160 million people and presents a large market for telcos. It is also an ideal environment given the smaller land mass – i.e. it's twice as large as Sri Lanka but with many times the population. This is one of the large markets that launched 3G in 2014.
Another major opportunity I see is in Cambodia where we're the number one operator. The other ASEAN markets are now fairly developed and the opportunity for growth is limited. A market like India is very good but also challenging. And finally, Axiata forayed into Nepal and we have the largest operation in that country now with 4G being launched. Nepal represents a good market with great potential.
Q: In terms of the ease of doing business in Sri Lanka, what are your concerns at this point in time?
A: Given my experience in Bangladesh, my expectations are not very high. That market is more challenging for business than Sri Lanka.
Nevertheless, one challenge would be gaining access to the right talent and resources. The other would be in the context of business expansion – i.e. the ability to expand infrastructure whether it be establishing a new tower or base station, or expanding our footprint.
In terms of expansion, the very tight regulatory environment and administrative setup requires multiple approvals. So it will take time to expand and this would not be at the same speed that we wish to provide expanded or better broadband connectivity to our customers across the country.
These are the two primary concerns with the second possibly being the main challenge.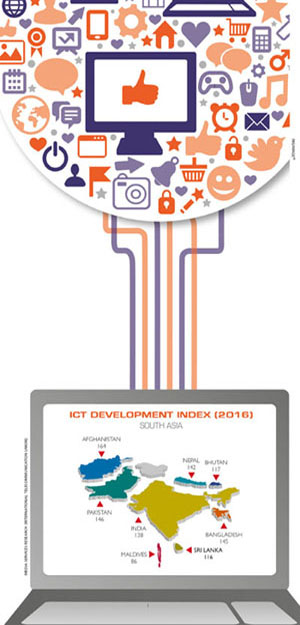 Q: Do you believe that our country risk profile has improved in the last year or so – and why/why not?
A: I don't see too much change but what we want to see is more stability especially in terms of exchange and interest rates, and inflation.
Q: In the field of mobile telephony, what developments and trends inspire you the most? And what can consumers expect say in the next five to 10 years?
A: What we'll see is every industry adopting and embracing digitalisation. And they will take advantage of broadband connectivity and the availability of smartphone penetration to convert their businesses to digital. With digital, many more opportunities are available in terms of productivity, access to global markets and consumer behaviour, automation and big data. That is the first step.
The second step would be to leverage on technologies such as artificial intelligence (AI) and robotics, to do things more rapidly and those that are not possible for the human brain to process.
Now that we have made broadband deployments, customers can improve their lives and businesses. Thereafter, the onus will be to drive AI and robotics. In 20 years from now, there will be more robots than humans.
AI is more powerful than the human brain – not in terms of the individual human brain but because it can process a large amount of data. So it could diagnose cancers and other diseases more accurately, and improve yields in agriculture and many other industries.
Some of these facets are already established. So it's only a matter of time before Sri Lankan industries and enterprises adopt them. Our role would be to make them available and affordable, and ensure our networks are accessible so that enterprises could leverage on the power of connectivity to serve customers better.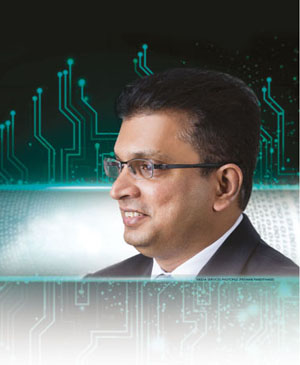 In your view, what can we look forward to vis-à-vis the nation's economic prospects?
A: Sri Lanka has very positive prospects. It's up to everyone to embrace this opportunity and move forward rather than complaining – just take a forward leap because as a country we're placed very well.
We have talent and have seen many businesses succeeding globally. The internet provides a platform for businesses to access and compete on the global stage. So rather than complaining about why you can't do business, it is up to every one of us to drive that opportunity forward.
It is said that the private sector is the engine of growth – and that is true. The private sector can also accelerate growth.
Our main aspiration should be to accelerate growth and deliver consistent performance for five years consecutively, which will place us well by 2020 to capture the larger opportunities in the region. By that time, India will be a fairly advanced economy along with some other countries in the region. And Sri Lanka could really leverage on its geographic position.