COVER STORY
LMD ARCHIVES (DECEMBER 2013)
LMD EXCLUSIVE 
CRAFTING AN INCLUSIVE CULTURE
Susantha Ratnayake – LMD's Sri Lankan Of The Year – outlines his vision for business and socio-economic policy in an island-nation that is coming to terms with a history of nearly three decades of civil strife 
Zulfath Saheed delves into the mind of a business icon who has steered Sri Lanka's leading listed company through multiple eras
1 January 2006 marked a milestone in the history of Sri Lanka's leading listed conglomerate. More than a century since the diversified group established a presence in the island, it was on this day that John Keells Holdings (JKH) appointed its youngest chairman yet, as the then 47-year-old Susantha Ratnayake was charged with helming the organisation.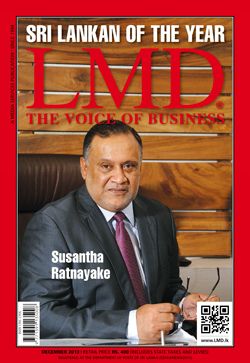 In addition, he has led the nation's premier chamber – the Ceylon Chamber of Commerce (CCC) – with panache until recently, when he relinquished his post following a two-year stint. And much like the iconic past chairman of both JKH and CCC Deshamanya Ken Balendra (who was LMD's Sri Lankan Of The Year 15 years ago), Ratnayake has found the time to steer the grouping though troubled waters for the betterment of both business and society.
He is also known for saying it as it is. At the chamber's AGM, his parting comments acknowledged that "the last two years have been difficult, as there were many issues – we won some and lost many." But as Ratnayake said at the time, "the silver lining is that the private sector came together with one voice to discuss the issues…"
Susantha Ratnayake has increasingly seen the spotlight being focused on him in the post-war era, with several landmark initiatives already underway and others approaching the green light.
With over three decades of management experience under his belt (all gained during his tenure at JKH, mind you), LMD's 2013 Sri Lankan Of The Year is no stranger to the ebb and flow of business. After all, he heads a gigantic corporate entity that has done Sri Lanka proud, as the nation races on the track to development. He has captained his team with great aplomb, ensuring that it continues to take pole position in the LMD 100 (Sri Lanka's version of the Fortune 500), maintains its ranking as the 'Most Respected' entity in this country and is still the darling of the Colombo bourse – arguably the nation's top blue chip.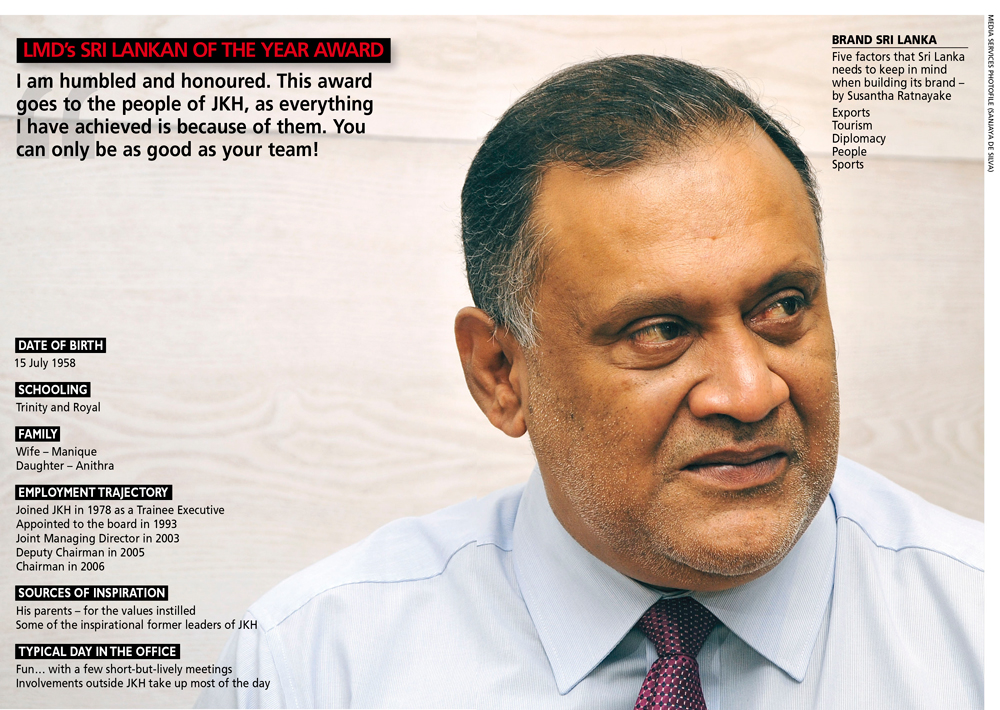 EFFECTIVE DIALOGUE As is generally the case with developing economies, there are a host of often-competing challenges and priorities faced by policymakers. Ratnayake believes that while it is easier to sit on the sidelines and criticise actions taken by the authorities – especially so in hindsight – what is required is for all parties concerned to effectively voice their concerns, bearing in mind the need to work with the state.
"Managing the local imperatives in an extremely volatile global environment is no easy task. Therefore, it is important that business engages the policymakers in regular and constructive dialogue, if its points of view are to be recognised. With our [nation's] stated goal of doubling per capita income by 2016, I am heartened by the policymakers talking about not falling into the so-called middle-income trap," he says.
Ratnayake identifies a number of positives and negatives in the national economy, stating that inflation and interest rates have become more predictable, while the exchange rate has remained within a narrow range in the 18 months to October.
"However, we need to be cautious about our borrowings, which are becoming more expensive, as is evidenced by recent transactions," he warns, adding that "an unmanaged continuation of such borrowings may be unsustainable."
The Sri Lankan economy has seen a re-rating, following several years of growth in excess of eight percent. JKH's Chairman feels that the country must have a flexible and agile strategy to mitigate the potential impact of the evolving global environment on economies such as the US, the EU, India and China.
He adds: "Once again, whilst I fully appreciate the challenges faced by the policymakers, I am of the view that a closer dialogue with the key stakeholders – particularly the private sector – will enable the establishment of sustainable and more effective medium to long-term strategies."
PEACE DIVIDEND Well over four years have passed since the war ended in May 2009, and it is time the hard-won peace is consolidated. While we may have won the war, the country must also win the peace through a political solution that is acceptable to all communities – and to this end, the recently held Northern Provincial Council elections may have been a turning point.
"In the recent past, we have seen an emergence of extremism, and this needs to be dealt with swiftly and firmly. The last thing we need after all the turmoil that we have been through is extremism in any form or facet of our lives," Ratnayake cautions.
JKH's Chairman also says that while Sri Lanka may have justifiable reasons to feel aggrieved, we must constructively engage and build bridges to maintain good relations with the international community in general, and restore relations with traditional friends in particular.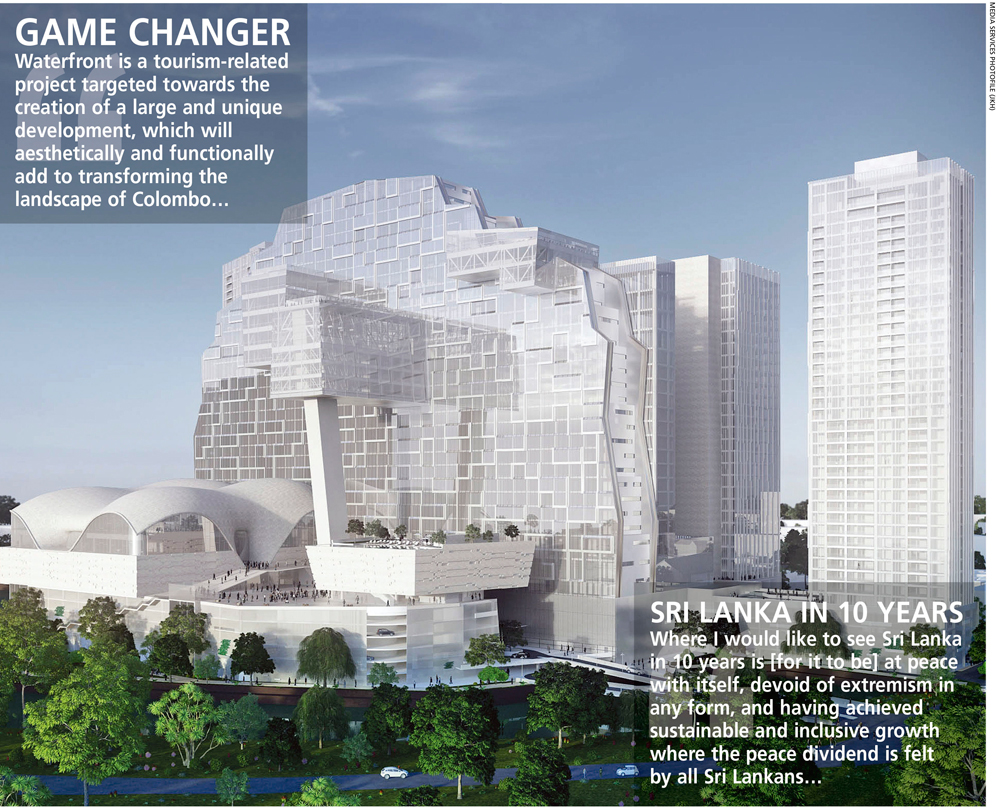 STATE OF BUSINESS Many corporates have enjoyed healthy growth since the return of peace, as evidenced by the largely positive financial results released by listed corporations in particular. There have been some stellar performances by Sri Lanka's engine of growth since 2009.
Whilst most of the volatility experienced in the last four-and-a-half years has emanated from external issues, there have been instances where internal policies have also resulted in hardship for business in this country. Nevertheless, business has been resilient – as was seen during the conflict – and Ratnayake is confident that "it will, no doubt, bounce back."
Meanwhile, he urges local businesses to "grow up," noting that "they can't, on the one hand, keep asking for tax holidays and handouts for every investment they make; and on the other, demand that the Government reduces the fiscal deficit. We all know, from our own experiences, that this is not sustainable."
Ratnayake continues: "Business needs to understand that we are now in markets which are global in nature and, therefore, very competitive – not everything we touch turns into gold."
GOVERNMENT ROLE While the private sector is often referred to as the engine of growth, Susantha Ratnayake believes that the Government's primary role is to act as an enabler. He notes that "the state must create an environment which is consistent and predictable. What business and markets don't like is uncertainty. This will bring in the much-needed FDI, of which inflows have been slow and disappointing given the end of the conflict."
At the same time, he states that the wide-ranging tax reforms announced by the Government in recent years need to be acknowledged, adding that it has by and large maintained consistency despite pressure on the budget deficit.
As for the Government's stated policy of expanding the tax base and introducing VAT on retail sales, Ratnayake asserts that it "unfortunately didn't have transitional provisions and, therefore, undermined the 'predictability factor'."

INFRASTRUCTURE BOOM On the plus side, he is of the view that the investment in infrastructure by the Government is a positive development, adding that "closer dialogue and partnerships with the private sector on some of these projects would have made them more effective."
"The outdated infrastructure in Colombo cannot cater to some of the large developments that have been announced. We are thankful to the Government, which has acknowledged this constraint and is undertaking [to establish] the peripheral infrastructure that will support these mega projects in the form of power, water, roads and sewerage," Ratnayake states.
As for its own contribution to the construction boom, JKH has worked tirelessly to unlock the value of the large real estate portfolio in its possession – the acquisition of Asian Hotels and Properties (AHPL) was also aimed at providing impetus to this cause.
The group's property arm has embarked on multiple projects, including the already completed The Monarch and The Emperor and work in progress on OnThree20 and 7th Sense apartment complexes.
MEGA NEW VENTURE Waterfront – a US$ 820 million project approved under the Strategic Development Project Act – is the group's latest business endeavour. The project, which is modelled along the lines of integrated resort developments in the South-East Asian region, is expected to consist of multiple facilities including a luxury hotel, convention centre, many entertainment options, a world-class shopping mall, luxury condominiums, serviced apartments and office space.
"Waterfront is a tourism-related project targeted towards the creation of a large and unique development, which will aesthetically and functionally add to transforming the landscape of Colombo. It will also potentially make the city one of the most sought after destinations in South Asia, and further complement the businesses of the main industry groups of JKH," the Chairman remarks.
He adds: "The game changers for JKH have been two very strategic decisions we took; namely, the port in 1999 and the acquisition of AHPL in 2002. This gave us the confidence that we have the capacity to undertake large investments. And the actual experience has confirmed to us that we, as a group, could do 'better things bigger.' We need this type of strategic investment ever so often to take the group to that next level, and Waterfront fits into this thinking."
JKH continues to be in expansion mode, and it has invested over 30 billion rupees in the last five years – both directly and indirectly – through its subsidiaries. "However, the difference is that we have not done so for the sake of expanding or because it was the fad, but because it was the right thing to do. In other words, we have pursued 'managed expansion'," the JKH Chairman avows.
CASINO TALK The gaming industry – which JKH will also be indirectly entering, upon completion of the Waterfront project – has come under increased scrutiny in the recent past. It is being cited by some sections of civil society and politicians as being contradictory to local culture and tradition.
Ratnayake argues that as far as the gaming and tobacco industries are concerned, there are internationally accepted standards and regulatory regimes that govern these socially sensitive but economically important sectors.
"We in Sri Lanka cannot look to do better than to adopt these practices. Everyone is entitled to his or her opinion. Likewise, there is freedom of choice. Recognising both these factors and striking the right balance is, in my view, the best way forward," he stresses.
The Chairman adds: "In a democracy, different opinions must be taken into consideration when developing public policy. It is important that such debates be conducted with decency and mutual respect, and within a rational framework. After taking into consideration the diversity of views that have been expressed, our democratically elected policymakers should proceed to make clear-cut decisions, bearing in mind the long-term interests of our nation."
PROPERTY MARKET Speculation is also rife over the possibility of a property bubble bursting before investors such as JKH reap the rewards of the substantial investments that are going into the sector. But Ratnayake remains confident that a property bubble is not in the offing, as long as real estate investments are appropriate in the light of the current and future economic environment.
He also believes that Sri Lanka has great real estate potential, provided its development is linked to sectors that have competitive and comparative advantages.
"Reports and surveys at a global level indicate that there are substantial sums of private equity funds – as well as pension funds – currently seeking dollar-denominated assets. Recent developments in the US are likely to negatively affect such thinking, and there is a growing belief that an alternative for such funds is in real estate projects undertaken by the private sector in emerging economies," JKH's Chairman claims.
CORPORATE ACCOUNTABILITY In the JKH Chairman's opinion, the advancement of social media and increased activism has given the public more power to voice their views and raise concerns. "It has also created the necessity for corporates to take urgent action to resolve the issues raised by the public and its stakeholders," he states.
"Also, investors and shareholders alike are more focused on sustainable development and social conscience, which compel corporates and their leaders to 'do business right.' Corporate leaders are, therefore, forced to steer their organisations towards a triple bottom line perspective – a perspective which covers financial and economic performance, and environmental and social responsibility," Ratnayake asserts.
WORKFORCE DYNAMICS Corporate culture has evolved with the vagaries of time and numerous changes in business fundamentals. According to Ratnayake, in the past "career choices were limited – and as such, we were forced to build careers from an early stage. Parents, who had a greater degree of control over my generation, encouraged it." Ratnayake adds that another factor is that the workforce is much more mobile: "This is creating huge challenges for employers. The corporate culture of today is such that the employers have to constantly reinvent themselves, to be able to retain and attract the limited talent available. Actually, this may not be a bad thing!"
TRULY SRI LANKAN Much has been said of Sri Lanka's growth objectives for target industries such as tourism. But as Ratnayake and many others actively involved in related sectors and industries have repeatedly pointed out, more effort is required at national level to promote the island as a brand. Building a country brand needs patience, strategy and consistency. All the leading country brands have spent years building the positions they enjoy at present.
Ratnayake highlights five factors that Sri Lanka needs to keep in mind when building its brand – i.e. exports, tourism, diplomacy, people and sports. And he asserts that the country must exploit the obvious synergies that exist between these key factors.
Nation branding must also be supported by substance – viz. physical infrastructure, services and other facilities.
Marketing communications can only highlight the positive aspects of the country, while the image of a nation is often created through word of mouth from trusted sources. Therefore, branding the country requires a coordinated and sustained approach by all stakeholders.
JKH's Chairman explains: "Sri Lanka has many successes to talk about, and they must be portrayed in a sustainable manner. The image of a country is always linked to perceptions – perceptions are delayed reality. And there needs to be a constant chain of unbroken activities linking all the aspects mentioned above, to establish the required perceptions. Existing images of countries haven't come about purely through advertising – building Sri Lanka's brand is no different."
And LMD's 2013 Sri Lankan Of The Year is unequivocal in his vision for the future of the country, stating that "where I would like to see Sri Lanka in 10 years is [for it to be] at peace with itself, devoid of extremism in any form, and having achieved sustainable and inclusive growth where the peace dividend is felt by all Sri Lankans."